Hello Traders,
Today was like the good ol' days where the JPY pairs moved several hundred pips in a day. Ahh, refreshing to say the least.
But ironically the big mover today was not the beast (GBPJPY), but its cousin EURJPY which got hammered losing over 600 pips from top to bottom today, thus its hard not to talk about it.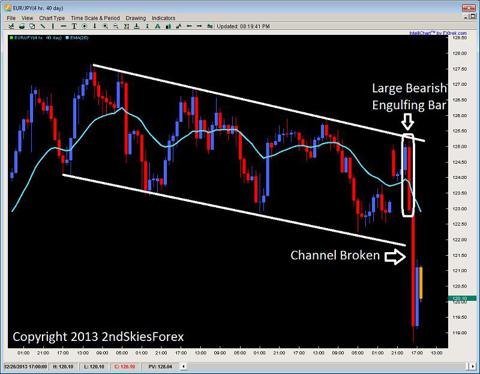 Its natural for a pullback after such an extreme move, but look to sell any rallies towards 122.54 or 122.83 targeting the lows today at 119, for an eventual break towards 117.58 and perhaps much lower. Because of the massive selling today, it is highly likely long term bulls have booked partial or most of their profits from the recent uptrend, so selling should resume after a short pause.
FYI - days like today are days where you can make a lot of money, especially in moves and trends like today with many with-trend breakout pullback setups, so make sure to capture these plays and stay with trend as much as possible.
Kind Regards,
Chris Capre