Hello Traders,
After a week of feeling deathly ill, I am slowly back on the mend and my health has resumed its uptrend.
Just going to share one chart for today, but will be back to regular posts daily this week.
Although there are many interesting pairs for this week, such as the GBPJPY, EURJPY, AUDUSD, Gold and Silver, I'm going to share some price action analysis on the EURUSD.
Looking at the chart below, we can see since 1.3700, the EURUSD has been in a relatively structured and stable downtrend, mostly held below the 20ema and dynamic resistance.
The pair formed its strongest bottom to date at 1.2950, and after a strong bull candle on thursday, did an about face on Friday, landing on the same support level.
This in effect has created a short term range, with 1.3150 being the upside and 1.2950 the floor. I'm suspecting the floor breaks first, and if it does, ten 1.2875 is up next. If the ceiling cracks first, then 1.3315 is on deck.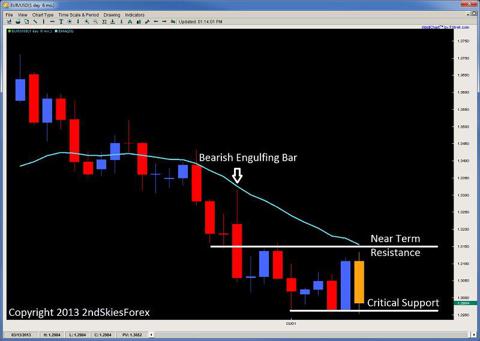 Kind Regards,
Chris Capre