Hello Traders,
Today the Euro pretty much got bloodied across the board, along with European stocks on the Cyprus 'fix', which is actually just a communication to wealthy people across Europe your uninsured deposits above €100K are no longer safe. Can you see an exodus of money leaving Europe?
I think so, but regardless, the Dutch Fin.Min Dieselblom's comments about banks needing to save themselves did not help.
Two charts for today. The first one is the EURUSD which I've been talking about a lot lately here, and the sell recommendation at 1.3050? Today's high was 1.30509 which the pair kissed, then sold off about 200+ pips from, so hopefully you got some of that as many of my students did well on - so congrats to them.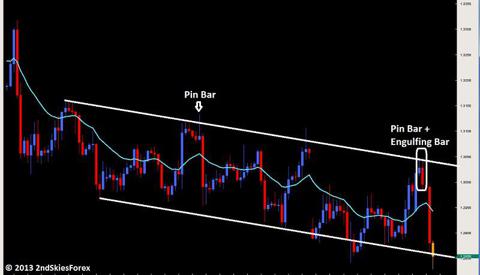 You will notice the pin bar + engulfing bar which also marked the selling at that level.
Considering today's bloodbath, I'm guessing nobody is excited to buy Euros atm, so i'll look to sell into rotations around 1.2900 and 1.2950 for an eventual 1.2700 target, and perhaps a much deeper move lower towards 1.2200.
EuroStoxx 50
This index did not fair well, with Italian, French and Spanish stocks getting smashed on the day (sign of things to come in Europe?).
You will also notice in the chart below the slow structural breakdown and false break at pt A' on the chart. I'll look towards 2675 and 2709 for price action signals to sell, aiming for 2600 and a possible move towards 2400 or lower, but I think the pressure will be on near term.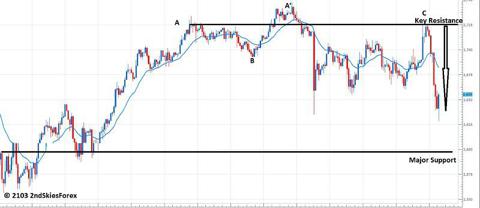 Also - best quote today from a Institutional Derivative trader I talk to daily;
"Brussels Fools - they have obviously never heard of the infamous Russian Boomerang - which is certain to come flying through the European skies sooner rather than later"
Kind Regards,
Chris Capre