Hello Traders,
The price action is shaping up to make this an interesting week.
I think the first pairs you'll want to look at for this week will be the JPY pairs, particularly the EURJPY and GBPJPY which sold off heavily to end last week. For those closely following this thread, I actually posted about this here hours ahead of time.
[B]EURJPY[/B]
Looking at the chart below, we can see the selling on late Friday took out the last two days lows (almost a third), which has likely tripped medium term stops from the bulls. The overall trend is still well into place, so I'll look for price action signals at 128.51 and 127.80 (former yearly high) to rejoin the trend. Only a break below 124.42 will damage the medium term bull trend.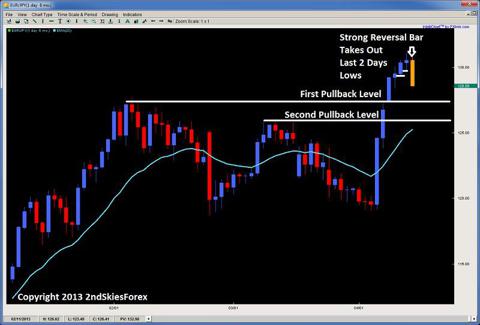 [B]Gold - Breaking Bad Edition[/B]
How can you not talk about Gold which got monkey-hammered last week, losing over $75 on Friday alone. The key was the large breakout bar which tripped medium term stops from bulls, by breaking below the $1520 multi-year support level.
You may see a short term pop this week, but consider these rallies to get short for a much larger move down, as the PM could be headed for $1433 and perhaps much lower before finding a base.
Bottoms after moves like this are rarely formed in a day, and often take weeks, perhaps months, so do not worry about catching a falling knife here. It will show signs of a bottom well before it actually does, so look for primarily shorts till we see some stronger basing, which may be a while.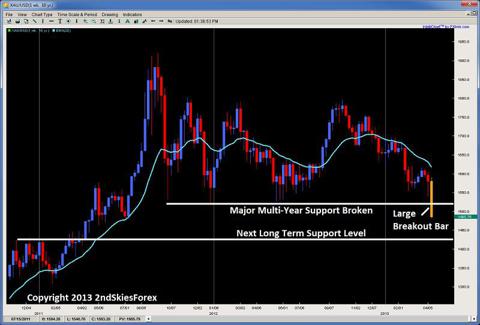 Kind Regards,
Chris Capre