USDCHF - Breakout Retest Setup Plays Out to Perfection
Ahh, the Swissie, the gift that keeps on giving. Chocolate, good watches, offshore accounts, and textbook breakout retest setups.
Anyone following this blog will notice I've been writing on the forex price action commentary for the last few days on the Swissie as it was approaching key resistance at .9600. In each article, we talked about favoring an upside break and to watch for the breakout retest setup. Looking at the charts below, it gave one at the .9600 level which it broke above, came right back to, sat there and then launched higher. We also recommended bulls could get long on a break above the intraday highs of .9640. What did it do today? Same textbook breakout retest setup. This is classic price action trading. Many of our price action traders got in on this one so hopefully you did as well.
On an intraday level and 1hr charts, the move is starting to get parabolic (suggesting short term its over-baked) but the little double doji's at the top of the current range suggest likely continuation. Intraday bulls can look for pullbacks to the 20ema or wait for a deeper pullback to the .9639 or .9600 level to get back in long. Thus short term, we are still bullish until a daily close below .9600 happens.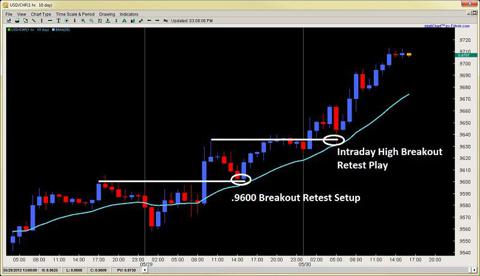 For those wanting to learn rule based price action systems, access to the traders forum, lifetime membership & more, check out my Forex
Global Market Commentary: €31 Billion & Spiderman Beach Towels???
The Sell in May and Go Away mantra seems to be holding well as the Dow is down 6% this month and about to set its worse monthly performance since May 2010. The market sold off 160pts or 1.28% while FacePlant is now at $28. Global markets got hammered as Spain's banking sector continues to degrade by the hour, announcing Madrid will miss their deficit targets for this year (surprise there). Spain's stock market hit a 9yr low while bond yields dangerously approached 7%. You are witnessing the deterioration of Spain's financial system and this trader thinks there is not enough resolution, political honesty, or Euros to bail them out. These next two facts (unbelievably true) shows you how much trouble the Spanish Banks are in;
1) In April alone, Spanish Banks saw €31 Billion in outflows
2) Bankia (bank the BoS said was solvent but nationalized) is offering Spiderman Beach towels in exchange for a €300 deposit :-o0
Needless to say, the Euro has gotten pummeled as a result, taking out two figures in the process (1.2500 and 1.2400) in one day. The twin fires in Europe (Spain and Greece) continue to put pressure on this regional currency and we only see this getting worse the way its being handled. We prefer selling EURUSD and GBPUSD which have made new yearly lows, while NZDUSD and AUDUSD have not, suggesting the former have more dominant trends to play. Other notables to sell are EURJPY and GBPJPY.
Upcoming Economic Announcements:
| | | |
| --- | --- | --- |
| NZD NBNZ Business Confidence | 01.00GMT | 21.00EST |
| AUD Private Sector Credit (YoY) | 01.30GMT | 21.30EST |
| CHF Gross Domestic Product (YoY) | 05.45GMT | 01.45EST |
| EUR German Retail Sales (MoM) | 06.00GMT | 02.00EST |
| EUR German Unemployment Change | 07.55GMT | 03.55EST |
| USD ADP Employment Change | 12.15GMT | 08.15EST |
| USD Gross Domestic Product (Annualized) | 12.30GMT | 08.30EST |