GOLD
After gapping down to open the week on the pro-bailout Greek election result, the shiny metal recovered nicely as everyone realized two key things;
1) there may be another Greek election in August as this party cannot form a full gov't
2) Spain, Greece and Italy still have problems
This left risk off and investors realizing they'd rather have gold then paper.
But notice how the price action literally sold off right to the 20ema, found buyers quickly and pushed it above the open by forming a pin bar.
Intraday bulls can take longs off this level as its too near the next resistance to add longs now. Shorts can still look for plays around $1640 with tight stops above as the precious metal has been climbing for 7 days now.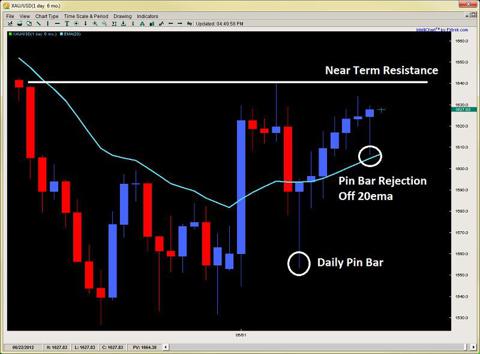 For those wanting to learn to trade price action, access to the traders forum, lifetime membership & more, visit my price action course at 2ndSkiesForex
Global Market Commentary:
Well, it seems any good news lately (Spanish Bailout, pro-bailout Greek election) tends to create a short term bullish sentiment, but then reality sets in and the markets start doing what they should be - selling off.
Spanish 10yr yields hit 7.3% and ended above 7% which is a EZ record high and only continues to put pressure on their already struggling financial system. This made the reality that a Greek exit is not the only fire which put pressure on the Euro.
The Dow closed down 25pts or .2% while Gold gained from the market open and is holding around $1627 but expect some indecision as how the Greek election plays out is definitely not clear at this point while Spain will continue to mount pressure on risk assets.
Upcoming Economic Announcements:
| | | |
| --- | --- | --- |
| GBP Nationwide Consumer Confidence | 00.00GMT | 20.00EST |
| AUD Reserve Bank Board June Minutes | 01.30GMT | 21.30EST |
| GBP Core Consumer Price Index (YoY) | 08.30GMT | 04.30EST |
| GBP Retail Price Index (YoY) | 08.30GMT | 04.30EST |
| EUR German ZEW Survey (Economic Sentiment) | 09.00GMT | 05.00EST |
| USD Housing Starts | 12.30GMT | 08.30EST |