AUDUSD
I am going to comment on this pair from an Ichimoku and Price Action perspective. Ichimoku first.
Although the pair is above the Kumo and Kijun, it has been sandwiched below the Tenkan for 8 days now. By itself this would be suggestive of weakness. But add how the price action has related to the channel and its more suggestive.
Look how the price action has responded to the bottom of the channel. Only in the first (of the last 4) approaches did it stall at the bottom. But each time it was rising quite steadily, along with the tenkan. Now the tenkan has been holding price for 8 days capping the upside. Combine that with how today's selling pretty much erased 3 days of gains, only to be stopped by the channel bottom which is still in play.
Overall, the pair looks more likely to break the downside (of the channel) as it seems to be barely holding on at this point. Ichimoku traders can play an upside rejection towards the tenkan and yesterday's highs, or wait for a break below the Kijun. Price action traders can take buys off the 5 day lows just above 1.0400 with tight stops, or look to sell just above 1.0530 on intraday weakness.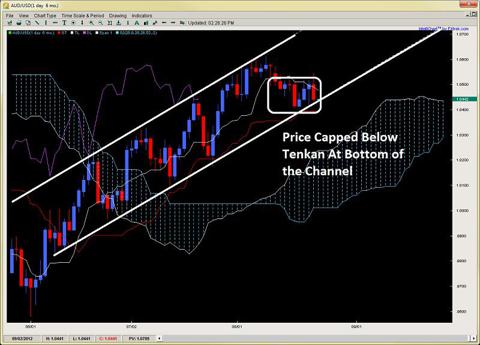 For those wanting to learn to trade price action or ichimoku, access to the traders forum, lifetime membership & more, visit my online traders course pages.
Global Market Commentary:
Stocks globally pulled back as the glimmer of the soon to be Fed stimulus wore off quickly, along with the weak data coming out of China and Europe also souring the mood. It should be noted Frau Merkal and France's Hollandaise sauce just met with Samaras and told him no extra time or money is likely to be given to Greece.
China's HSBC Flash PMI came in under expectations, along with the German and EuroZone PMI coming in soft. On the other side of the pond, the Initial Jobless Claims also did not help for risk on instruments.
The DOW lost 115pts which was its biggest drop in over a month, while Gold rallied $32 on the close and Silver broke $30 to close at $30.56, gaining 9.4% in the last 4 days, its strongest jump in 10mos. while Gold had its largest 3 day rally in 2mos.
Upcoming Economic Announcements:
| | | |
| --- | --- | --- |
| AUD Stevens testifies to House Economic Committee | 23.30GMT | 19.30EST |
| AUD Conference Board Leading Index | 00.00GMT | 20.00EST |
| EUR Spanish Cabinet meets, followed by news conference | 08.00GMT | 04.00EST |
| GBP Gross Domestic Product (YoY) | 08.30GMT | 04.30EST |
| EUR Greek Prime Minister Samaras in Berlin for talks with Merkel | 09.45GMT | 05.45EST |
| USD Durable Goods Orders | 12.30GMT | 08.30EST |