One of the worst performing stocks in recent months has been GoPro (GPRO). The camera maker has been a popular target for short sellers, and recently Barron's detailed a case for further downside. However, GoPro's results are still coming in quite strong, and the valuation seems fairly attractive at these levels. Today, I'll look at where things stand for GoPro today, and why shares could be close to bottoming.
Barron's a little late?
Recently, GoPro shares tumbled after Barron's stated that shares could fall to $25 as the latest product launch was underwhelming and competition continues to increase. Some have worried about the role of Apple (AAPL), which has significantly upgraded the cameras on the iPhone this year. Earlier this year, GoPro shares sank when Apple was granted a patent for a sports camera.
In my opinion, the Barron's call was a little late. The stock had already lost 2/3 of its value when the piece was published. With a stock in the mid $30s, falling to $25 doesn't seem like much for shares that traded for nearly $100 at their peak. Investors may also find this an interesting risk/reward scenario - while Barron's says the stock could fall to $25, the analyst community sees the stock worth $70 a share. With shares currently under $32, there seems to be a lot more potential upside there.
Expectations on the rise:
Investors will need to decide who they trust more, but there is one fact I can certainly deliver. GoPro's analyst estimates for this year and next have been soaring so far this year. As you will see in the table below, forecasts for both revenues and non-GAAP earnings have become substantially more positive in recent months.

*non-GAAP.
**2016 growth rates based on 2015 estimates on that specific date.
At this point, you can make a case for buying GoPro strictly on valuation. The company currently trades for about 15 times next year's expected non-GAAP EPS, before subtracting out the company's cash position. For a name with revenue and earnings growth expected in the high teens to low 20s next year, after a big year in 2015, I think that valuation is quite reasonable.
Analysts are looking for just 12% revenue growth in Q4, which seems a bit low. On Monday, GoPro just announced a new Wifi enabled camera that goes for just under $200, compared to the entry level model without Wifi that goes for about $130. The company also reduced the price of its Hero4 Session camera. Bears say this is a negative, but the Session had fewer features than the Silver model it was equally priced with.
In last year's Q4, the company's revenues averaged about $264 per device shipped, but 4 of the 6 current models go for prices higher than the average, and that excludes accessories. With expectations so low for Q4, there seems to be some upside to current forecasts. International sales for the company are booming, and China is now a top ten revenue country for the firm.
Remember, this is a company that's still looking to monetize all of the content its users produce. This could be the big story of 2016 for GoPro, which could help combat expectations for slower revenue growth (as the company works off higher base numbers). A stock trading for around 15 times non-GAAP expected EPS with forecasted growth rates in the high teens or low 20s (percentage wise) seems quite attractive in my opinion. Don't forget, the company has over half a billion in cash on the balance sheet, which could be used for some meaningful acquisitions.
Short interest doubles again:
Even before the Barron's article came out, there were a number of investors bearish on the stock. GoPro shares took a tumble, and as you will see in the chart below, short interest skyrocketed. The latest value of nearly 19.7 million shares is up 103.5% in the past month, and this is a new all-time high. Based on float data from Yahoo Finance, a little more than 32% of the float was short at the latest update. If GoPro's results continue to impress, there is major short squeeze potential here.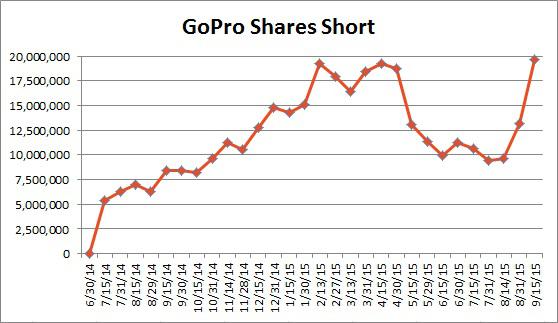 (Source: NASDAQ short interest page)
Final thoughts:
GoPro shares have not done well recently, but they certainly seem attractive at these levels. The company is still experiencing strong growth, which makes the valuation quite reasonable. Short interest has more than doubled to a new high. Earlier this year, massive short covering led to a large rally, which could easily happen again. The company just announced a new camera to bolster its holiday 2015 lineup, and Q4 expectations are somewhat low. In the end, I think GoPro shares are close to bottoming, and those looking at the long-term might want to consider this name again.