Every day, I see comments and posts stating that the market has changed drastically in recent years.  The usual scapegoats are high-frequency traders, the proliferation of hedge funds, or the new, "greedier," brokers/analysts/traders/managers working on Wall st. (as though the concept of greed is completely novel).So what are these evil, conniving opportunists being accused of?  As best I can tell, anytime stocks do poorly, it's someone else's fault and the accusations start to fly.  Too much volatility? Those evil bankers!  A prosperous year? I'm brilliant for investing in that asset.

Regardless, there's nothing that's changed in the last 10 years in the stock market.  In fact, right now the PE10 of the S+P is still well above average despite poor prospects for growth in the near-term.  The appropriate response seems to be to picket around Wall st. and knock on some doors.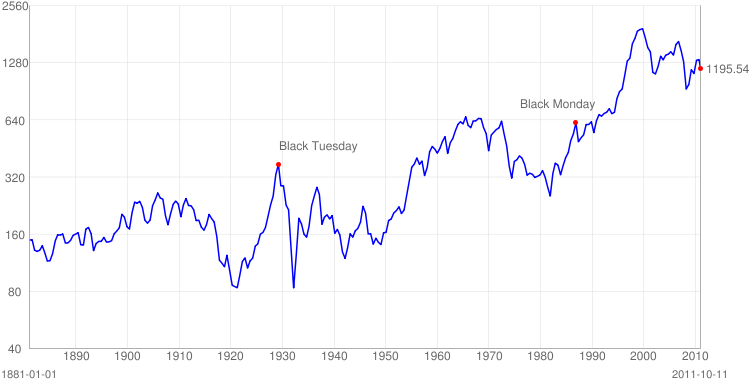 What I mean, specifically, when I say "nothing is new" is that the concept of having a 10+ year secular bearish trend is not new (see above).  There have been significantly worse stretches and for longer periods.  The period from 1966 to 1982 saw a flat market (when dividends were taken into consideration) while inflation eroded away 2/3's of the value of our currency.  The bear market that started in 1929 ended 20 years later and the peaks of 1929 weren't revisited until the mid-1950's.

The last bull market reached a peak PE10 ratio of over 44 back in 2000 and it has been drifting downwards ever since.  To blame the inevitable contraction of valuations on specific people or to suggest that people have somehow become greedier is just absolute non-sense.  Warren Buffet himself had stated that he would never put capital into an investment he didn't understand, yet that's exactly what people do when they toss their entire 401k into equities and just hope for the best.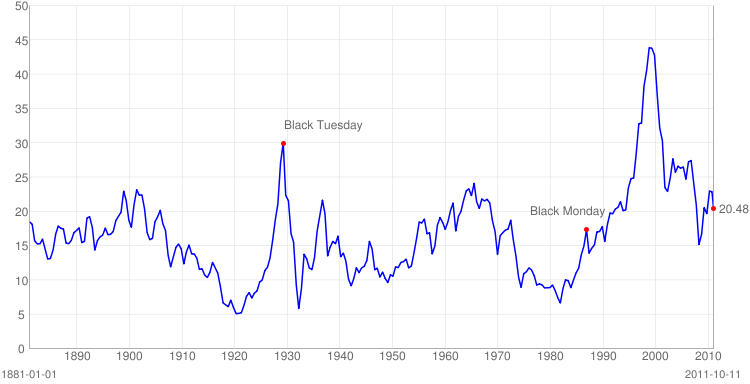 Some comments argue that the banks and bankers are at fault for the market's poor performance.  Certainly that was true during the 2008 crisis, but even with the S+P less than 700 it's PE10 ratio of approximately 13.  The market was only slightly below historical averages before it was propelled back up, likely by low interest rates and recovering earnings.
In the end, there's a lot more room for the market to fall simply based upon valuations.  We all have the right to be optimistic, but it is always wise to do our homework before investing.  Take personal responsibility for your financial well-being and you will be the beneficiary.
Disclosure:
I am long
SPY
.