Today Vringo (VRNG) announced a direct sale of 10.3 million shares at $4.35 bringing in $45 million. This is on the heals of Google's (NASDAQ:GOOG) loss on its motion for summary judgment "MSJ" in the pending patent infringement case Vringo has filed against them.
We have written in the past of Vringo and recommended that Interdigital (NASDAQ:IDCC) should investigate acquiring the company. Now that the MSJ has cloud on the patent case has cleared, VRNG is poised to profit from either a settlement or going the distance in proving the claims it has asserted.
In addition, we believe the strategic value for VRNG to other potential acquirers is now much higher as well. The value to a social media company of VRNG's IP is noteworthy. Twitter could easily afford to acquire VRNG, become public and make a compelling case against its arch rival Facebook (NASDAQ:FB). In addition Apple (NASDAQ:AAPL) may also consider buying VRNG and help with its IP litigation activities. we believe its not inconceivable for VRNG's stock price to double from this level and recommend that with its new cash stockpile VRNG is a compelling buy.
We repeat for convenience graphic description of patent suits from the phonearena.com website in January 2012 shown below: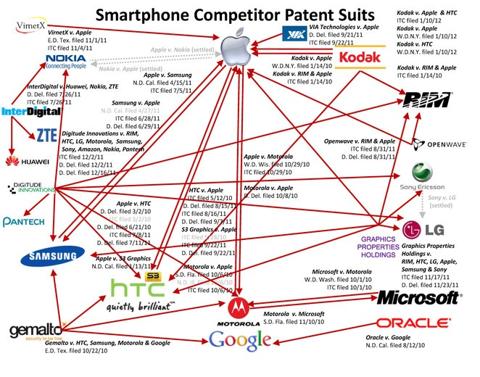 As you can see above, there are many other possible strategic acquirers for VRNG. But now with its larger war-chest of cash and additional patents purchased from Nokia earlier this year, VRNG has the time and resources to go for the "gold" and seeing the current litigation all the way through fruition. Trading should be exciting through October 12th, which is the scheduled start of the Google trial.
One key ingredient in adding to the trading excitement in VRNG is the large short interest in the name. The Nasdaq report shows 7.432 million shares short out of a reported 75.756 million shares outstanding after this reported sale. You will have to add in the in the money options and restricted stock of approximately 34 million shares to get a full picture of the fully diluted market-cap today. At 110 million shares at $4.75, the company is worth approximately 522.5 million. A win in the Google case could bring that award with willful infringement. The other potential accused infringers settling with VRNG could easily double this valuation. There are no guarantees in litigation, but VRNG certainly has an exciting potential for aggressive investors.
Disclosure: I am long VRNG. I wrote this article myself, and it expresses my own opinions. I am not receiving compensation for it (other than from Seeking Alpha). I have no business relationship with any company whose stock is mentioned in this article.
Additional disclosure: We are Short Facebook.