Investors and traders buy a stock either for technical or fundamental reasons or even out of 'peer pressure'. That said I would like to focus on the technical and fundamental analysis.
Despite a rough market in the past few days, Facebook (NASDAQ:FB) is in a steady uptrend. The chart below compares the S&P 500 versus Facebook stock development between 15th August 2013 to 21st August 2013.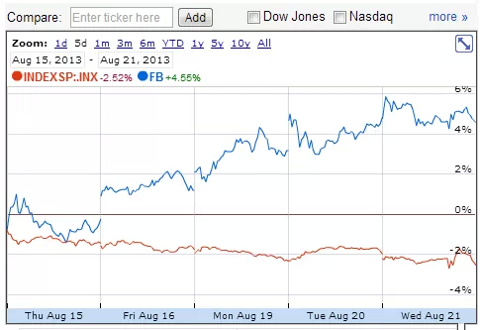 When preparing a fundemnatal stock analysis, the time horizon of the the investment matters, therefore I will differentiate between short, medium and long term.
More about fundemnatal analysis and how you can do it yourself, can be found on tradimo/learn stock-trading/fundemntal analysis.
Short term foucs analysis
Short-term, investors are often news-driven. They assess whether it is likely that there will be further positive news in the near term and if those news will be better than the current ones. In the case of Facebook, several analysts have published news over the last days upgrading their rating even more based on expectations that the new video advertisement formats will drive additional revenue. In the short-term traders have jumped on the oppertunity.
Medium-term focus analysis
Medium-term investors assess whether the next quarterly earnings report will fulfill the expecations, exceed them or underperform them. What has already been priced in, i.e. have speculators already driven the price up so high that the outlined expectations will not be enough to drive the price higher or is there still room? In the case of Facebook, following the last earnings release the price has risen substantially making it difficult to assess if the next earnings will outperform the current expectations. This could be the reason why Facebook stock has not substantially increased for the last 10 days. Another reason why investors are careful is also the plan by the Federal Reserve Bank to stop pumping $85bn into the market each month by end of September 2013.
Long-term focus analysis
Now we get to the most interesting bit and I believe this is the core question. What is the true, long-term value of Facebook? Why should Facebook become a $300 billion company like Google or Apple? This is where personal assessment comes in and where opinions will be controversial.
Here is my opinion
Facebook is in a strategic position to be a market place for many key future internet revenue streams. These include:
· Internet streaming: The battle between Netflix, Amazon, Apple, Hulu and international copy-cats of these providers might have one common winner, Facebook. Netflix and Facebook already have made a deal, Facebook has integrated the movie recommendation features from IMDB and can leverage its user base for driving revenues in streaming.
· Localisation based shopping: Groupon, Yelp, etc. all try to win in the market for localisation based offers and use Facebook for this. Meanwhile Facebook has integrated the features Groupon and Yelp offer into its own platform and millions of users are already using it. Considering that Groupon and Yelp themselves are valued at several billion, this has substantial value, whether Facebook outperforms these or cooperates with them.
· Online social gaming: Zynga and the millions of other, even better and more successful games producers are a turning over several million dollars per month and still growing fast. The first among them have started with real-money gambling offers on Facebook. Facebook could become the world's online casino - a huge market, despite its reputation.
· Internet growth: The internet itself is still growing fast and the number of services are growing exponentially on a global scale. Developing markets are just catching up and Facebook is on the forefront of securing their market share there via Facebook for every phone and internet.org. Ultimately this is a race for the last internet user and Facebook is ahead. We live in a world with seven billion people (and growing) who will one day all use the internet. Social has come to stay and Facebook is becoming the social infrastructure of the global internet via "Login via Facebook". Every app provider uses its social features, giving Facebook huge power. Internet growth itself does not help each internet company equally. The question is also how product/IT/tech driven a company is. Facebook has some of the world's best programmers and is set up well for this development.
· Payment/e-wallet: Facebook is in a relatively good position to turn its login via Facebook infrastructure into a widely used e-wallet, maybe even better so than Google.
· Advertisement growth: The aforementioned are direct (except internet growth) means of monetization, not strictly advertisement. On the advertisement front Facebook is in a position only Google and LinkedIn have as well with regards to customer insights and the ability to market that. The internet advertisement market is still growing and there are just a couple of websites like Facebook, Google and YouTube that almost every internet user visits every day. These sites will exponentially benefit from advertisement growth.
How much value you attribute to each of these and how many other angles you consider is up to you.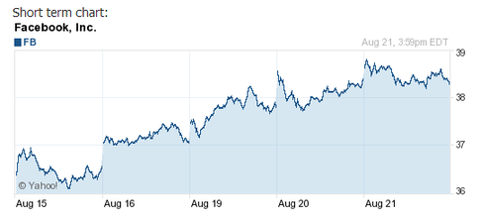 Disclosure: I am long FB.
Additional disclosure: I personally had gone short on Facebook at the IPO on short-term basis.Then I bought the stock at $25 as a medium-term trade before the last earnings report and sold it at $33 which I posted here: en.tradimo.com/co/51f134a15d2b94172a00001c/ I have made a few smaller trades thereafter on a short-term basis and have left a small long-term position open.