In August of this year I decided to start building the definite go-to database for OTC investors (think Walker's Manual 2.0) in order to partially solve the age-old problem of idea generation in this interesting space.  
The current count of stocks 'covered' is 147, or 196 including stocks that I mentioned on Seeking Alpha and the results so far have been encouraging with several companies hitting enviable performance.
Although given the vast amount of companies I look at on a weekly basis (I add at least ten new reasonable businesses a week to the watchlist), I also stumble upon a significant amount of companies that always push the boundaries of what I feel defines the word obscurity.
So far the 1st prize is still held by the company trying to find Big Foot which, with all seriousness of a SEC filing, mentions that they own a 109-inch skeleton of the creature. There are though many contenders that are worth sharing. Therefore, I decided to start a quick weekly column highlighting one or two such businesses.
This week I decided to write about a peculiar film studio.
Ever wanted to own a piece of a film studio which co-produced Forrest Gump and Dirty Dancing?
Well DAFL is your opportunity. This small production company (and recording studio) was founded in 1922 and since then has had success in various niche sectors of the film business. As the name suggests they were focused on experimenting with film processing throughout their history and even won an Academy Award for technical advancement in 2000.
At the same time, they were closely working with the independent community of filmmakers and allowed them to try to 'compete' with the Hollywood in the 1980's. From this period the company apparently has thousands of unclaimed films among which you can find predecessor of '12 Years a Slave' and others as described by this peculiar piece by New York Times.
Nowadays it seems that the company's activity is revolving mainly around anime dubbing (voiced over Pokemon) and animation for kids.
All this sounds interesting, but could there be something more here? Well, the share price action is certainly curious.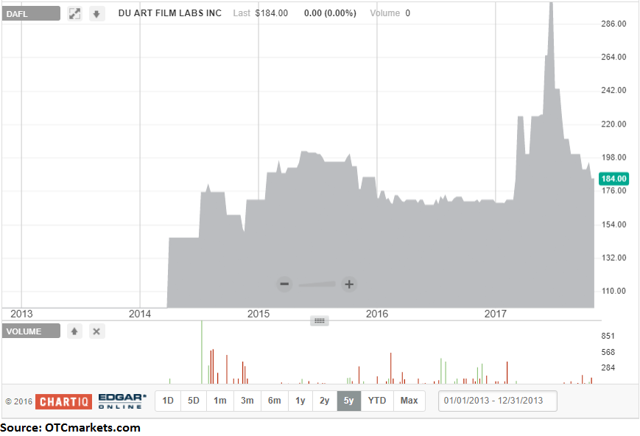 It seems that the company is highly illiquid, but there have been trades recently which suggest that some people believe there could be some value. As you can imagine this is a dark company so it will be troublesome to find information, but in the OTC world one never knows where the next big opportunity is going to be.
One member of my newsletter also mentioned that it seems that the company is reluctant to give out financials which only makes things more interesting.

Disclosure: I/we have no positions in any stocks mentioned, and no plans to initiate any positions within the next 72 hours.