In August of this year, I decided to start building the definite go-to database for OTC investors (think Walker's Manual 2.0) in order to partially solve the age-old problem of idea generation in this interesting space.  

The current count of stocks 'covered' is 197, or 246 including stocks that I mentioned on Seeking Alpha and the results so far have been encouraging with several companies hitting enviable performance.
Although given the vast amount of companies I look at on a weekly basis (I add at least ten new reasonable businesses a week to the watchlist), I also stumble upon a significant amount of companies that always push the boundaries of what I feel defines the word obscurity.
So far the 1st prize is still held by the company trying to find Big Foot which, with all seriousness of an SEC filing, mentions that they own a 109-inch skeleton of the creature. There are though many contenders that are worth sharing. Therefore, I decided to start a weekly column highlighting one or two such businesses.
This week I decided to write about a peculiar landowner which falls into a rare specimen amongst the dark OTC companies (i.e. companies not reporting financial results publically). 
This stock, presumably a landowner (in at least part of Louisiana named 'land of the beef/cattle'), is that type of dark company about which you can't find almost anything. If you ask me, this makes me always the more curious - see my coverage of Altair Corp. (OTCPK:ATCD)
TAUX does not have a website, there are no mentions of the company anywhere apart from the highlighted lawsuit. Google search starts to yield french-only results on the third page.
There is a contact on Manta (and revenue estimate which might be 'fairly' accurate i.e. it is likely to be below $1 million given their estimate of ATCD) so one might try his luck there to get to know more about what kind of properties they own. 
While it is unclear what the actual value of the company is, the share price does seem to appreciate which could point to an opportunity.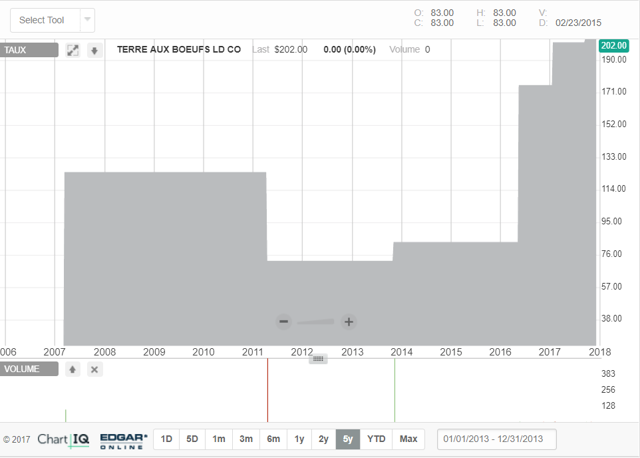 Unfortunately, the company does not seem to pay a dividend, but given how ATCD ended up, TAUX might be worth a shot.
Disclosure: I/we have no positions in any stocks mentioned, and no plans to initiate any positions within the next 72 hours.