In August of this year, I decided to start building the definite go-to database for OTC investors (think Walker's Manual 2.0) in order to partially solve the age-old problem of idea generation in this interesting space.  
The current count of stocks 'covered' is 254, or 303 including stocks that I mentioned on Seeking Alpha and the results so far have been encouraging with several companies hitting enviable performance.
Although given the vast amount of companies I look at on a weekly basis (I add at least ten new reasonable businesses a week to the watchlist), I also stumble upon a significant amount of companies that always push the boundaries of what I feel defines the word obscurity.
So far the 1st prize is still held by the company trying to find Big Foot which, with all seriousness of an SEC filing, mentions that they own a 109-inch skeleton of the creature. However, there are many contenders that are worth sharing. Therefore, I decided to start a weekly column highlighting one or two such businesses.
This week I decided to write about A.D. Makepeace, the 'world's largest cranberry grower' which also happens to be a dark company on the OTC market. 
The value of the business should be relatively clear. They are growing cranberries on one of the largest scales in the world which on its own should constitute some value. I am not sure how much market share on a global basis they are accounting for but given that the US is clearly number one in total supply they could easily have over 5% of the whole market. They are also part of the Ocean Spray Cooperative, a large association of cranberry growers. 
Unfortunately, they are hiding in the OTC space and I was not able to get much fundamental info about the business. There is, however, a WSJ article about the company entering the real estate market (which could add a margin of safety and show that they have capital at their disposal). A similar article was also written in 2014. 
This point is also interesting because it shows that MAKE is not only about cranberries but about the value of the land they own. Some OTC investors are specifically focused on such 'asset plays' and MAKE could be an interesting addition. 
Especially at the current prices which might be 'depressed' as seen below.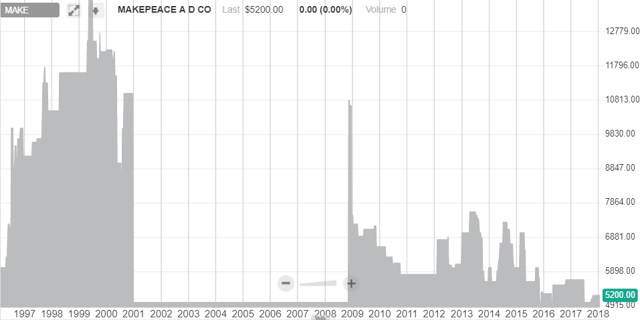 The price action might be tied to cranberry prices which are relatively volatile, but I can imagine that the operations are still valuable. Moreover, even if the prices of cranberries can fluctuate year over year, I believe that the demand can remain stable throughout the business cycle. Think PARF-like revenue base. 
Disclosure: I/we have no positions in any stocks mentioned, and no plans to initiate any positions within the next 72 hours.