| | | | | | |
| --- | --- | --- | --- | --- | --- |
| Current Price | $15.8 | P/E | 23.5 | ROIC | 24.5% |
| Industry | Biomedicine | EV/EBITD | 17.7 | Debt/Equity | 26% |
| Market Cap | 5.27 B HKD | Profit Margin | 31.3% | Sales Growth | 28% |
| 52 weeks range | $9.6 - $20.95 | Dividend yield | - | Profit Growth | 19% |
Source: Financial report 15 1H
Company Overview
Based in China, Bloomage BioTechnology Corporation (0963.hk) is a Hong Kong listed company founded in 2006 that operates in the field of biomedicine. The company is a manufacturer and distributor of sodium hyaluronic acid (referred to as "HA") and focuses mainly on the development, manufacture and sale of various HA raw materials and end products. HA is a naturally occurring sugar that can be found in many parts of human bodies and animals, usually in the joints, vitreous humor in the eyes and skin that can help the skin restore moisture.
The company has two main business lines: HA raw materials and HA end products. The end products line was started in 2012 as a new source of growth to serve the fast growing non-surgical segment of the cosmetic industry. This report will focus primarily on the end product business, as it will be the profit driver for the next 5 years.
HA Raw Material - As a market leader, the company currently has 20% of market share in the world and 50% in China. This business line can be further broken down into three grades: pharmaceutical, cosmetic and food. Products that have HA as raw material include viscoelastic agent in eye surgeries, skin-care products and oral health supplement. This business line is fairly stable, expected to grow around 10-15% in the next five years.
Bloomage's HA raw material major clients (Global market share %)
| | | |
| --- | --- | --- |
| Pharmaceutical (20%) | Cosmetic (35%) | Food |
| Bausch & Lomb Inc | P&G | Amway |
| Abbott Medical Optics Inc. | Unilever | Schiff Nutrition International |
| Hydron Contact lens Optics | Estee Lauder | Tiens Group |
|   | L'Oréal S.A. |   |
Source: Company report
HA End Products - The major product of the line is BioHyalux, an injectable soft tissue filling gel (dermal filler) that was first released to the public in 2012 to satisfy shaping demands and wrinkle removal at different areas of the face. Depending on models, dermal fillers can only last between 6 months to 12 months as HA is gradually absorbed by the body. In three years, Bloomage is able to capture 30% of the market as the product is priced lower than competitors' that function similarly.
In terms of management, company execution is reliable. CEO, Xuekun Jin, who was hired three years ago successfully led the company to launch the end product business line. Mr. Jin is supported by executive chairman, Yan Zhao, who holds 58% of the company.
Industry
Bloomage's end product business is in one of the fastest growing industries in China. According to research published by the Chinese Association of Plastics and Aesthetics, the Chinese cosmetic treatment industry is expected to grow from 87 billion to 460 billion (close to 40% CAGR) from 2015 to 2020. There are a few reasons fueling the exponential growth.
Spending growth - According to Boston Consulting Group, the total expenditure of the upper middle class will grow at 22.3% CAGR from now to 2020.
Cultural acceptance - Young generation is more open-minded about cosmetic treatments. They consider better looking leads to a more successful life. The number of Chinese going to South Korea for plastic surgery has increased by 45% in 2014. South Korea's plastic surgery technique is perceived as world-class.
Market potential - According to ISAPS, HA dermal filler usage is only 0.6 per 1000 people in China, comparing to 18 in the U.S. In addition, China's HA dermal filler penetration rate is only at 0.18%, comparing to 2.97% in Taiwan.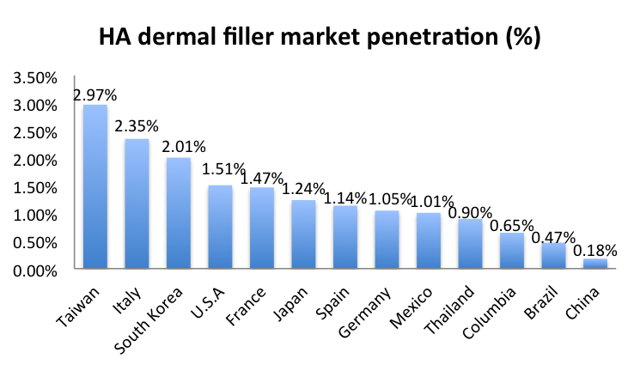 Source: Industrial Securities Hong Kong
Competition
Swedish Q-Med AB's Restylane (40%), Chinese Bloomage's BioHyalux (30%) and Korean LG Life Science's Yvoire(15%) collectively have 85% of the market share. The barrier of entry is high as manufactures need years of R&D before they are able to produce a product that reaches the minimum regulatory standard.
HA dermal filler competitive landscape in China
| | | | | | |
| --- | --- | --- | --- | --- | --- |
| Product | Manufacturer | Country | Price (RMB/ml) | Market share | Launch Date |
| Restylane | Q-Med AB | Sweden | 6,000-8,000 | 40% | 12/2008 |
| BioHyalux | BioHyalux | China | 4,600-6,800 | 30% | 7/2012 |
| Yvoire | LG Life Science | Korea | 6,500-9,500 | 15% | 7/2013 |
| Juvederm | Allegran | USA | 7,800-10,000 | Just Launched | 1/2016 |
Source: Public sources, Guoyuan Securities
BioHyalux's competitive advantage is its relatively low price. Based on reviews on online forums, the qualities of the three top products are similar. Some even refer BioHyalux as a better product comparing to Restylane, pointing out BioHyalux can last a couple months longer than Restylane. The reason why BioHyalux is priced much lower than the two main competitors is because Bloomage needs to overcome the stereotypes that Chinese consumers often consider international branded products as more reliable and effective. There are also four to five more local companies that struggle to gain market share. Bloomage seems to position well in the current market.
However, Bloomerg still needs to pay attention to new competitors, notably Allegran's(NYSE:AGN) Juvederm that was just approved by the Chinese regulator in January 2016. Juvederm has established itself as a slightly better product than Restylane and Yvoire outside of China. Fortunately, Juvederm will be priced similar to that of Restylane at the high end. In the near future, Bloomage should still be a monopoly in its relatively low price market.
The next 12-months will be critical to see how the market share has changed with the entry of Juvederm. As a lower priced competitive product, BioHyalux should be less impacted, comparing to Restylane and Yvoire. The company may lose some market share, but as the market is projected to grow close to 40% CAGR, the Bloomage's BioHyalux business should still be able to grow more than 30% CAGR over the next couple years.
In the long term, Bloomage's growth is secured by the two investments it made in 2015. First, Bloomage acquired 34% interest in French Vivacy, a leading high end HA dermal filler manufacturer, to become the exclusive distributer in Asia to compete with Restylane and Juvederm in the high-end market. Bloomage can also utilize Vivacy's distribution network in Europe to expand its market. Secondly, Bloomage formed a joint venture with Medydox, the top Botulinum toxin manufacture in Korea, to manufacture and sell Botox to Chinese consumers. Botox is another popular non-surgery cosmetic treatment that also sees the same explosive growth as HA. The two investments will start contributing profits in late 2017 to 2018, which haven't been accounted in the financial forecasts below.
Financials Forecasts
Sales - Bloomage's end product business is projected to grow revenue at around 35% in the next two years, in the mid range of company forecast. My estimate is about 10% above the average estimates because I think analysts underestimated the end product market growth rate for the below two reasons.
People age between 35-50 had the most cosmetic procedures performed in the U.S. Many analysts seem to miss the fact that the current median age of the Chinese population is 36.8, and by 2020, the average age will reach 37.7 year old. More people will fall into the range, and I expect this will drive demand above consensus.
All six of the company research reports I read also missed a research conducted by Allergan that 70% of Chinese women, the highest among Asian countries, adopt an open mindset about beauty procedures and are actively pursuing them in order to look younger or more beautiful. Most analysts project market size based on adoption rate in the U.S or Korea, which possibly underestimated the future market size.
The sales growth for the company as a whole will be at low 20%, assuming the revenue streams other than end products grow at the current pace. That's at the low end of company forecast.
Earnings - Despite FY2015 earnings will take a hit as the company incurred one-time investment related cost in Vivacy and Medydox, overall profit margin is projected to stay at high 20% as Bloomage is a monopoly in the lower end market. EPS is about 10% above consensus, as I estimate revenue growth is higher than expected.
Debt - Company has an excellent balance sheet. The only substantial debt the company has is its 220 million HKD bank loan that was used to finance the two investments in Vivacy and Medydox.
Valuation
If the one-time investment cost is taken out, the company is currently trading at 23.6 times current earnings and 19.3 times my estimated 2017 earnings. Considering the company is growing its top and bottom line at more than 20% every year in the near future, valuation is relatively low. I expect 23% upside in one year, and 29% in two years even if the stock continue to trade at the current low P/E multiple.
Conclusion: Why Bloomage has 23% upside potential
Bloomage is one of the few companies in the Hong Kong market that is a market leader in a fast growing industry that also has a reasonable valuation, especially when the Chinese economy is slowing down and investors hunt for growth. With excellent execution, the company has always surprised investors on the upside. The investments the company made in 2015 also secured the company's growth in the next five to ten years. The company is currently undervalued as the market has underestimated the growth for the cosmetic end products market. I expect the company will beat both the top and bottom line in the next year, which can be translated to 23% upside. The risk comes from intensified competition that may take more market share from Bloomage as expected.
Financial Forecasts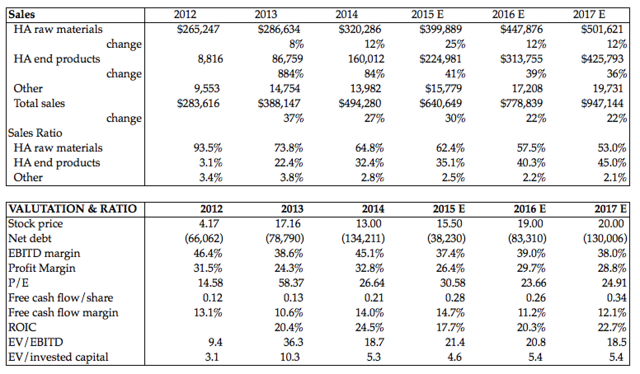 Supporting Documents
Disclosure: I am/we are long 963.HK.