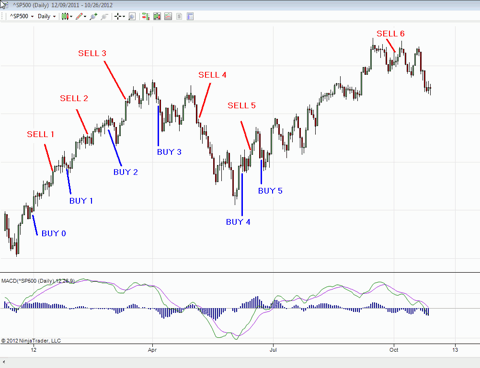 Above: Trading/investing Signals for S&P 500 forecasted in December of 2011. The reason for these signal are given and a snapshot of transiting planets in a circle (a map of the heavens) is shown for each forecast!
December 4, 2012: Above find the Buy and Sell Signals of the 2012 Annual Forecast Book that was written in December of 2011. As of November 15, 2012 when the S&P 500 has closed at 1353, the 2012 Annual Forecast Book has achieved a total gain of 304 S&P 500 points by executing the above 5 Buy and 6 Sell signals at the closing prices of the respective days. Compare this to a BUY & HOLD strategy of only 96 S&P 500 points as of November 15, 2012.
Obviously since November 15, 2012 the S&P 500 has risen and our last signal is still on SHORT. The questions are now: 1) When will our last signal go LONG (close the current profitable short from October 1 and open a new long position) and 2) what will the S&P 500 do from here ?
I will not answer 1) because you can still purchase the book and it would not be fair to answer that question now...but on question 2) I will comment on: The S&P 500 is here at lofty heights that it will not be able to sustain. This stands in contrast too many other forecasters and forecasting books.
And the 2012 Annual Forecast Book is about to collect more profits.
We will udpate this post in the future to tell you how.
One more word: The last forecast I have posted on this website was made on July 12, 2012. I have made a prediction for July 12, July 13, July 16 and July 17. The predictions for July 12, 16 and 17 (forecasted a reversal day for July 17) were correct. The prediction for July 13 was not. This has caused me to learn a lot..and do some more research and to get deeper into the " great science of astrology" as WD GANN has called it in this novel "Tunnel Thru the Air." Gann believed that traders subconsciously track the positions of the planets and the moods the planets cause.
So some people thought that because I have stopped doing predictions on days, that it is not possible to forecast the day. I still forecast single days regularly. However since I am interested in a client base of professional traders and since I have stopped selling my forecasting services to the public, (exempt are those private traders that have already been my customers and are in my database), it is now not enough to forecast the direction of the day. Professional Traders want to know when to buy and sell during a day - at what times and at what prices. My clients might have another opinion then me for any given day. Only with the detailed information, professionals can view my opinion, but trade their OWN opinion, knowing when the best times are during the day for Buying or Selling.
Therefore I have developed a special product that display visual time and price maps for 24 hours of the day. This is for global players that operate in the Asian, European and USA equity markets. Also I will have a special product catering to the global Fixed Income markets.
I will soon offer a free forecast for a day using this product, so that traders that are interested can get a glimpse into this product. The full free trial will only be offered to qualified investment professionals.
best regards,
Markus Rose
The "bond" in bondastro does not stand for the secret agent of MI6, but for global bonds (T-Bonds, Bund, Guilt....).
Disclosure: I have no positions in any stocks mentioned, and no plans to initiate any positions within the next 72 hours.