Banking And Brokerage Houses Gone Mad
Please Note: Blog posts are not selected, edited or screened by Seeking Alpha editors.
I have been posting comments all over the web and in my comments for over a month on the dangers the repeal of the Glass-Steagall Banking Acts of 1933 have been. Starting w/JFK thru a Bush administration bill that was signed into law by Clinton, both parties put us right back into the mess (and worse) that led to the Great Depression.
With the dangerous policies of the FED run by Ben Bernanke, probably necessary due to a broken Congress, and the likelihood that he is going to resign soon (who would want to be in office when it all falls apart), we are very close to 1929! First the housing industry crashed starting in 1927, then, the drought and floods destroyed crops from 1928-1934 and then the stock market crash gave us the Great Depression that took the economics of a world war to fix.
We have had the first two and a "dry run" in 2008 of the bank failures. I doubt the dollar will hold as the world currency which would lead to serious deflation, unless this is a worldwide event,.
The "Boomers" failed their promising beginning of the 1960's.
You want to read and understand this, as a storm is coming.
I am going to look deeper into Elizabeth Warren (D).
She may be a good choice for President if Hillary can be beaten.
I was an Obama supporter but he has done a terrible job and created an opening for a republican President despite their seriously broken party.
Please remember that both parties created this debacle over 5 decades and the banks and brokerage houses may be more powerful than our government? They stone walled our government over regulations intended to insure the use of the TARP funds would clear the housing crisis. NY's attorney general has filed a lawsuit against The Bank Of America. Hopefully more States will join in.
Phil
"A small bipartisan group of U.S. senators on Thursday introduced legislation that would break up Wall Street's megabanks by separating traditional banking activity from riskier financial services.
The bill, called the 21st Century Glass-Steagall Act, has an uncertain future, but it shows some lawmakers' frustration that banks have only continued to grow since the 2007-2009 financial crisis.
The four biggest banks are now 30 percent larger than they were just five years ago, and they have continued to engage in dangerous, high-risk practices that could once again put our economy at risk," said Democratic Senator Elizabeth Warren from Massachusetts, one of the sponsors of the bill.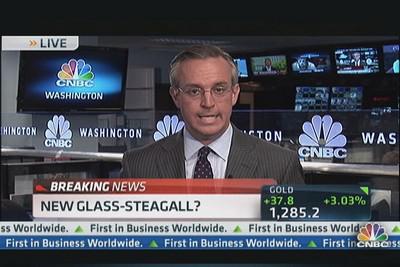 Play Video
New Glass-Steagall?
CNBC's Eamon Javers reports John McCain and Elizabeth Warren are joining forces to introduce a bill that would reinstate the Glass-Steagall Act.
The other sponsors are Republican Senator John McCain from Arizona, Democratic Senator Maria Cantwell from Washington, and Senator Angus King, an independent from Maine who caucuses with the Senate's Democrats.
The legislation would bring back elements of the 1933 Glass-Steagall Act, which divided commercial and investment banking, and was repealed in 1999.
There were calls to bring back Glass-Steagall immediately after the financial crisis, but the 2010 Dodd-Frank financial reform law stopped short of busting up companies and instead curtails Wall Street's risk-taking.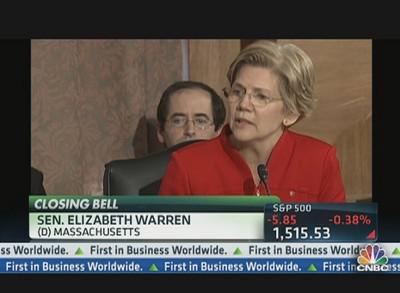 Play Video
Warren: Banks Too Big for Trial?
Sen. Elizabeth Warren (D-MA) came out swinging at her first hearing as a member of the Senate Banking Committee, with CNBC's Hampton Pearson. Barney Frank, former Congressman (D-MA), shares his reaction.
The debate was revived last year when Sanford "Sandy" Weill, the tycoon who built financial conglomerateCitigroup into a massive U.S. commercial and investment bank, said it was time to split up the biggest banks so they can get back to growing.
The legislation introduced on Thursday would separate the operations of traditional banks with accounts backed by the Federal Deposit Insurance Corp. from riskier activities such as investment banking, insurance, swaps and hedge funds.
It would include a five-year transition period and would call for penalties if companies violated the law.
Other attempts since the financial crisis to bring back Glass-Steagall have not gathered significant momentum.
-By Reuters
US Senators Introduce Bill to Break Up Megabanks
A small bipartisan group of U.S. senators wants to break up megabanks.
Disclosure: I am long AAPL.
Additional disclosure: This problem is generic to our entire monetary system. Apple should be applauded for fighting back on principal against continuing bad policy that contradicts the concept of Government protection for all Americans.
Seeking Alpha's Disclosure: Past performance is no guarantee of future results. No recommendation or advice is being given as to whether any investment is suitable for a particular investor. Any views or opinions expressed above may not reflect those of Seeking Alpha as a whole. Seeking Alpha is not a licensed securities dealer, broker or US investment adviser or investment bank. Our analysts are third party authors that include both professional investors and individual investors who may not be licensed or certified by any institute or regulatory body.