iPhone captures major market share in smartphones and has successfully dominated high volume businesses such iTunes and Apple TV.  With NFC, a fee is collected for each transaction, it is certain that Apple will want to capture this huge market.
To date, Apple has not announced an NFC capable-phone.   iPhone 3 and iPhone 4 currently do not have NFC-capability.  Experts are certain that the iPhone 5 will be NFC capable.  To enable mobile payment, a chip with NFC capability is included in a smart-phone and at point-of-sale terminal.  As an interim solution, for devices without NFC capability an SD card is an approach that implements all NFC-related functionality. With mobile devices that currently have an SD card slot, users can plug in the card to get immediate NFC capabilities.  
On August 9, 2011, Visa
announced
plans to accelerate chip migration and adoption of mobile payments.
"Visa will require US acquirer processors and sub-processor service providers to be able to support merchant chip transactions no later than April 1, 2013".
MasterCard developed a competing technology called PayPass and American Express has created a similar technology called ExpressPay. 
Companies:

NXP Semiconductors (NASDAQ:NXPI) – a Dutch company that makes chips that run Google 's Wallet.   The market expects 472 million smart-phones to be shipped in 2011.   On Aug 2, 2011, via BusinessWire, NXPI announced a complete fingerprint-enabled payment in the US via a Motorola Android (NYSE:MMI) phone using technology from NXPI, AuthenTec and DeviceFidelity.  NXPI chart via StockCharts.com as of Sept 15, 2011.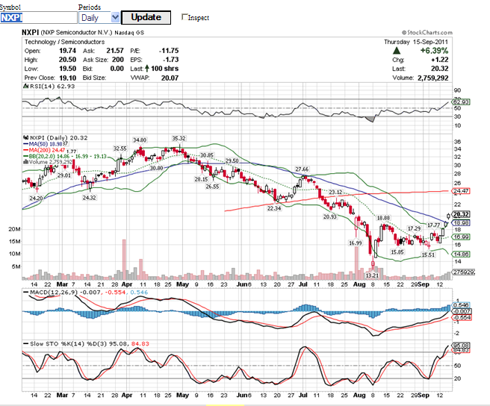 VeriFone (NYSE:PAY) – makes the terminals that read credit cards; The company announced that it will enable all of its devices with NFC technology by the end of 2012.  PAY chart via StockCharts.com as of Sept 13, 2011.
Technology Partnerships:
Joint ventures with credit card companies, cellular providers and internet companies:
Isis – joint venture with American Express, Mastercard, Visa and AT&T (NYSE:T), T-Mobile, Verizon (NYSE:VZ) and Discover Card (NYSE:DFS).   Payment is made by waving their phone at the point-of-sale terminals.
Google Wallet – partnership with Citigroup, Mastercard, First Data and Samsung. 
 Competing Technologies:
Ebay's paypal (NASDAQ:EBAY) and prepaid credit cards from Netspend (NASDAQ:NTSP) and GreenDot (NYSE:GDOT).
Social Networking 's Facebook – BitCoin (virtual currency) – digital currency developed by MIT.
 Risks:
Federal Regulation – Durbin Amendment stated that the Federal Reserve can have a say on interchange fees proposed by Visa and MasterCard.
Security of financial data
HedgeFunds Holdings:
Third Points, LLC – Dan Loeb, a New York based hedge fund managing over $5.5 billion in assets.   As of March 31 2011, the fund holds approximately 4.7 million shares and comprises 1.42% of the companies portfolio as reported in GuruFocus.
$20.93 - $31.95
($26.4)
 In summary, mobile payment NFC technology's penetration rate will be enormous over the next several years. The US market is currently in its infancy in adopting this technology. Japan and Korea are currently using NFC-enabled mobile payment technology. Emerging markets such as Brazil, India and China represent a huge un-tapped market. Recent research from
Juniper
indicates the mobile payments market will triple to $670 billion worldwide by 2015.
In the near term, the major markets are in correction mode. Investors with a short-term outlook would be wise to wait for the market upturn prior to making an investment. Those with a longer term horizon might want to initiate a position in this growing industry as these stocks have corrected anywhere from 20% to 40% from their 52-week highs.
Disclosure:
I am long
NXPI
.