The Best Brazil Small Stock Discovery: Midas Medici (OTC:MMED)
I just kind of lucked into this one. I'm no genius, and at times out right foolish. However, sometimes you learn about something early in the game, follow its progress, and get the benefit of being ahead of the masses pouring money into a stock at higher prices. With the Friday post close news, it could start first thing Monday morning.
This one is going to be a monster Brazilian small stock win at some point down the road. Could be as early as Monday or sometime next year. This one is also destined for the AMEX or NASDAQ in pretty short order.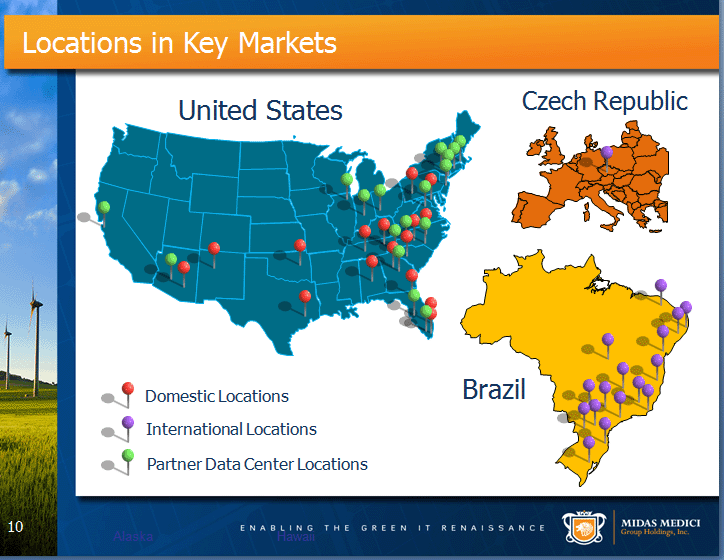 I first reported on this stock a few months ago, and because it's a bit thinly traded, it shot up and down, offering a great opportunity for a trade between the $1.00 and $3.50 range for those with the skills and a little patience.
However, I see the opportunity disappearing sometime in the near future because the stock will be higher. This stock would probably be $6 today if not for the crazy market environment.
It's worth remembering many important market bottoms have come in October- Since WWII, Bear Markets that ended in October included 1946, 1960, 1962, 1966, 1974, 1987, 1998, and 2002. The only departure from that timing was the low of March in 2009.
Despite the recent pounding the markets have taken, this stock is trying to break to new highs, and had a volume surge on Friday that suggests a breakout is imminent. If you want to participate in the next surge, you better act immediately, because there's very little supply in the open market for this one.
As I looked out to the future, I see growth money looking for growth companies, and they won't find it stateside in the good old US of A. Growth money is going to have to go back to the BRIC nations- Brazil, Russia, India, and China. China stocks have seen three massive bull markets, and are likely to see another. Russia is too unpredictable. India looks promising, but its process is very slow. Brazil looks to be "Best of Breed", and money will be flowing to Brazil stocks.
Imagine a fund manager's delight when he finds one delivering about $137 million in annual revenues, smack dab in the middle of the most exciting industry of our time, with 300 of Brazil's 600 largest companies- and the government- as their customer base. Wow.
When I first reported on this company it was about $20 million in annual revenues and $20 million in market value. Now, it's a least $120 million in annual revenues, and only about $30 million in market value, and parts of the Brazilian government are now lining up to give them business.
So why Brazil?- here are the numbers: Cisco reported 35% growth in Brazil last year, while their overall numbers were up 3%. IBM reported 20% growth in Brazil. Intel predicts Brazil will be the 3rd largest market for computers in 2012.
News post close on Friday. Stock will likely be moving on Monday. Check it out:  
| | |
| --- | --- |
| | Public Prosecutor Signs On For $2 Million with Midas (OTC:MMED) |
It's a heck of a way to make sure your parking tickets get fixed. Just go to work for the Prosecutor's office, and park anywhere you want- no worries. MMED announced the new contract post close on Friday, and I'll bet they can get their parking tickets fixed in San Paolo, Brazil from here forward.
CIMCORP- MMED owns 60% of CIMCORP, and over the next year will acquire the additional 40% for a mere $10 million. As part and parcel of the acquisition, MMED's shares need to trade over $4.50 within six months. If these guys can take a company from $20 million in revs to over $120 million in one year, I'll bet they can take a stock from $3 to $4.50 without much trouble.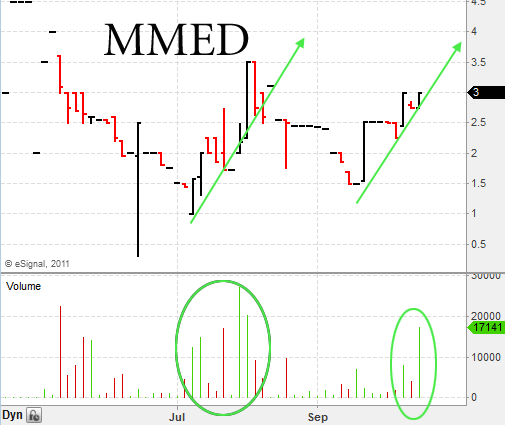 Here's the profile of CIMCORP: The company provides data center, cloud computing, and virtulization to over half of Brazil's 300 largest companies and the government. They've been around since 1988, have 200 employees, 8 regional offices, 12 distributorships, 3 partner data centers, and a subsidiary in Miami.
On Friday, after the market closed, MMED announced a new $2 million contract with the Public Prosecutors office in San Paolo, Brazil. It's a major upgrade, and requires the highest level of security.
I expect announcements of contracts like this will now become a regular event for MMED.
This chart is beginning to look very interesting. Volume materialized out of nowhere for this stock back in July. As you can see, during that time frame, the stock went from $1 to $3.50 before quieting back down.
Now volume is starting to materialize again, but there's a wrinkle. Back in July, this was a $20 million company. Today, the latest research report estimates this company is now running at $137 million in annual revenues, yet there are less than 10 million shares Issued and Outstanding.
Therefore, as of Friday's closing price of $3, the market is valuing MMED at less than $30 Million. Absurd. It's going higher- flat out. There was a nice volume surge on Friday, and as sure as the NFL will play football today, this stock is destined to move up on Monday.
Remember where you read about this one first. I have a history of finding these undiscovered gems, and this one is a beauty. Look for a move to AMEX or NASDAQ in the next 6 months.
As a final note, here's what you get – the OTC Journal reader: the competitive advantage. Q3 just ended on September 30th. The CIMCORP acquisition was completed over the summer. The next quarterly numbers will give a partial picture of the company's corporate performance for the quarter. It won't be until Q4 numbers come out that investors will see the whole story.
You have the story out ahead of the rest of the investing world.
In my view MMED is going higher in the short term, and over the longer term, much, much, much higher.