The weekly chart of RDN has produced a "peak C". Once a security reaches the "C point" it has a very strong probability of moving over it before completing it's pattern. This is especially true in weekly charts where each bar represents one week of price movement. Reviewing the weekly chart, should price move over the "C" point it will move towards the 200 day ema (blue line on chart). The 200 ema will act like a magnet pulling price towards it. The 200 day ema is at the 5.50 price area. Looking past the 200 day ema, there is large resistance in the 6.40 area. Should price move to this area, chances are it will be met by sellers that have been trapped in this security since early 2011.
Posted below are the daily and weekly charts of Radian. The daily chart shows two possible entry areas to be considered. The weekly chart shows the third possible buy area. Should a trader enter a position at any one of these points they must use a tight stop.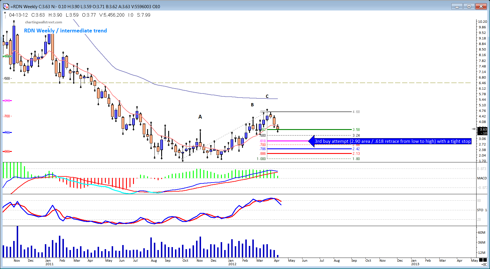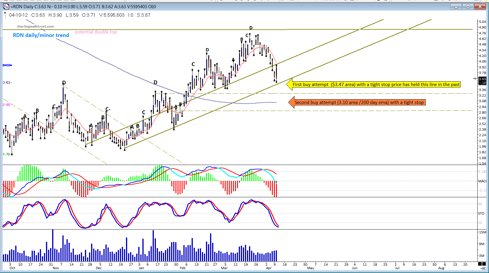 Disclosure: I have no positions in any stocks mentioned, and no plans to initiate any positions within the next 72 hours.