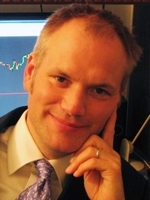 Ken Kinkopf, Founder and President, Kinkopf Capital Management, will present at
Golden Networking
's
High-Frequency Trading Leaders Forum 2011
Chicago, "How Speed Traders Leverage Cutting-Edge Strategies in the Post-Flash Crash World" (
http://www.HFTLeadersForum.com
). Building off of the momentum of past conferences in New York City,
High-Frequency Trading Leaders Forum 2011
will provide a global audience in
Chicago
, October 3-5,
Sao Paulo
, October 24-26,
Singapore
, November 13-15 and
Hong Kong
, December, 12-14,, the most up-to-date overview of cutting-edge developments and insights to build a competitive advantage in High-Frequency Trading.
Kinkopf is Founder and President of Kinkopf Capital Management, LLC which offers managed accounts in its S&P500 program. The company is a member of the NFA and registered with the CFTC as a Commodity Trading Advisor (CTA) since June, 2005.
Kinkopf brings over 20 years experience integrating technology and systems trading. Kinkopf has successfully traded the S&P500 futures market since 1989 and directs all trading for the firm. Kinkopf also provides technology consulting services holding over a dozen IT certifications. After studying the concepts and applications of risk management for discretionary trading, he correlated a risk-reward model using exploratory data analysis with forecasting techniques to create a robust, systematic, non-discretionary trading system. In 1999, Kinkopf programmatically transformed his discretionary model in to a systematic trading system.
Highlights of Kinkopf's recent achievements include making the "Top 10 Traders of 2009" as published by Futures Magazine, March 2010. He was listed as the "#1 Stock Index Trader" for 2009 in CTA-Info Flash Reports. Kinkopf won first place in five (5) CTA Challenges winning $2,000,000 in trade allocations during the turbulent periods between 2006 and 2010. In May of 1991 until April of 1996, he co-foundered and was president of K&D Financial Corporation in New York, which provided financial advisory services in the managed futures industry.
High-Frequency Trading Leaders Forum 2011
is produced by
Golden Networking
(
http://www.goldennetworking.net
), the premier networking community for business executives, entrepreneurs and investors. Panelists, speakers and sponsors are invited to contact
Golden Networking
by sending an email to
info@goldennetworking.net
.
Golden Networking
has been frequently featured in the press, including recent articles in The Wall Street Journal, "
Happy Hour for High-Frequency Trading
", The New York Times, "
Golden Networking Helps Job Seekers Make Overseas Connections
", Los Angeles Times, "
Speed-addicted traders dominate today's stock market
", Reuters, "
Revamp looms as trading experts huddle at SEC
" and Columbia Business School's Hermes Alumni Magazine, "
10 Under 10
".