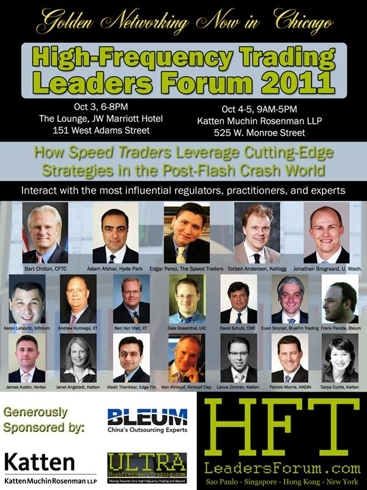 "
Does VPIN Predict Market Stress and Short Run Volatility?
" was a presentation by Professor Torben Andersen, Professor of Finance, Kellogg School of Management. He will
be
in the speaking podium at
Golden Networking
's
High Frequency Trading Leaders Forum 2011
Chicago, "How Speed Traders Leverage Cutting-Edge Strategies in the Post-Flash Crash World" (
http://www.HFTLeadersForum.com
), October 3-5.
Torben Andersen is the Nathan S. and Mary P. Sharp Professor of Finance and Director of the International Business & Markets Program and Research Center. He joined the faculty in 1991 and is a Faculty Research Associate of the National Bureau of Economic Research (NBER) and an International Fellow of the Center for Research in Econometric Analysis of Economic Time Series (CREATES) in Aarhus, Denmark. In addition, Professor Andersen was elected Fellow of the Econometric Society in 2008.
Professor Andersen has published widely in asset pricing, empirical finance, and empirical market microstructure. His work has centered on the modeling of volatility fluctuations in financial returns with applications to asset and derivatives pricing, portfolio selection, and the term structure of interest rates. His current work explores the use of large data sets of very high-frequency data for volatility forecasting, portfolio choice and risk management. He has received grants from the National Science Foundation, the Sloan Foundation, and the Institute for Quantitative Research in Finance (the Q-Group). He served as the editor-in-chief for the Journal of Business and Economic Statistics in 2004-2006, and he has served on the editorial board of various leading journals, including the Journal of Finance, Review of Financial Studies, Econometric Theory, and Management Science.
Professor Andersen has served as a consultant to the Stafford Trading Group, the Federal Reserve Board of Governors, various regional Federal Reserve Banks, foreign Central Banks, universities, and other organizations. He received his PhD in Economics from Yale University.
High Frequency Trading Leaders Forum 2011
is produced by
Golden Networking
(
http://www.goldennetworking.net
), the premier networking community for business executives, entrepreneurs and investors. Panelists, speakers and sponsors are invited to contact
Golden Networking
by sending an email to
info@goldennetworking.net
.
Golden Networking
has been frequently featured in the press, including recent articles in The Wall Street Journal, "
Happy Hour for High Frequency Trading
", The New York Times, "
Golden Networking Helps Job Seekers Make Overseas Connections
", Los Angeles Times, "
Speed-addicted traders dominate today's stock market
", Reuters, "
Revamp looms as trading experts huddle at SEC
" and Columbia Business School's Hermes Alumni Magazine, "
10 Under 10
".