Recent History - Q2 Results
Great Basin Gold's stock price was decimated on August 15, 2012, falling to 0.26/share (from about 0.50/share on August 13, 2012), after management announced a lower than expected results from both of the company's mines (Hollister in Nevada, and Burnstone in South Africa), and the resignation of Ferdi Dippenaar as CEO, followed by the assumption of CEO duties by the former CFO Lou van Vuuren. In addition the company announced liquidity issues, and the initiation of a Strategic Review Process to preserve and enhance "shareholder value in light of the continuing financial challenges resulting from the operational challenges experienced particularly with the production ramp up at the Burnstone mine."
In Nevada, there was lower than expected ore grades (0.63 Au eq. oz / tone), and problems in the carbon circuit at the Esmeralda mill. This resulted in 14,688 Au eq. oz. recovered, and 14,857 sold from Nevada in Q2, 2012. In Q1, 20,459 Au eq. oz. were sold from Nevada, so this is a significant reduction in throughput.
In South Africa, there were issues with dirty water which caused Burnstone to miss it's target of 17,790 Au. Recovered Au oz. at Burnstone in Q2-2012 was 6,392 oz. In Q1, 6,671 Au oz were recovered and 5,610 Au oz sold from Burnstone.
September 4, 2012 - Operational Update
In Nevada, preliminary production results are averaging 6,500 Au eq. oz. sold per month (for July and August) vs 5,000 Au eq. oz. sold per month in Q2. If production and sales continue at the current pace, Hollister should be around 19,500 Au eq. oz. in Q3.
In South Africa, 4,280 oz Au were sold in July and August. That's about 2140 oz Au gold sold per month. If Burnstone continues at that rate, it should be producing and selling about 6,420 oz Au / month. According to management, "The head grade of material delivered to the plant remains impacted by the development/stoping ratio which is only expected to improve once stoping increases later on in 2012." Ore development in July and August have improved about 50% (888 meters / month vs 590 meters / month) since Q2.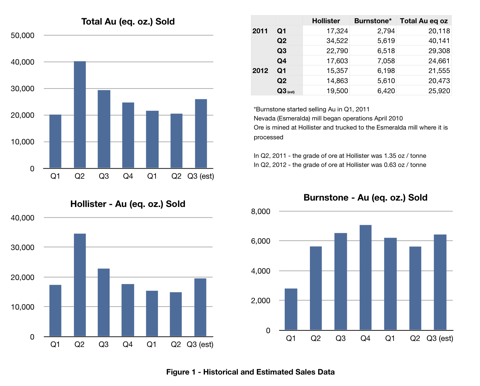 Combined, that's an estimated 25,920 Au eq. oz. that could be sold in Q3. Those numbers are better than Q1 and Q2 of 2012, as well as Q4 2011. In Q2 Great Basin Gold was trading between $0.49 and $0.74 per share. In Q1, the share price was between 1.28 and 0.63 per share. In 2012-Q4, the share price was between $1.64 and $0.89. In 2012-Q4, the price of gold ranged from almost $1800/oz to as low as $1540/oz. Currently the price of gold is about $1692.
The Wall Street Journal Discusses the Value Found in Precious Metal Mining Stocks
The Wall Street Journal recently published an article titled "Window of Opportunity In Gold" on September 2, 2012.
In this article, they discuss how a gap has formed between gold mining shares and gold itself. This represents a value opportunity, until the gap closes (and prices correct).
Some notable quotes from the article are :
"in most cases the market has significantly oversold gold equities and this has presented some attractive investment opportunities."
"small to mid-tier miners … may offer more attractive returns, … making them potential M&A targets."
"Out of 470 M&A deals, 160 were in gold"
"The valuation gap hasn't gone unnoticed. While retail stock investors may be apprehensive about jumping into gold equities, acquisitive mining companies have demonstrated interest in scooping up gold companies on the cheap."
Value of Hollister By Itself
Great Basin Gold updated its reserve estimates at Hollister on September 4, 2012. The proven and provable numbers for gold and silver are 455K oz Au, and 1470K oz Ag. The measured and indicated numbers are 706K oz Au, and 2864K oz Ag.
If we use a trial mining cost of $850/oz (Q1 numbers), and today's gold price of $1690/oz and a silver price of $32/oz, that means that we can expect to make between $429-$684 million from Hollister alone. That represents between $0.78-$1.24 per share (from Hollister alone).
Value of Burnstone
If we look at past production data, we see that the most that Burnstone has produced in a quarter is 7,058 oz Au. This is significantly less than Hollister. You would think this is a much smaller and almost inconsequential mine.
Taking a look at the satellite images of the two mines (thanks to Google maps) provides a very different outlook.
Here is a satellite image of Hollister, in Nevada.
Here is a satellite image of Burnstone in South Africa
We see that Burnstone is significantly larger than Hollister. If we look at reserves, we see why Burnstone is so much bigger operationally than Hollister. There are 6.4 million Au oz in reserves (proven and provable), and 12.6 million ounces Au as measured and indicated resources.
That represents between $4.4 billion (using P&P numbers), and $8.7 billion (using M&I numbers), once they get the are able to reduce the cost of production down to about $1000/oz. Burnstone began mining in Q1 of 2011. There have been numerous problems at the plant, which have depressed the stock.
Debt, Cash Balance, Inventories
If we look at the debt burden for Great Basin Gold, we see that total liabilities are $403 million. There is $16.6 million of cash, and $31.7 million of precious metal in process. The company is looking to raise $60 million to relieve near and intermediate term liquidity concerns - through a combination of asset sales or new equity (according to the Q2-2012 MDA).
Short Interest
Looking at the short interest, tells an interesting tale. There was close to 14 million shares short last year around September 15, 2011. Currently there are about 6.2 million shares short. The shorts have been covering. But there's not much place for them for cover. The longs have been beaten up severely, but understand the value proposition, and are not selling (especially at these distressed levels). Volume has dried up, and it has now become a waiting game.
Conclusion - Life Cycle of a Junior Mining Stock
Interestingly enough, when you look at where Great Basin Gold is in the life cycle of a junior mining stock, everything makes sense.
Great Basin Gold has completed development of not one but two mines - Hollister and Burnstone. Burnstone has been having teething troubles as it starts up. As a result, relative value is very low, but soon, as Burnstone volumes ramp up, and Hollister's troubles are seen in the rear view mirror, Great Basin Gold will attain full relative value, and long term shareholders will be rewarded for their patience.
Disclosure: I am long GBG.