By Edward Talisse
New York
So far in 2014, the Financials Select Sector SPDR (NYSEARCA:XLF) and the SPDR KBW Bank Index ETF (NYSEARCA:KBE) have underperformed the border S&P 500 market by 2% and 9.38% respectively. Last year, both XLF and KBE handily beat the S&P 500, so it's no surprise that price action is mean reverting a bit this year. Banks and financials are often used as a broad proxy to measure the overall health of an economy and, as the theory goes, an economy cannot grow unless the banking sector is strong and vigorous. After all, banks provide the necessary credit to expanding businesses and provide useful risk and maturity transformation services. So what does the poor performance of financial and bank stocks say about the U.S. economy? Not much in our view. It is important to note that demand for a bank's main asset side product, Commercial and Industrial Loans or C&I Loans is brisk. In fact, C&I Loans are growing at a close to 12% pace in 2014, easily the strongest growth seen since before the financial crisis. Strong loan demand naturally leads to a pickup in adjacent services like hedging, trading and cash management. So the core business of a commercial bank seems to be in decent shape. One worrying aspect may be that banks are generally loosening lending standards to attract new business, which typically indicates extreme price pressure for loan products.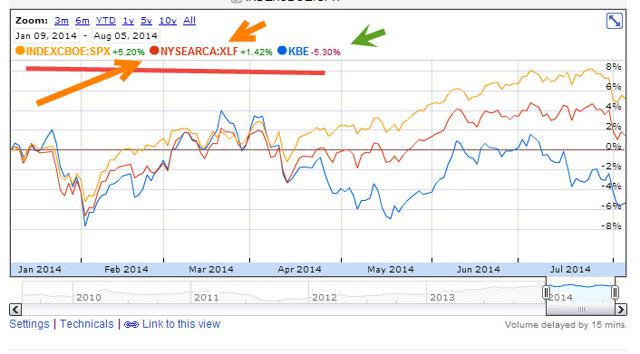 The Federal Reserve's July 2014 Senior Loan Survey released today stated, "The July survey results showed a continued easing of lending standards and terms for many types of loan categories amid a broad-based pickup in loan demand. Domestic banks generally continued to ease their lending standards and various terms for commercial and industrial (C&I) loans." So risk management and credit standards are maybe becoming too lax again. We will have to wait and see. So why have financials and banks stocks fared poorly so far in 2014 just when their core businesses seem to be doing so well? We think the following graph, compliments of FRED has the answer. Simply put, the average return on equity at U.S. Banks has decidedly settled into the single digit area of 8% to 9%, which is a big secular decline from the pre-crisis levels in the mid-teens of 15-16%. That is a huge change and, when coupled with the fact that the average cost of equity capital at the Banks has not declined at all. Sure, the tax advantaged average cost of capital, inclusive of bank debt, has fallen since 2008. But Banks are now severely constrained on just how much they can borrow and prudential regulators insist on high amounts of loss absorption capital - that is equity capital, in the banks.
2014 is the first year that we are finally getting some visibility into the long term earning potential of the banking and financial sectors. Since 2008 banks have rationalized their portfolios of businesses, reduced expenses and shed risky assets. The result is average return on equity of 8.8% to be exact.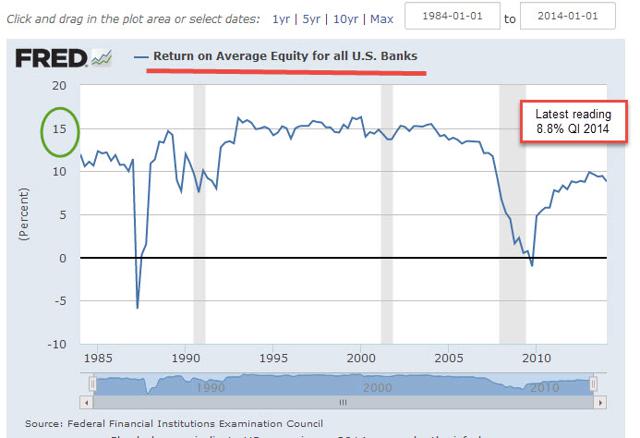 Financials and banks now have a clearly visible problem. Their cost of capital exceeds their return on capital. Now we all know it. What's the solution? The first step is for banks to pay higher dividends and buy back shares - if the Fed allows it. Next, banks will try to lower their cost of equity by stabilizing earnings- which should reduce the stock's beta. Lastly, we are likely to see a wave of consolidations in the industry in an attempt to take out excess capacity and improve margins. Longer term these are all positive factors for investors, but for now we simply have an earnings problem. The economy is just fine. Financials and Banks…well that is a different story.
Where Will the S&P 500 be at the End of 2015?
We really don't know of course. We can estimate the index level at the end of 2015 by either relying on past historical data to provide guidance or by forecasting future earnings and market multiples. We can also venture a guess based on a whim or some technical patterns and hope for the best. The reality is that the S&P 500 and the investable SPDR S&P 500 Trust (NYSEARCA:SPY) Index can end up pretty much anywhere. However, we do know where the index is likely to end up based upon the historical evidence. For the past 25 years, from 1988 through 2013, the S&P has returned about 10% average per year with an annualized standard deviation (volatility) of around 18%. There is no reason to suspect that the future will not be like the past in the same manner as we assume that the past cannot presage the future. Historical data are just numbers, but they do provide a solid statistical basis for making some inferences. So if we plug our observable parameters, historical returns and volatility, into a log normal distribution or Monte Carlo engine, we get a mean index price of around 2,100 at the end of next year. That is not to say the Index will actually be there, but rather, based upon the last 25 years of data, it is likely to be close to that level. The advantage of this method is that you do not need to make any forecast or predictions about earnings or multiples or anything else for that matter. The key point here is that a market forecaster or investment advisor would need a pretty good reason or unique insight to predict an S&P Index far away from 2,100 at the end of next year.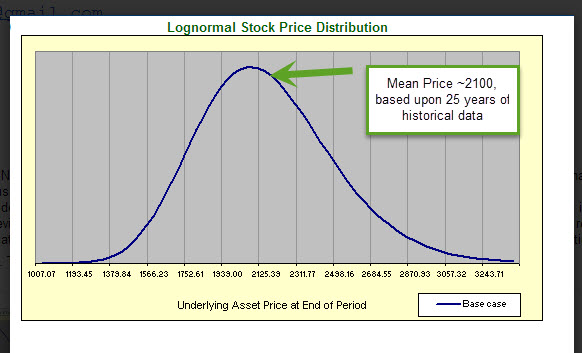 It's important that investors do not get swayed by wildly bullish or bearish forecasts when deciding asset allocation strategies. Unless one has superior information and superior skill, which are both very rare, a realistic forecast should be grounded on past data, at least as a starting point.
Conclusion
Financial and bank stocks have lagged so far in 2014. We do not believe this is a sign of an unhealthy real economy. The core business of most banks, making loans to commercial and industrial clients, seems to be booming. Rather the long term earnings power of financials and banks, in relation to their cost of capital, has dramatically changed for the worse. Lastly, whenever you have a reliable long term data set of past performance, such as with the S&P 500, it is easy to estimate the likely path of future returns.
Disclosure: The author is long SPY. The author wrote this article themselves, and it expresses their own opinions. The author is not receiving compensation for it. The author has no business relationship with any company whose stock is mentioned in this article.