June 14, 2018 marked 25 years of listing for INFY. Over this period, the revenues have increased from $5 mn to $10.9 bn, with the stock commanding a market cap of $43 bn (as on June 15, 2018; $1=INR 65). TSR calculations suggest that INR 9,500 invested at the time of the IPO would have become over INR 20 mn - a CAGR of 35%+ (contrast this with the ~40% returns since 1988 of the Medallion fund, only available to Renaissance Technologies employees).
INFY was one of the first non-business family backed Indian companies to have made a global mark. Although Mr N R Narayana Murthy is believed to have borrowed INR 10,000 from his wife in 1981 to start the company!
Over the years tailwinds from the Y2K bug, the tech boom, the outsourcing boom and labour arbitrage helped establish the Indian IT/ITES industry as the default choice for cost rationalisation. INFY's focus on 'customer, investor and employee' not only made all the three rich, but also made INFY the barometer of the Indian IT/ITES industry growth - INFY results used to kick off earnings season in India for a long long time.
Over the last few years, the company experienced some level of corporate inertia. Their was a space of exits at the senior management level, citing limited growth prospects as compared to the founding members. This is when Mr Murthy brought in Mr Vishal Sikka, a SAP veteran to run the company. While it brought temporary cheer to the company, Mr Sikka soon had to leave the company under a cloud of allegations over corporate governance issues.
This was enough to shake the founders from their slumber and Mr Nandan Nilekani was quickly appointed as the CEO, with additional changes on the board. Mr Nilekani had co-founder of INFY with Mr Murthy and had served as the CEO in early 2000s. Mr Nilekani second stint came in to soothe frayed nerves and he did a remarkable job while finding a replacement for himself. Mr Salil Sathish Parekh, a Capgemini veteran has been now handed over the baton.
Only time can tell whether 'this time it will be different' or not, the start seems to be anchored in reality. There 4Q18 results came in line with estimates with revenues of $2.8 bn (+9.2% y/y) and profits of $571 mn (+5.2% y/y). On April 23, the management came out with a more detailed vision.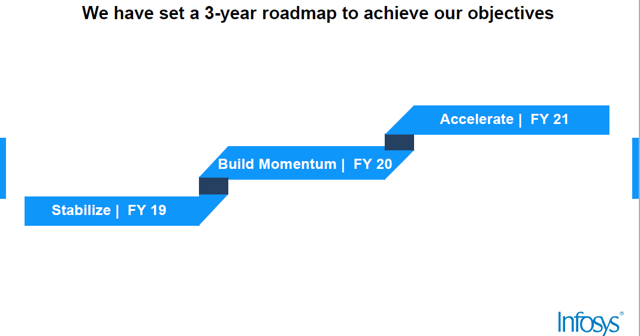 The remarkable aspect of this plan is the inherit acknowledgement of the business volatility, the time limitations associated in allaying this business volatility and a belief that this volatility will be conquered.
While the tightening central bank balance sheets are reducing corporate budgets, the disappearing labour arbitrage (due to pricing and protectionist policies) has added to the margin squeeze for most services companies. This has led to service firms tap into growing digital marketing budgets by offering solutions that help align the end client's technology and advertising strategy. 
Over the last three years, all large service companies have been steadily building a portfolio of digital assets. INFY is not far behind with recent acquisitions of Brilliant Basics and WongDoody Holding Company - a move that resonates with the fact that over 1/4th of INFY's F2018 revenue came from digital. 
On the basis of management commentary, deal news flow and business sentiment, I expect INFY 1Q19 revenues to come in at INR 17,833 cr ($ 2.74 bn) and for the full year at INR 77,751 cr ($ 11.96 bn) and full year FCF of INR 13,995 cr ($ 2.15 bn). At the current market cap of INR 279.7 cr, INFY offers an F2019E FCF yield of 5.0%.
The downside risks include another management fiasco, while the upside case would include a faster than expected turnaround.  
Notes:
1 cr = 10 mn
FX assumed: $ 1 = INR 65
All market data is as of June 15th end of day
Disclosure: I/we have no positions in any stocks mentioned, and no plans to initiate any positions within the next 72 hours.