I like to search for bargains. Mr. Market tends to over-shoot both ways. The market extremes are probably as high as they have ever been. Stocks known and loved by Millenniums are priced to perfection whereas out of favour stocks are priced to fail. Extremes present opportunity.
Of all the stocks I've searched, Macy's is probably the best value I've ever seen since 2009 when the market was priced for Armageddon. Given its consistent cash flow and prime real estate, the Company is a bargain. Unlike Sears and Hudson Bay, it consistently makes money and pays a safe dividend.
Now don't get me wrong, when it comes to the market, anybody can get any call wrong. Any stock can go down but here are the reasons why I think the odds are better than 90% that Macy's will be higher in the future.
Consistent free cash flows – Macy's cash flows are consistent and over the last three years, free cash flows have been around $1.2b per annum. Despite this consistent cash flow, the market value has traded between $4 and $12 billion during this time frame showing how wrong the market can be trading on quarterly data.
Long history of free cash flow - Macy's has had positive free cash flow every year for the last 20 years and probably further if one wants to keep searching.
Macy's earnings have been consistent over the last 4.5 years albeit not consistently rising. The range for the last four full years has been between $2.65 to $3.05.This is amazing given the disruption that has been occurring. Also, Macy's has only missed earnings forecast three times in the last 18 quarters and never two quarter in a row. (See Estimize for details)
Market value is running at around $4.7b compared to book value of $6.5b and net property values estimated at around $9b. ($15.5b less $6.5b of debt)
I could go on about valuation and I understand the disruption occurring in the brick and mortar retailers but I don't believe Macy's fate will be like Sears. So instead of just words, I will show a few graphs on recent trends:
Please note that the numbers for this report are from the Company's annual reports, Estimize and Fast Graphs.
Here's the first graph showing the actual quarterly earnings for the last 5 years: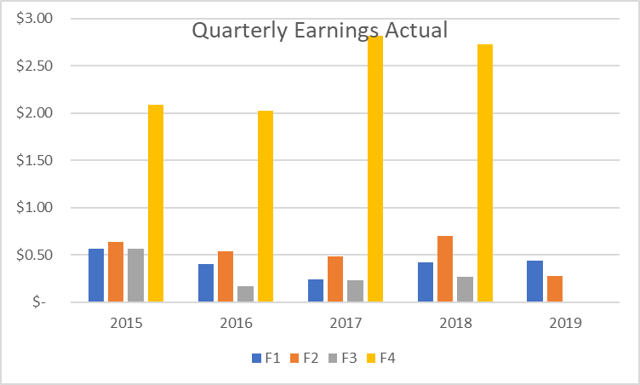 Yes, the 2nd quarter of 2019 was disappointing, but the trend is not the disaster the market thinks it is. Yes, the quarter missed earnings by 37% but it was the 2nd quarter which only represent ~15% of the annual earnings. If the next two quarters miss expectations, then Macy's has a problem, but this is unlikely.
Here's another graph showing the trend including the Wall St consensus forecast which shows that the trend is negative but not as disastrous as the market anticipates. The forecast is negative which makes it easier for the actual results to beat.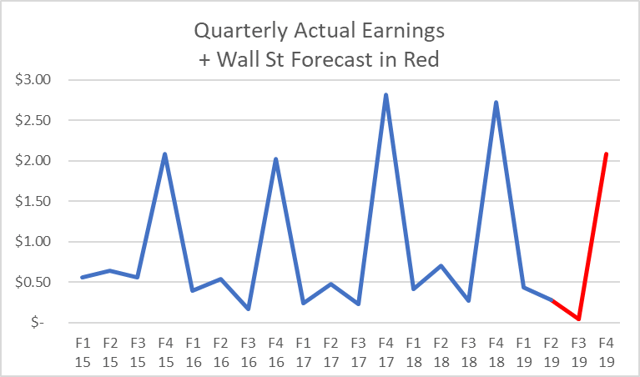 Over the last four years, Macy's has cumulative earnings and free cash flow of $14.39 and $15.81. In four years, the Company has been able to generate its entire market cap. This 100% return in four years is remarkable and very unusual. I'm happy if a company's can earn 30% of its market cap over a four-year period. These results from Macy's would be like Apple or Amazon generating a trillion dollars in net earnings or free cash flow in four years. Last time I checked, Apple was at 18% and Amazon was 3% on this metric. (Yes I know that Macy's EPS has fallen whereas Apple and Amazon's have risen, but the valuation comparison is staggering if properly comprehended.)
Macy's has valuable real estate with multiple options. They have embraced on-line shopping and are not afraid to close stores where square footage can be put to better use. This is one of multiple reasons why I believe they will continue making money and beating estimates. Yes, they have been slower to adapt than some of their competitors, but all their competitors have had issues over the last 10 years.
A quick comparison of Macy's with WMT and TGT is shown below: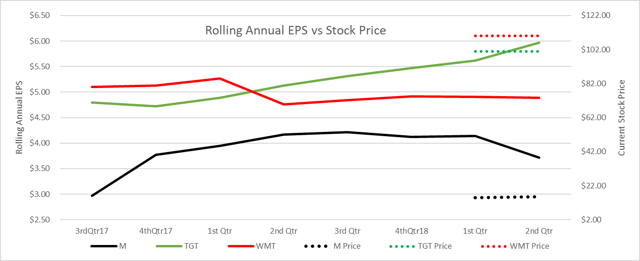 This graph is enlightening. It shows the rolling annual EPS for the three companies and the different stock prices on the right. Macy's latest reported rolling annual EPS is about 62% of WMT's and 76% of TGT's. However, Macy's is trading at less than 15% of both company's stock prices. Yes, the trend is better for Target and Walmart but that does not justify the valuation differences. Consensus forecasts are based on the trends shown above. As a result, misses are likely for WMT and TGT and beats are likely for Macy's.
Conclusion
The trend for EPS and FCF as shown in the above graphs is not nearly as bad as the market anticipates. The current valuation is such that future expected earnings are valued at about a quarter of that of Walmart and Target. I expect positive and negative surprises on these stocks going forward but only Macy's provides a cushion on the downside and lots of upside relative to its competitors.
Disclosure: I am/we are long M, TGT, WMT.
I wrote this article myself, and it expresses my own opinions. I am not receiving compensation for it (other than from Seeking Alpha). I have no business relationship with any company whose stock is mentioned in this article.