Great past year and great performance set to continue in 2015 & 2016
It has been quite awhile since my first 2 articles that I submitted last summer on Ziopharm (ZIOP) and Intrexon (XON), and the stocks have more than tripled and doubled respectively since that time. Not to toot my horn too much as it seemed like a no-brainer to me at that time that the future of both companies looked very bright, and now I am even more confident about the future price appreciation of each in the near term (ZIOP more here) and long term on both stocks. So, I feel very good about my third Seeking Alpha article will be a good read and indicator of more good things to come, with more specifics mentioned on here as to Ziopharm. As mentioned in the summary it has been a very good last few months that actually began in October after the stock was beaten down to unusually low levels and had recovered very well ahead of the January news of the MD Anderson alliance announcement. One noteworthy line in the announcement highlights this huge potential that many feel that Ziopharm & Intrexon are in an excellent position to capitalize on this new alliance is shown here.
"When combined with Intrexon's technology suite and ZIOPHARM's clinically tested RheoSwitch Therapeutic System® interleukin-12 modules, the resulting proprietary methods and technologies may help realize the promise of genetically modified CAR T cells by tightly controlling cell expansion and activation in the body, minimizing off-target effects and toxicity while maximizing therapeutic efficacy."
RheoSwitch Therapeutic System®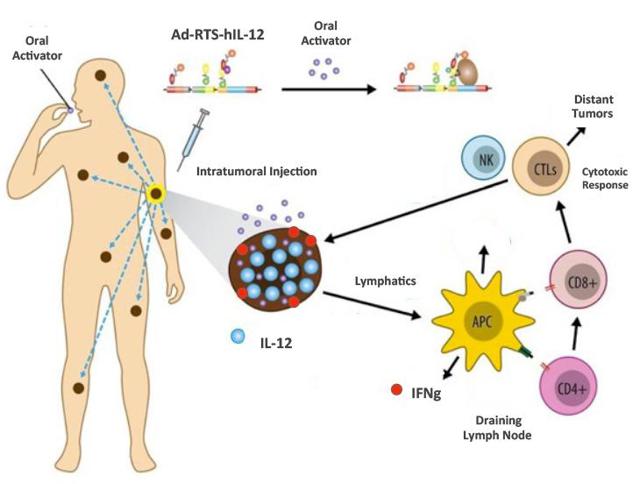 Ziopharm has already demonstrated great strides and success in the RheoSwitch with vector/ligand IL-12 system in treating Melanoma and Breast Cancer in difficult to treat patients and controlling toxicity while doing so in an efficient manner. As I noted in my first article, Ziopharm had achieved with IL-12 what others such as Roche, had failed to achieve by demonstrating that the use of IL-12 to treat cancer could be done while minimalizing systemic side effects, and reversing any potential lasting effects by the use of the RheoSwitch activator ligand tight controller. Veledimex is the oral molecule ligand that has been proven to tightly or precisely control the expression of IL-12 and soon to be applied in other use systems such as CarT.
Management of Potential Toxicity through Inducible Immunoreceptor Expression
Many attractive target antigens are expressed on normal cells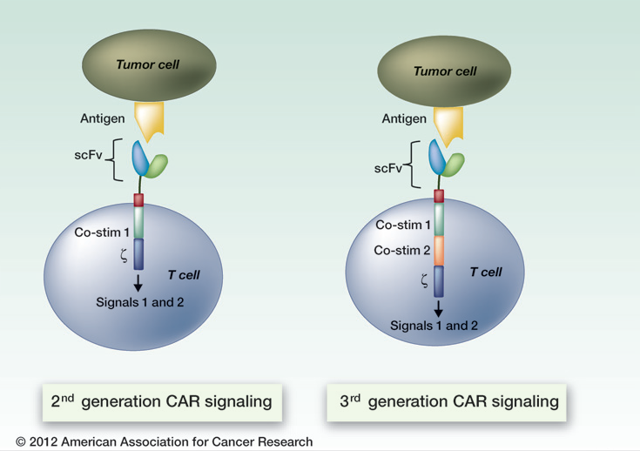 Many people are becoming more aware of the CAR T-cell therapy and the huge potential that exist in treating various cancers and potential cures of(possibly), where no other treatments have come close to such claims. A more detailed description of what CART is and the various types such as 'generations' can be found here. It basically involves the harnessing of the individual's own T-cells and engineering them into more effective cancer killing cells and then infused back into the patient. There may be certain variations of the engineered vector with most companies thus far, using a viral type vector with possible other variations and possible additions, to include a cytokine or other agent that may improve outcomes. With many of the top CarT companies in the lead and ahead in this arena, use a Viral vector and have had very good results but with a high percentage of side effects. There is some claim of success in treating those side effects with various agents that may block inflammation, but often once the cytokine syndrome starts it may be difficult to treat or reverse, causing harm(even some deaths) and in the very least great stress to the patient.
Non-Viral Integration Platform: Sleeping Beauty Transposon/Transposase System
Sleeping Beauty transposon/transposase system
• Efficient and nimble gene transfer method
• Bypasses the cost, time, and complexity of viral-based delivery vectors

Ziopharm and Intrexon see the huge potential with their own 'dimmer-like' Activator ligand Veledimex RheoSwitch system along with the non-viral vector Sleeping Beauty system from MD Anderson that a more manageable effective CarT can be used to more control side toxic side effects and be more effective and even more economical as well as quicker to treat. Also, from the original MD Anderson release noted above, "Cooper, Hackett and colleagues developed a non-viral DNA plasmid-based gene transfer system to modify T cells by creating a CAR that recognizes and binds to a specific cell surface protein on targeted malignant cells,"….."paving the way for rapid design and implementation of modified T cells that can be infused into patients with many types of malignancies."
And as specifically stated from the MD Anderson web site -
"Compared with recombinant viral DNA delivery methods used to create CAR T cells, Sleeping Beauty is faster, simpler and therefore a more nimble process for customizing T cells, as well as far less expensive, said Laurence Cooper, M.D., Ph.D., professor of Pediatrics at MD Anderson."
Oral Small Molecule Ligand (Veledimex) Precisely Controls the Expression of IL-12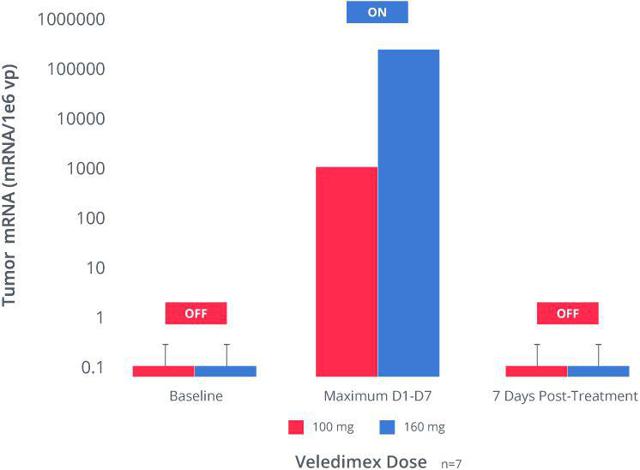 So, these more advantageous CarT cells can be developed in a faster pace and infused more quickly in hours to days, and not the much longer needed time that it usually takes in other CarT therapies from other companies. Ziopharm has also mentioned that other variations of the RheoSwitch can be used along with their superior UltraVector technology to make this CarT most scalable and efficient, and a likely best fit for making this MD Anderson initial CarT first candidate (now in Phase I) that much better.
There was some chatter that the first developed MD Anderson CarT now in Phase I is not up to par with the competition, but the Intrexon CEO RJ Kirk (and major Ziopharm shareholder), explained things very well on the recent Intrexon earnings Conference call that it was an "earlier version" and not "illustrative of what we think that platform does in its current version, so in the same way I will tell you that we're very confident that the data would have come out of MD Anderson without us would be improving anyway." And he goes on to explain more that they are very confident with their expertise and technological advancements that they can engineer these CarTs to be very competitive and possibly the best and most advantageous in the business, and of course benefit the patients of MD Anderson as well as many not just at MD Anderson, all around the world.
Another Large Deal may be just around the corner
Also, on that same Conference Call, Mr. Kirk noted that Ziopharm is presently in discussions with large Pharmaceutical/Biotech companies on a possible deal in CarT and/or other, as also previously announced in a news article recently, as there is huge interest in this area and of Ziopharm of late, to be included in this new therapy arena, before they are left out and possibly too late to compete most effectively. Ziopharm is at an extreme advantage in possibly signing up an interested party since they and Intrexon were the ones that acquired this new (potentially superior) technology from MD Anderson and hold the rights to the use of it for a very long time in the future. If proven to be successful that this CarT could be just as efficacious or better than other competition, and build on the claim of low toxicity and much faster turn around infusion times, and much more economical benefit, no amount of chronological advantage will matter as Ziopharm catches up quickly. It will also be a huge advantage having this MD Anderson alliance in place such that things can move along at relatively fast pace with them controlling much of the clinical trial work, so long as the FDA is cooperative.
As to that potential deal, it would be most advantageous for Ziopharm to sign a deal with much upfront cash of over $100 million and milestone payments in the $1 Billion or more ballpark, but it can surely vary, and a potential partner may also desire to be included in the rest of the pipeline (IL12 Breast/Glioblastoma, Bispecifics, other) or even consider an all buyout of the company. The latter should be considered as a high possible, since we know of the history of Mr. RJ Kirk, a majority shareholder of Ziopharm and Intrexon(as well as CEO of the latter). In a way, it would also be of much advantageous to complete a sale to a buyer of an agreeable price, knowing that a much larger Pharma/Biotech company could move along the CarT/other pipeline at a much quicker pace; this would give Intrexon the extra capital that it may need at some point in the future. I would say that the price would likely need to be of the $3 billion magnitude to be considered to make the Ziopharm shareholders happy to the point that they did not feel that Mr. Kirk was cheating them out of too much potential, but then again, with such a large move from $5 one year ago, and the opportunity to move into an Intrexon position, it would be a very good deal for all, in my opinion.
If just a partnership deal is reached such that included a large Pharmaceutical or large Biotech company (Celgene has been rumored in the past), a favorable cash infusion would also be favorable, so long as the future milestone/revenues were not too minimal to grow into a very successful biotech company, or to be acquired by the same partner at a future point in time. There are advantages and disadvantages to both deal types, so it will be up to the very interested parties, Ziopharm, and likely Mr. Kirk and other top management to determine the best fit. Either way, a likely deal is on the way soon, as I don't see a logical reason why Mr. Kirk would have brought it up so recent, if it were not in play. It is not like him to say something and not mean it, nor does he have a history of just trying to pump up a stock (he never has had to). Just like he meant what he said back in November, when he cut a conference call answer to a question short by saying stay tuned to "Significant transaction(s)" ahead; and we saw one very large one occur relatively soon after, in mid January.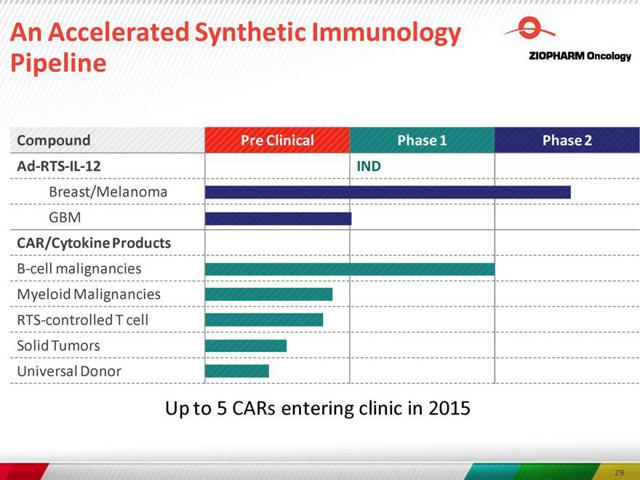 There are also other catalysts upcoming near term. Besides the likely tie-up with a large Pharma/Biotech company, Ziopharm is also about to begin a Phase I study of ad-RTS-hIL-12 & Veledimex in Glioblastoma Multiforme in the first or second quarter of 2015, which has generated much interest due to the impressive results in the pre-clinical stage. It had been delayed due to the FDA asking for more non-clinically related information, possibly trial study design details. We should also hear more about the newer Phase 1b/2 study to start with the same IL12 & veledimex, following standard of care sometime in 2015, possibly by mid year, as well as the public update on the Matisse Palifosfamide (Small Cell Lung Cancer) trial by mid year at a Scientific Conference. Ziopharm has recently announced that they will be presenting data on that trial at an upcoming Conference by mid year. In my opinion, it is most likely good news, since why would they go to the trouble to release this data publicly, when the drug Palifosfamide is not even included in the Pipeline anymore (due to the failure of Palifosfamide in the previously run STS clinical trial that most are aware of). If the results were not favorable, why not just release a brief PR and move on? Provided the results are quite favorable, Ziopharm is likely to obtain either a sale on the drug or include it with a partnership agreement or extra benefit of the company in an outright sale. A possible other near term catalyst would be an update from the already in Phase I CarT candidate begun by MD Anderson, at most likely the Immunology 2015 meeting or the ASGCT 2015 in New Orleans, both in May, or another upcoming related healthcare conference. The ZIOP/XON/MDA team previously announced that they are going to be very transparent and release updates as they come, so likely by May we will hear more about the early CarT candidate and possibly some preclinical work that Ziopharm has ready on their newer CarTs ready for the human trials to start by the end of the year.
Longer term catalysts that could propel the stock price even higher would be the start and results of the next CarT products that Ziopharm will start near the end of 2015, which have been mentioned as "up to five CART products in clinical trials." And then into 2016, solid tumor CarT, hematology CarT, and allogenic, off-the-shelf T-Cell studies in 2016. There is also interest in what the company will develop from the rest of the pipeline to include the recent preclinical work on the Bispecific antibody candidate announced in December 2014. Will they work this into a CarT product or be a separate one that they will partner with a Pharmaceutical company? It could be that they will work these into a CarT structure since we read this in that PR back in December> "Cell Linking Moieties (CLMS) are small bi-specific antibody fragments capable of directing potent T-cell mediated tumor lysis by fringing the immunologic synapses of T-cells and surface targets on tumor cells. In two preclinical studies, Intrexon and Ziopharm researchers interrogated a large number of CLM-based effectors for their ability to activate white blood cells from peripheral blood and lyse receptor target-positive tumor cells. Allogenic, tumor targeting stem cells were then genetically modified to express CLMs within the tumor microenvironment using the RheoSwitch Therapeutic System platform as mechanism for providing spatial and temporal control." More about that can be read here.
So, while it may appear that Ziopharm and Intrexon are early on in their ability to form CarT candidates and other complicated cancer fighting Synthetic Bio-Immunology engineered type products, it can be shown that they are quite ready to begin and add very sophisticated CarT candidates that will be very effective in being competitive and possibly superior to other CarT's from other more expensive market cap companies. Not saying that Ziopharm would necessarily take over the competition, since there is much room for several major players in this competitive field; however those companies most aligned with top notch medical facilities along with the best knowledgeable Scientific Research & Development teams will most likely have the best chances at being at the top of this field and bringing a successful product to market. If for example, something changes or is learned that a certain CarT is best in a certain indication, or that this non-viral approach is the best and least toxic along with most economical, then it would likely make sense for Ziopharm to license the use of their product out to others such as JUNO or KITE, since it may be difficult for one single company to handle all the clinical trials on their own(large patient demand), and just as unlikely to be the only company to handle all the patients with these cancers all over the globe. And if the latter is proven, it will also be unlikely that Ziopharm would remain independent for long without a large bid from a major Pharmaceutical company, if not taken over this year for that matter.
Steps Toward Point of Care Distribution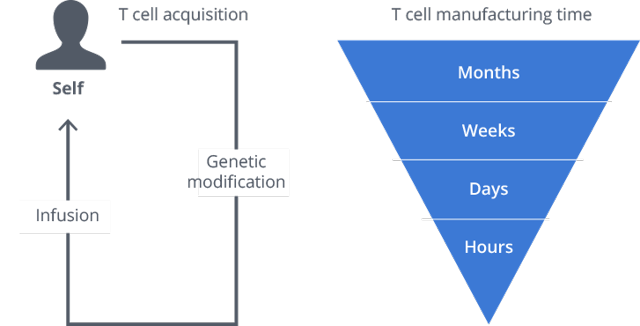 As already mentioned, Ziopharm has come a long way in stock performance, however, the MD Anderson alliance and technology acquired makes it even more highly likely that the present price is not a top anytime soon. The company is also even more financially stable with the recent completion of the underwritten public offering that brought in proceeds of $100 million. And since they already had close to $40 million on hand, they will have plenty of cash on hand to last into 2017. If there is just a sale of Palifosfamide, and/or a partnership with a Pharmaceutical company for parts or the whole of the pipeline, then they could easily add another 2 years of cash to last to 2019 or longer. If an early buyout is agreed to, since it would allow for a much quicker and easier product candidate launches (determined by the FDA) and into the clinic, then it would be game over quite fast for the very large short position. As stated earlier, Mr. Kirk, who rarely gives such hints to the public about what could happen near term, gave a large hint at the Intrexon fourth quarter earnings Conference Call, as to "Significant transaction(s)" to come, as to the interest in Ziopharm (& Intrexon) CarT market entry, and one of which did occur in January with the MD Anderson tie up. As also stated, he recently mentioned at the last Intrexon CC, that "As you know, Ziopharm has been in discussions with interested Pharma companies" or very similar words. So, if not concrete talks and very interested Pharma/biotech companies are not ready to move, why would Mr. Kirk expose himself to such risk on this topic? My thinking is that this chatter had already been discussed at a prior time, such as last summer, and that those companies held back or were not willing to bring to the table what a keen investor/ manager as Mr. Kirk would even consider(terms). Now that many have become aware of the huge potential that the Ziopharm/Intrexon/MDA alliance has, it is most likely true that there is huge interest from quite a many large Pharmaceutical and large Biotech companies (all over the Globe), ready to make a deal most beneficial to Ziopharm and Intrexon. Also, as stated, an early buyout deal of close to $3 Billion is not out of the question, since RJ Kirk has proven that he can be very willing to close an early such deal with an interested party (over other more stubborn management owners of young biotech companies), and any buyer could easily write off any such purchase. Not necessarily trying to "pump up" this possibility, but stating in such a manner relating to the prior history of Mr. Kirk in past deals, and if it were to occur, one should not to be so surprised. It would however, possibly be more beneficial to work a long term partnership deal versus a buyout, for the long term shareholder. There were several instances where Mr. Kirk did work a sale of his prior held biotech companies for some amount in Billions of dollars, that later those companies products went on to produce much more success of, in the future than was gained early on with that sale.
There are some risks to this and any biotech company investment
Recently, there has been some volatility as recent as this week, as a few of the analysts have offered mixed coverage/opinions. Griffin Securities Keith Markey (an equities analyst with more than 25 years of experience in this field, to include a former managerial position with prestigious Value Line) opined that Ziopharm has much more room to the upside (new $21 price target) and is very optimistic about this CarT technology and potential. His view is more of the half full glass(and I agree), seeing that there will be many chances for success with the many CarT candidates begun in human trials this year (along with the one already there in Phase I presently), and other pipeline candidates, while the Mizuho analyst Peter Lawson, recently downgraded his view position to Neutral with the same lower price target of $14 (after arriving there recently), due to wanting to see more proof that data will be as good as expected. I was puzzled that Mr. Lawson would act so swiftly when he could have easily waited for that data this year(to wait may be too late as many chances to good data by year end, where just one event could launch the price much higher), especially after recently raising the price target, and seeing how high in market cap some of the 'top' CarT companies are at this present time. There are quite a many CarT players in this field, but what most elevates Ziopharm to the elite level, at or just under the most top companies, is the MD Anderson alliance, and the fact that they are already in Phase I now, and much more to come this year, and the superb and proven technology capabilities of its partner Intrexon, and of course a proven successful winner, Mr. RJ Kirk. Also, BMO Capital is another company that rates Ziopharm as a buy at present($15 price target and which could easily be raised), and we have also heard on CNBC that famed investor Bill Miller has a very favorable view on Intrexon and Ziopharm.
A risk could be that although Mr. Kirk has indicated that a major deal is close, minds can be changed or terms may not be reached to agreement. In that case, I would definitely be careful following the immense short term call position, unless you can afford to lose those short term positions down to zero. Those option calls are very large indicating huge confidence that another large move is coming, but there is no guarantee of that. You would be much more safer in just owning shares here if that were to occur. On the other hand, I do not fully understand the large short position at this time, as to me it would make more sense to own some out of the money puts, in case the overall biotech market were to tank. Some have mentioned to me that the larger out of the money calls have been bought as a hedge to a large short position, but to me that sounds just ludicrous - why not just cover and find a more suitable biotech to short? Shorting biotech's that RJ Kirk has been involved with, has historically shown that shorts often lose much money while shorting over a long term. It amazes me that many shorts may not have covered when Ziopharm was priced way under $5 last fall (under very oversold conditions). Also, there is a risk that the biotech market could fall by seasonal selling in later March and April like last year, however it primarily occurred last Spring due to the Fed chatter (from the NY Fed President and repetitive CNBC chatter) and so far this year, savvy biotech investors are not buying into it. Many large biotech's are not trading at such expensive P/E's as some are incorrectly stating or assuming, and many want to own such huge potential favorable biotech companies as Ziopharm, due to the immense upside potential provided that they continue to deliver favorable results/outcomes, whether with data or deals.
Another potential risk is outcome of data. There is always the possibility that data from a Clinical trial will not be favorable with Ziopharm or any biotech company large or small. However, with Ziopharm there will be many CarT candidates to come, so if one is initially lackluster, there will be others on the way to prove their worth. And as mentioned there will be other pipeline data updates along the way this year too. I would definitely recommend buying and holding shares up to your risk level and tolerance - holding during the summer months can sometimes be volatile without and news releases as shown by last year in some biotech stocks, so possibly have room to add, if certain lower price targets are reached temporarily. Also, there could be certain delays in data presentations (would be unexpected going forward), as seen last year, when I was expecting a Palifosfamide data release update last fall(but definitely now coming by mid 2015), as relayed to me by Ziopharm Investor Relations. I would also suggest to Ziopharm to make an improvement in that regard to have a more knowledgeable and company specific allocated Investor Relations manager, near the level of the impressive individual at Intrexon, unless they are not expecting to remain independent for much longer. It would also be great and expected to start up Quarterly Conference calls this year too.
In conclusion, I would like to say good luck to everyone in their investments in Ziopharm and Intrexon and may it be as RJ Kirk recently stated, - "it is going to be a very Vindicating year for shareholders in 2015" and likely beyond!