In an excellent bit of news CEL-SCI Corporation (NYSE MKT: CVM) announced that it has enrolled another 33 Patients into its ongoing Phase III clinical trial for it's Multikine drug candidate in patients with advanced primary head and neck cancer during December of 2015. In total - CVM enrolled 340 patients during 2015, and very substantial increase over the total of 195 enrolled during all of 2014. The '340' figure also is greater than the total enrollment since the Phase III trial began in 2011.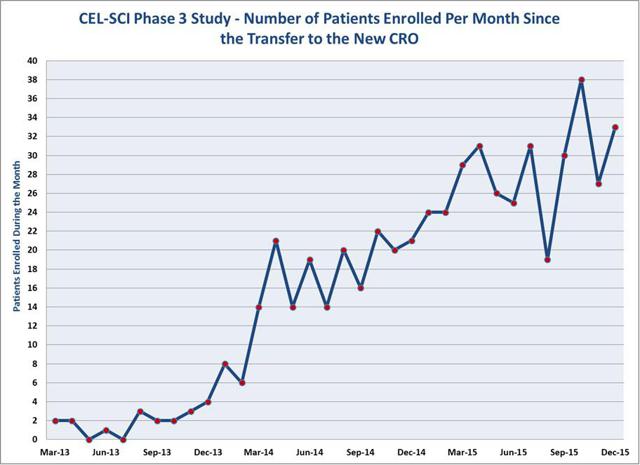 There are now a total of 688 enrolled patients, and the study initially aimed for a total of >880 in order to insure that the statistical power of the study was sufficient to detect the >10% survivorship desired being measured as the primary outcome for the study. This desired statistical power has resulted in CVM's Multikine Phase III trial being the world's largest Phase 3 study in head and neck cancer. The size of this study has been a bit of an anchor (so far) to getting the study populated, but should result in a significant amount of discerning power once the results are in.
CVM continues to slog forward in this very large population study of the effectiveness of their Multikine candidate. I have recently reviewed some of the pros & cons of CVM as an investment. None of that has changed appreciably since November. The company remains in significant danger of needing to do one or more capital raises unless their Arbitration hearing against their old CRO goes well in March, 2016.
Stay tuned CVM viewers!
Disclosure: I am/we are long CVM, NNVC.