I announced my last Home Run in late July. In that article, I mentioned that The Home Depot, Inc (HD) was the closest to achieving home run status, with total returns of 90% (or 35% on an annualized basis).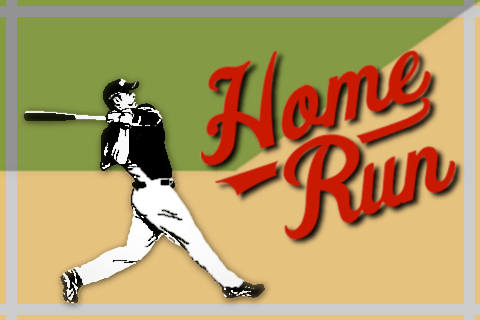 Today, I'm announcing my 38th Home Run but it is not HD that doubled my original outlay in total returns! Another stock beat HD to the punch!
As a dividend growth investor, I have a reasonable expectation that the majority of the stocks in my portfolio will someday reach home run status. Dividend growth investing is a long term strategy, and the longer I'm invested in a stock, the higher is the likelihood that it will double my original capital outlay!
DivGro's Home Runs
Here is a list of DivGro's home runs with updated total returns (and annualized total returns):
Once a position reaches home run status, it retains that status even if the stock price drops and the total returns dip below the 100% mark. Also, if I buy additional shares of a home run stock at a higher cost basis, the calculated total returns could also drop below 100%.I've reopened positions in NOC and DLR, both of which achieved home run status before I closed my original positions. Repeat positions like NOC and DLR will have to earn home run status again... they don't get a free ride!
Below is a snapshot of DivGro's existing home run stocks, sorted by total profit/loss%: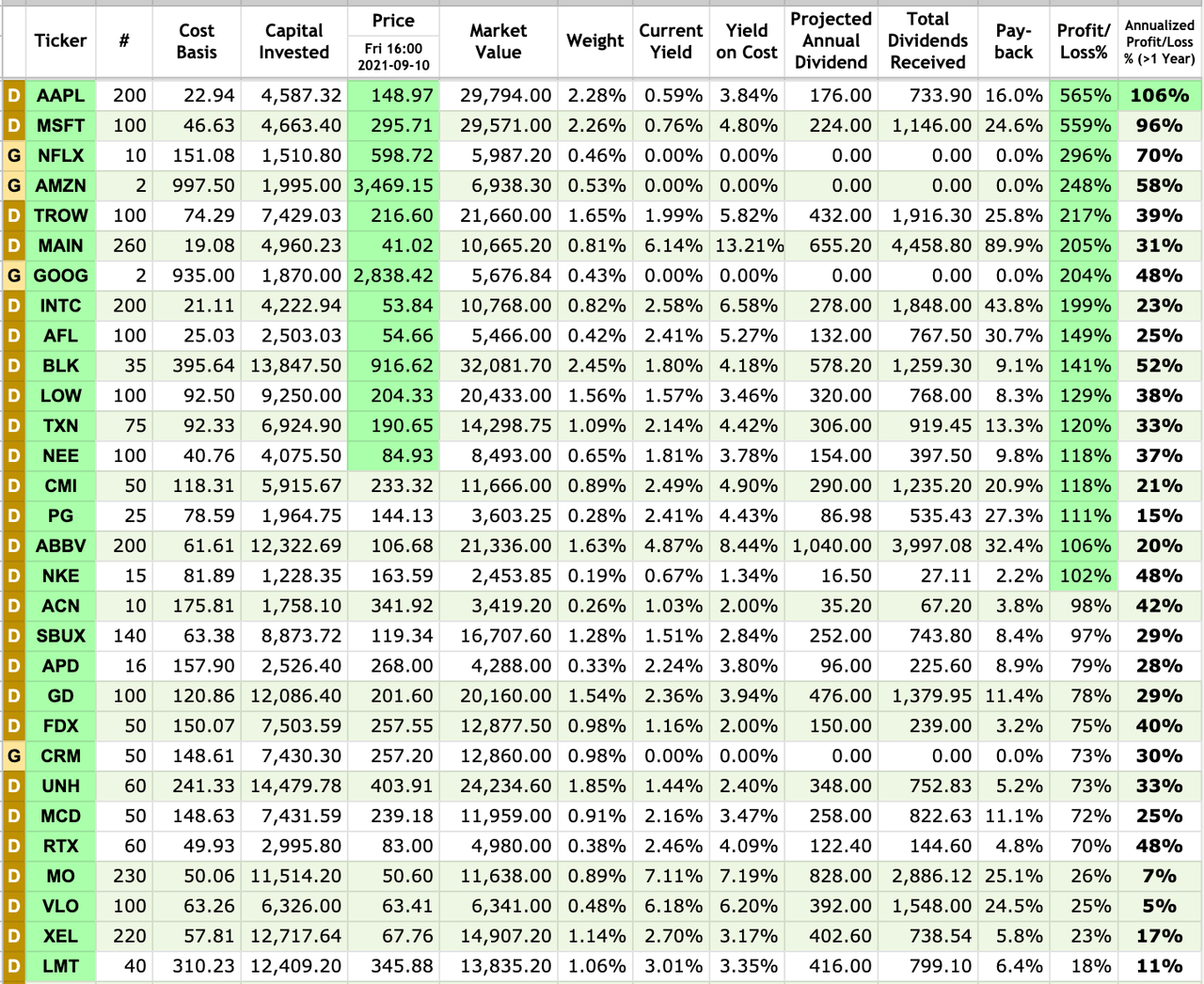 Thirty of my existing positions are home run stocks. The Information Technology stocks AAPL and MSFT top the list based on annualized returns. I'm also happy that some of my growth stocks, NFLX, AMZN, and GOOG, arein the top 10!
Home Run #38
My 38th home run stock is Accenture plc (ACN), which provides management and technology consulting services to clients in various industries and geographic regions, including North America, Europe, and Growth Markets.
Below is a summary of my ACN transaction:

Here is a price chart of ACN indicating my buy trade and the point where the stock reached home run status: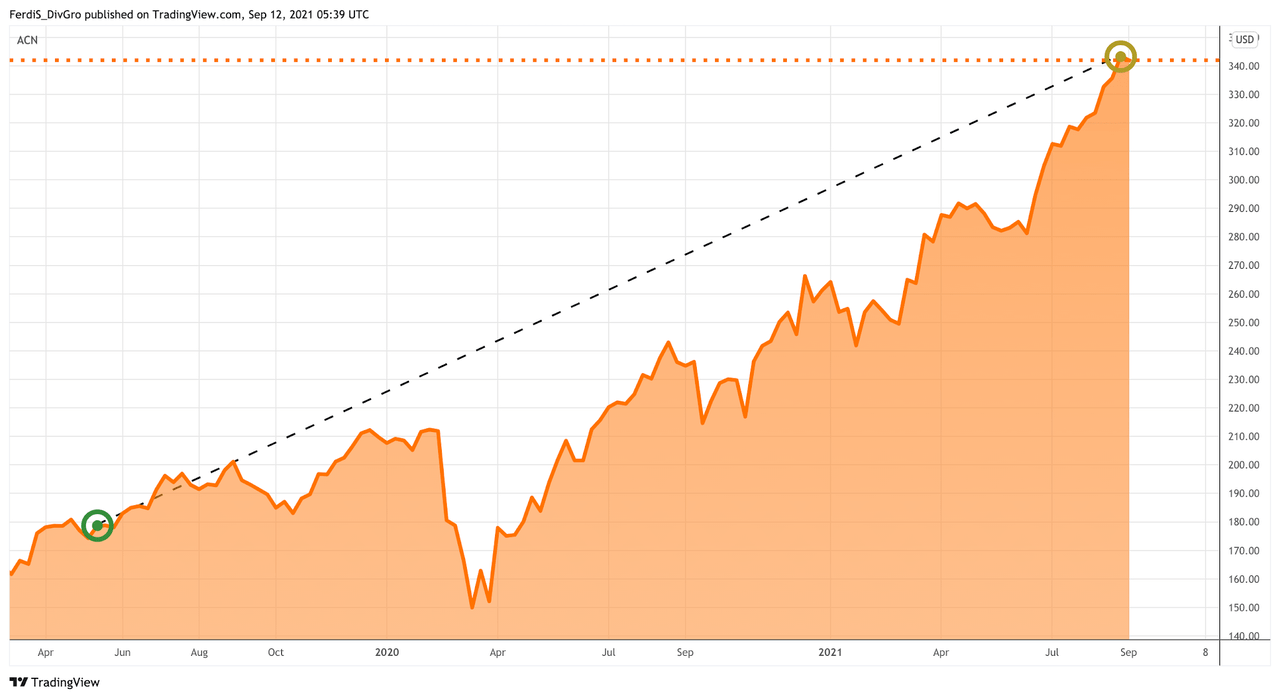 Source: Trading View
Like many stocks, ACN took quite a beating in late February/early March 2020. But the stock has recovered (and performed) spectacularly since then!
Overall, my total return from ACN is 42% on an annualized basis!
Home Run Contenders
There is only one non-home run stock in my portfolio with a total return of 90% or above:
Broadcom Inc (AVGO) -- up 94% (41% annualized)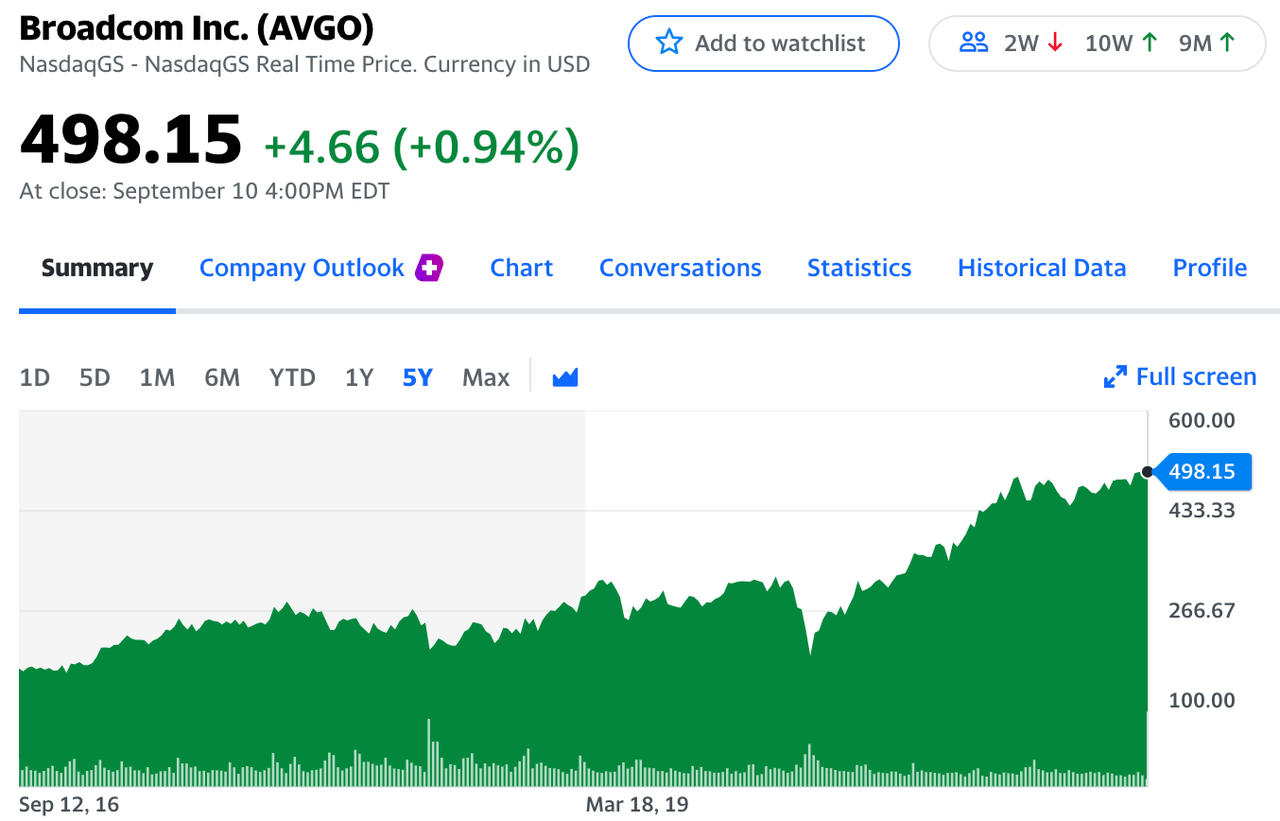 Source: Yahoo! Finance
Concluding Remarks
With total returns exceeding my initial investment, ACN is the latest home run stock in my DivGro portfolio. The closest contender for home run status is AVGO with total returns of 94%.
---
Thanks for reading!You can now follow me on Twitter and Facebook.