By Mary Ellen Biery


Officials in North and South Carolina recently announced nearly 1,400 jobs tied to ramped-up manufacturing in those states – the latest evidence that manufacturing so far is doing the heavy lifting of the U.S. economic recovery.
 
Freightliner Trucks, a division of Daimler AG (ETR: DAI), said it would hire back some of the workers it laid off in 2009 as it adds another shift at its Cleveland, N.C. plant producing long-haul trucks.   Freightliner is planning to add approximately 1,072 workers and 29 engineers along with some support personnel. The increase is coming in response to demand for the Freightliner Cascadia, a Class 8 (on-highway) truck.  And BMW AG's (ETR: BMW) plant in Greer, S.C., said it was boosting production of the automaker's X-class vehicles.
 
Reports last week on manufacturers' outlook on business and on business inventories also hinted at continued growth by the sector in 2012. The Manufacturers Alliance for Productivity and Innovation (NASDAQ:
MAPI
), said its December index points to continued expansion, though at a more moderate pace.              
"Despite the challenges posed by slower economic growth and continued problems in the construction and financial sectors, the manufacturing sector is the 'Energizer Bunny' of the U.S. economy," said Donald A. Norman, Ph.D., MAPI Economist and survey coordinator, in a news release. "Barring a meltdown in the Eurozone, the U.S. manufacturing sector should continue growing at a moderate pace heading into 2012."


According to MAPI survey respondents, 97 percent believe the economic turmoil in the Eurozone will force the region into a recession this year.
 
MAPI's December survey also showed the interest rate expectation index at 68 – up from 48 in September. This indicates more manufactures may be expecting an increase in long-term interest rates by the end of the first quarter of 2012.
 
Inventories at merchant wholesalers rose a seasonally adjusted 0.1 percent from October to November, below the 0.6 percent increase in the distributors' sales, the Commerce Department reported Thursday. Retail inventory increases also trailed sales growth in November. That led some economists to predict U.S. GDP in the first part of 2012 will be aided by manufacturing aimed at rebuilding inventories.
 
In 2011, privately owned manufacturers generated a 14.15 percent increase in sales, according to an
analysis of financial statements
by Sageworks. It was the second year of double-digit sales growth for the sector, which outpaced most other major sectors and the U.S. economy overall. 
"Obviously, that's very strong topline growth," said Brandt Leahy, managing director of new market initiatives at Sageworks, a financial information company. "Fourteen percent year-over-year growth essentially in a flat economy speaks to the strength of the manufacturing economy."
 
Patrick Pruett, executive director of the
Manufacturing Services Association
, said the auto industry's upswing seems to be playing an important part in manufacturing's improvement. "That's one industry of the manufacturing sector that really seems to be on the mend," he said. The Manufacturing Services Association's members are certified public accountants and accounting firms dedicated to working with manufacturers.  
The
trucking industry
also seems to be both a sign of and a driver of manufacturing strength; sales at privately owned general and specialized freight companies have increased more than 14 percent over the last 12 months, Sageworks data shows.  
Manufacturing generates about 12 percent of national GDP, a higher percentage than many other sectors including retail, wholesale trade, health care or financial services, according to data from the U.S. Department of Commerce.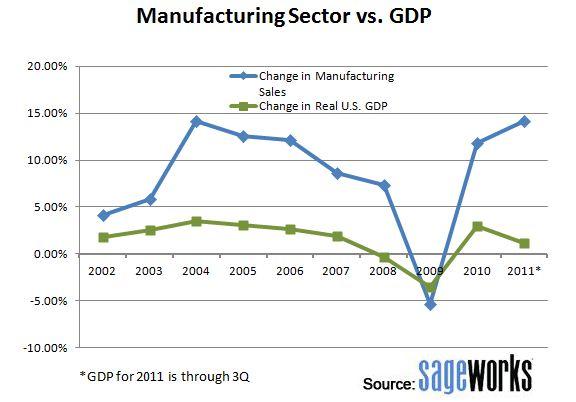 Disclosure:
I have no positions in any stocks mentioned, and no plans to initiate any positions within the next 72 hours.