Heavy metal thunder: Motorcycle sales up
Sales at retailers of motorcycles and ATVs have fired up since the recession, according to new data from Sageworks Inc., a financial information company.
The sales trends are similar to those reported by major motorcycle manufacturers in recent months, including market-leader Harley Davidson Inc. (NYSE: HOG) and Italian speedster-maker Ducati Motor Holding Group S.p.A. Both have seen growing interest in the fuel-efficient rides, especially as the recession's effects have waned.
Sales at motorcycle and ATV dealers (NAICS code 441228) are up nearly 16 percent over the last 12 months, and profitability has improved from near-breakeven in 2009 to nearly 3 percent net profit margins over the last 12 months, Sageworks' data shows.
Sageworks analyst Robb Granado said the fact that sales are stronger at both dealers and manufacturers indicates the industry probably isn't flooding retail floors with too much inventory.
"The fact that we see the retailers doing well shows it's actual end-user demand," he said. "That's a positive story for both the future of both the retailers and the manufacturers."
Dealers posted 7.47 percent sales growth in 2010 after a 13.77 percent decline in 2009, Granado noted. "We see a nice growth number in 2010, which could be that snap back from the recession," he said. "You'd expect that trend of growth coming off the contraction."
But the strong growth has continued, perhaps aided more recently by still-high gasoline prices and the warm, nice weather much of the U.S. saw early in 2012, he said.
Harley-Davidson reported retail sales of new motorcycles from its licensed U.S. dealers grew more than 25 percent in the April 1-ended quarter, citing the company's initiatives and an improving macro-economic picture. That was on top of 5.8 percent retail sales growth in the U.S. for all of 2011. And Ducati, which is being purchased by Volkswagen's Audi AG,reported 20 percent sales growth so far this year, including 48 percent growth in the U.S. during May.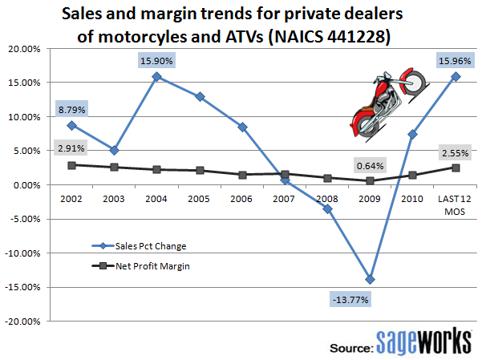 And the Motorcycle Industry Council, which represents major manufacturers, has reportedly said first-quarter industry sales rose 8.8 percent, aided by higher gasoline prices and unseasonably warm weather across much of the country. The council couldn't immediately provide data or a comment, but it has previously said fuel-efficient models, such as scooters, helped generate a 0.3 percent increase in 2011 sales among a dozen brands in its retail report.
Granado noted that private dealers' total sales in 2011 seem to have outpaced the 5.8 percent growth in retail sales of new motorcycles reported by Harley-Davidson, and this could be due to a number of factors. "Dealers' sales figures in Sageworks' database would also include revenue from used motorcycle sales, parts and repairs," he said.
The Motorcycle Industry Council said earlier this year that spending on maintenance, repair and tires and other parts has been rising.
About the Author
Mary Ellen Biery is a research specialist at Sageworks, a financial information company.