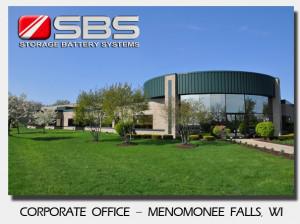 99-Year History
Founded in 1913, Storage Battery Systems, Inc. (SBS) has nearly a century of experience providing critical and reserve power solutions that address a range of customer applications across many industries. Supply Chain Equity Partners (OTC:SCEP), a Cleveland, Ohio based private equity firm, recently invested alongside SBS' management to help accelerate growth of an already successful growing business.
SBS' diverse customer base ranges from a "who's who" list of Fortune 2000 companies to a wide variety of small and medium-sized companies, both public as well as privately held. A majority of the Company's revenue comes from customers it has done business with for more than 10 years.
Trying To Sell To Family Members
Several years back when their sister wanted to sell shares in the company for financial planning purposes, the three brothers were able to structure a transaction to cash her out. However it became clear that they wouldn't be able to do it again when the next sibling retired.
Compelling Event: Financial Planning
With the buyout of their sister's shares complete, and their own retirement nearing, the brothers and family members contemplated a plethora of transition scenarios.
Each of the brothers had spent roughly 40 years working in almost every facet of the business, which their father had invested in nearly 50 years ago.
Given the "family" nature of business, pursuing an outright sale just didn't feel right.
Letting Go
"When you work side-by-side with the type of people we have for 20 to 30 years, you can't help but want the best for them. Without their commitment to our business, we would have a much different company today or perhaps no company at all," said Scott Rubenzer, CEO.
"You reach a point, retirement aside, that you realize: hey, we might have grown this as far as we can and perhaps it's time for someone from the outside to help take the business to the next level," said Bill Rubenzer, VP of Marketing.
So, after many sleepless nights, mostly out of concern for what would happen to their almost 100 employees who are regarded as extended family, the brothers agreed that the best path would be to find a partner that would not only protect jobs, but also bring resources to grow the company.
Types Of Buyers / Investors
Acquirers of middle market companies tend to fall into one of two categories. The first are referred to as "Strategics" and are either direct or indirect competitors. The second are "Financial" buyers often referred to as Private Equity Groups or PEGs.
Decision To Hire M&A Investment Bankers
"For 40 years we focused our energies on becoming experts in the battery business. Figuring out on our own who we should transition the business to was not something we wanted to learn by trial and error…we only had one chance to get this right," said Bob Rubenzer, Vice President.
The Family's Next Move
SBS selected FOCUS Investment Banking, an M&A investment bank with experience in the sector.
The brothers described their ideal outcome to FOCUS, which was for each brother to be able to work for the company until retirement, protect jobs and bring resources to grow the company.
To accomplish the objectives, FOCUS prepared an offering memorandum, confidentiality agreements and a target list of strategic and private equity groups that are active in the sector.
Next, an auction was run that generated multiple options for the family.
Reasons We Partnered With A Private Equity Group
"Ultimately the family was far more comfortable with financial buyers over strategic buyers for two primary reasons," said Scott Rubenzer.
1. The financial buyers weren't proposing to consolidate operations and downsize a large number of employees, and
2. The "right" financial buyer would be focused on growth and the family could retain a substantial percentage of the company so they could have another "bite at the apple" on a future sale.
About SBS' Investor
After an extensive due diligence process, SBS determined that SCEP was the best "partner" for their family, employees and business.
SCEP is a unique private equity group in that it only targets investments in businesses that are focused on value-added distribution and logistics.
With investors and principals coming directly from the distribution, logistics and direct marketing industry, SCEP provided a special fit that resonated with the family.
"We met with a large number of firms, but SCEP was clearly the right fit for us. They are a group of smart, sensible guys that really get our business and shared our Midwestern values of hard work and treating people fairly," said Scott Rubenzer.
"The analyses that SCEP performed throughout the process really impressed us; they repeatedly showed us things about our very own business that we never knew…that type of insight makes you feel like you are selling to someone who will add more value than just plain cash," said Bill Rubenzer.
"All the private equity groups we were introduced to seemed to have cash, but finding the ones that have something special, that's the key," said Scott Rubenzer.
When Selling Isn't Really Selling
All three brothers are planning to stay on with the business for much more than just a simple transition. Rather than sell the whole business, the family opted to only sell a portion of the business and invest alongside SCEP.
Both SCEP and the family are bullish about the growth opportunities they can tackle together with SBS.
"I don't think we will be around with SBS for another 100 years, but based on the way we structured this, perhaps our nephew's great grandchildren will be," said Scott Rubenzer.