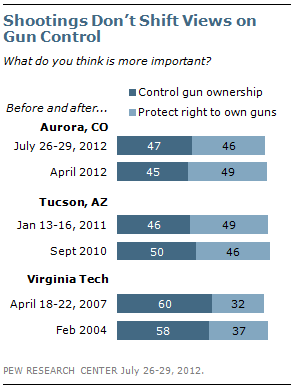 Background
A 'Stop Online Ammunitions Sales' (SOAS) proposal has emerged in the wake of the Colorado theater shooting, in which shooting suspect James Holmes allegedly killed 12 and injured 58 when he opened fire in a movie theater during a midnight screening of The Dark Knight Rises.
As ammunition sales are unregulated, Holmes was able to purchase approximately 6,000 rounds of ammunition online (estimated valued between $1,700 and $3,000).
Dr. Lynne Fenton, a psychiatrist who had been treating Holmes, told members of the school's "threat assessment committee" at the University of Colorado about the neuroscience grad student in early June, KMGH-TV in Denver reported. However the Committee never discussed the shooting suspect, however, because he had dropped out of school.
What Does SOAS Aim To Accomplish?
According to Sen. Frank Lautenberg (D-NJ)'s website, he and Rep. Carolyn McCarthy (D-NY4) hope the SOAS Bill is targeted at companiesthat currently sell ammunition online and aims to accomplish four objectives:
1. Require sellers to be licensed dealers
2. Maintain records of ammunition sales
3. Require reporting sales of more than 1,000 rounds within five days (estimated value between $280 and $500)
4. Require buyers to present photo ID at the time of purchase
Under current law businesses such as Gander Mountain, Cabela's (NYSE:CAB), and Wal-Mart (NYSE:WMT) currently sell ammunition online. Although also permitted to, Amazon (NASDAQ:AMZN) does not currently sell ammunition online.
What Does It Take For A Bill To Become A Law?
In a typical session of Congress, well over 10,000 pieces of legislation are introduced for consideration. "Legislation", when used as a verb, means the consideration and enactment of laws.
In practice, many will be considered, few will be enacted. During the 105th Congress, for example, 13,882 pieces of legislation were introduced. Out of all of those, only 354 (2.6%) ended up getting a presidential autograph to become enacted laws. (source: About.com, part of The NY Times Company)
What Was The Reaction In The US Capitol To SOAS?
From Rep. McCarty's statement, "We have introduced legislation to ban large ammunition magazines and all we hear is silence." One could assume that's not the kind of reaction Rep. McCarthy had been hoping for.
According to The Los Angeles Times, "The muted response from other lawmakers underscored the long odds gun-control advocates face. The Republican-controlled House has supported National Rifle Association (NRA) efforts to expand gun rights, and many Democrats are skittish about taking up the issue as they court rural votes."
Rep. McCarthy had also introduced a bill after last year's shooting of then-Rep. Gabrielle Giffords, (D-AZ), in Tucson, targeting ammunition magazines containing more than 10 rounds. But the measure has languished for more than a year.
Other Perspectives Against Greater Gun Control
ABC News reports, "
White House gives cool welcome to bill restricting online ammo sales
."
House Speaker John A. Boehner, (R-OH) said, "The White House has made clear they're not going to use this horrific event to push for new legislation. I agree."
Senate Minority Leader Mitch McConnell, (R-KY) said he did not see "Any movement ... in the direction of thinking that stricter gun control laws would likely have prevented this horrible occurrence in Colorado."
An NRA spokesman said: "We believe that now is the time for families to grieve and for the community to heal. There will be an appropriate time down the road to engage in political and policy discussions."
Other Perspectives For Greater Gun Control
According to the Examiner, well known gun control activists include New York City Mayor Michael Bloomberg, CNN's Piers Morgan, U.S. Sen. Charles Schumer, D-N.Y., and U.S. Rep. Carolyn McCarthy, D-N.Y., all of whom are considered extremists by those who are involved in the movement to protect the Second Amendment to the U.S. Constitution.
What About The Court Of Public Opinion?
PewResearchCenter recently published an article titled: Views on Gun Laws Unchanged After Aurora Shooting. In addition to "Shootings Don't Shift Views On Gun Control" (chart top right), two other findings are instructive. They are, "Most See Aurora Shooting As An Isolated Event" and "Gun Control Has Been Losing Support In Recent Years." In total PEW Research Center's findings appear to be bad news for SOAS.
Actionable Investment Commentary
Since the Aurora shooting, Cabela's stock price up 15.8%.
Based on the reaction in the Capitol, influential public figures, the media, NRA, and PEW Research Center's 'Court of Public Opinion', it appears unlikely that the 'Stop Online Ammunitions Sales' (SOAS) proposal will become law.
Assuming that's the case, this should also be a non-event for shareholders in publicly-traded on-line ammunition sellers like Cabela's and Wal-Mart.
What is your opinion? Please comment below.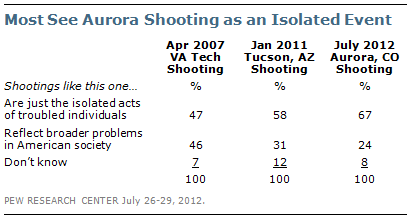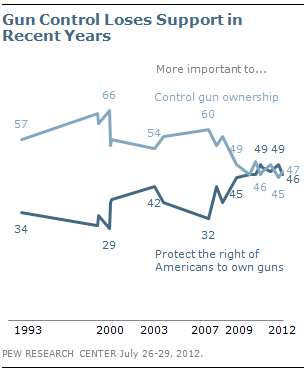 Disclosure: I have no positions in any stocks mentioned, and no plans to initiate any positions within the next 72 hours.
Additional disclosure: My employer and I do M&A investment banking work for e-commerce companies in many sectors including the outdoor sports equipment and supplies product category.