Fannie Mae (OTCQB:FNMA) and Freddie Mac (OTCQB:FMCC) own a Government-Sponsored Enterprise -GSE- status granted in a Congressional Charter.
Congress at the time set a bailout scheme for the enterprises, also known as Government's Implicit Guarantee, in order to inject capital to the Enterprises (it could have purchased a Convertible Bond because it's an obligation with equity features).
Charter: SECTION 306(c) "Each purchase of obligations by the Secretary of the Treasury under this subsection shall be upon terms and conditions established to yield a rate of return determined by the Secretary to be appropriate, taking into consideration the current average rate on outstanding marketable obligations of the United States as of the last day of the month preceding the making of the purchase."
In my previous article, I mentioned that this cap in the yield was removed when HERA was enacted by Congress on July 30th, 2008, and allowed all the Conservatorship scheme (10% dividend to the Treasury, warrant, etc.) with the objective to use FnF as piggy banks to fund the President's spending spree.
That was the goal on what to do with their profits, but this article is meant to denounce that the US government had other objective using their balance-sheets: To enrich the banks, investment banks, hedge-funds and their managements (yacht and private-jet owners).
3 examples:
1. Thanks to the government's implicit guarantee mentioned, the Enterprises use to get funds on the market at a rate just a few basis points above the Treasury yields. As an example, the 1yr Treasury stayed at 0.27%.
But FnF, during Conservatorship, have been issuing callable zero coupon bonds that soon later have been redeemed at an outstanding high rate of return.
1.1. Freddie Mac issued this bond on 05/27/2009
Amount Issued: $600,000,000
Issue Price: 18.524318000000001
Zero coupon
30 year maturity but callable.
It was redeemed 18 months later at a price of 20.1537
CUSIP DETAIL
That is 8.8% for 18 months or a 6% annual rate.
1.2. FREDDIE MAC
Cusip/ISIN: 3134G1NW0
Issue Date: 08/03/2010
Zero coupon.
Amount face value: $106 million
30 year maturity but callable.
Investor paid 23.575545% or $25 million
Bond redeemed 18 months later. The investor got 25.3419% or $26.9 million
That is 7.6% for 18 months or a 5% annual rate for a 18 months obligation.
But Freddie Mac 12 month bill yield was 0.137% at the time.
1.3. FANNIE MAE
ID: US31398AE995
Amount face value: $550 million
30 year maturity but callable.
The investor paid 18.202987% or $100.1 million, and this bond was redeemed 2 years later at a price of 20.3933% or $112.2 million.
That is 12% in two years or a 6% annual yield for a 2 year investment.
But Fannie Mae 2 year note yield was 0.199%.
2. FnF have been forced to reduce their retained portfolio (basically the Private Label Mortgage-Backed Securities -PLMBSs-, also known as non-agency Residential MBSs) since Conservatorship began. Don't mistake it for the guarantee portfolio (underlying business). In the 2012 Third Amendment, the Treasury just wrote that the goal is to reduce it to $250 billion in 2018.
This is outrageous because the government is allowing the hedge-funds and investment banks to bottom-fish these securities that have more than tripled in value since late 2008 and carry a high yield. This is because the market for new issuances of PLMBSs has languished since 2008 because of the lack of confidence of investors in the quality of the MBSs, after learning that the banks have been cheating in the quality of the mortgages bundled into these MBSs and later sold to investors (the so called toxic mortgages).
They are the same PLMBSs that made FnF enter into Conservatorship in September 8th, 2008, because FASB required the enterprises to mark-to-market their value even knowing that FnF are a Buy-And-Hold MBS investor (their mission is to provide liquidity to the market by purchasing mortgages and other securities to the financial institutions), and not speculators. But due to the mispricing of these securities, it translated into huge losses for the enterprises, and subsequent capital need and draw requests to Treasury during Conservatorship.
The next exhibit in a JPM report illustrates this theme. Notice the trough date in the bonds is close to the Conservatorship date, and later there is a huge rebound.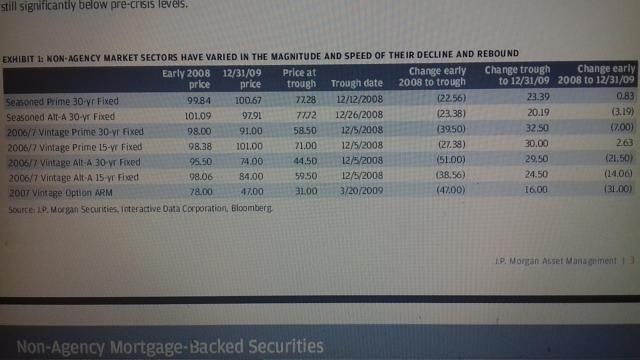 This mispricing continued during 2009-2011 according to the government: "Regulators are investigating whether traders exploited the murky pricing around residential mortgage-backed securities from around 2009 through 2011 to buy or sell the investments at artificially depressed or inflated values," WSJ writes.
As an example of their continued price appreciation, as of end of 2015 the Markit US RMBS Seniors index price levels remained close to 8% higher than it was at the beginning of 2013, significantly outperforming US high yield and investment grade corporate bonds, demonstrating its risk adjusted return qualities.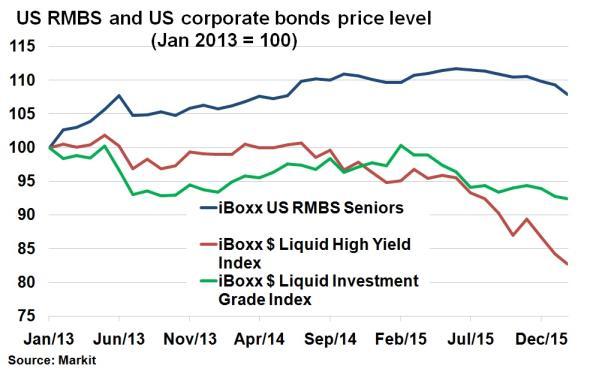 3. In the absence of a comprehensive Housing Finance Reform, the Obama Administration came out with the so called Risk Transfers or Risk-sharing ideas, aiming to "reduce taxpayer risk through increasing the role of private capital in the mortgage market". But what hides behind this new idea is the same mentioned in the previous two points, selling quality assets to private investors and allow them to gain significant returns, instead of earmark those returns for FnF's shareholders.
This type of risk transfers are also known as "back-end risk-sharing", because FnF sell securities after they've purchased the loan to the banks. Investors love this type of risk transfers because they are purchasing the securities after they have passed through FnF's technology and infrastructure.
The FHFA recently requested industry input on "front-end risk sharing", that is, de-risking the enterprises before they've purchased the loan, like for example, expanding mortgage insurance. But rapidly the Mortgage Bankers Association refused this option, obviously, because the banks and hedge-funds love gobbling up FnF's securities like mad.
The lack of a comprehensive Housing Finance Reform leads to more complaints of disadvantage of the community banks versus the big banks over how they are treated in these Risk-sharing deals.
There is only one back-end risk-sharing idea that FnF's shareholders desperate want, but the government refuses to allow it.
It's selling a security similar to the current K-Certificates, now only available in their multifamily business (apartment-lending), and apply it to the single-family business (home loans).
Thanks to this security, the Enterprises would be allowed to release the reserve set aside when a mortgage is modified, because in the structure of this security, the loan exits their balance-sheet (different than if they securitize the loan into a MBS, because it's still kept in the balance-sheet).
As Fannie Mae recognized in its recent 3Q report press release, in the Reserve Fund for Future Losses it includes "concessions it granted borrowers upon modification of their loans". Pag. 10.
So, Fannie Mae recognizes they are individually impairing a loan that is performing after the modification, which is insane, because they should use the collective reserve for loan losses.
BOTTOM LINE
If we add up the 10% dividend and, since 2012, the Profit Sweep to Treasury, the shareholders are witnessing how the Enterprises are diverting a significant amount of returns to other investors and the government since Conservatorship began, which is a kind of torture like occurred in the Middle Ages.
Definitely, the shareholders would rather be guillotined than tortured this way.
SHARE PRICE PROSPECTS
The best way to eliminate taxpayer risk is to end the Conservatorship and recapitalize the enterprises using the excess of their Reserve Fund for Future Losses along with settling the PLMBS litigation still pending.
It will lay out the grounds for a meaningful share price appreciation.
Disclosure: I am/we are long FNMA, FMCC.
I wrote this article myself, and it expresses my own opinions. I am not receiving compensation for it. I have no business relationship with any company whose stock is mentioned in this article.