Republished from valueinvestingfund.wordpress.com/2014/08.../
When we talk about technology stocks, most investors only think of Apple, Microsoft, or Facebook-alike. Nonetheless, there are many publicly listed green energy and recycling companies are disrupting their industry with new patented technologies. I am writing research reports about a couple of them. Here is my first company in the series:
---
GLYE (updated valuation 8-12-2014)
Couple month ago, a friend of mine referred me to a chemical waste recycling company called - GlyEco, Inc. (OTCBB: GLYE) . I was very skeptical at first since it's on OTC. However, the deeper I dug into the business, the more I found this an interesting long-term value investment opportunity. The I spent a month to meet with GLYE's management team, board of director, industry specialists, and did a site visit at GLYE's biggest recycling plant in Elizabeth, NJ in July. Below is my investment research summary. Feel free to email me of any questions.
(Emphasis: this is not a recommendation to buy for short-term profit. This company is in its expansion phase, bearing going concern and liquidity risk in the next 12 months. Its stock price is very volatile. I highly recommend you to do your own research and also watch the introduction and Q&A from RedChip Global Online CEO Conference videos - GlyEco (OTCPK:GLYE) - link (Jul 17), link (April 25))
(Disclaimer: I am long GLYE)
Investment Highlights
Why GLYE is a good business:
Input (waste glycol) is plentiful
Unmet demand in textile, plastic manufacturing industries (news)
GLYE's patent pending technology can produce refinery-grade (virgin) recycled glycol at 40% gross margin
Huge opportunity for international licensing revenue (news)
Accomplished entrepreneur and management team with many years of thought leadership in solid waste, chemical engineering and glycol
One-time upgrade equipment costs are included in cost of good sales (COGS) which obscures the true cost and margin
Risks/concerns:
Delay in plant upgrade, personnel training, or natural disasters may cause the 2014 production volume and sales lower than expected.
GLYE is slowly coming out from its heavy equipment / infrastructure investment. Cash burnt is still a concern. $3.4M cash consumed in Q1 2014. $4M cash balance as of July 2014.
Slower A/R collections and future expansion projects or M&A may increase the need for raising additional capital via equity -> further dilute shareholders' earnings.
Downward price pressure due to frequent insider selling (see Risks discussion below)
Near-term catalysts:
Consider the following stages of company lifecycle:

2012 is Acquisitions/Roll-ups, 2013 is Upgrade Capacity, 2014: Increase Production, 2015 onward: Harvesting
The completed expansion will boost the Type I and Type II glycol production close to 5 million gallons in 2014.

Probably more announcements of major multi-national client or partner deals in coming months.
As long as management can fulfill their promises on revenue growth, GLYE presents a potential 100% to 300% upside based on recent stock price.
Valuation (updated 8-12-2014):
We took a conservative approach in Base Case scenario: 2014 total ethylene glycol production = 2.52 gallon, blended sales price: $3.91/gallon, and a 12% gross margin.
All ratios calculations use numbers from the Base Case scenario.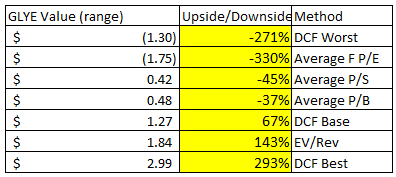 For more details, please see valuation section at the bottom.
Credit to my intern - Ruoxi Zhao for her contribution to DCF modeling.
---
Company Snapshot (OTCPK:GLYE)
GlyEco, Inc., founded in 2006, developed its GlyEco Technology™, a patent (provisional) pending technology that transforms hazardous waste glycols into profitable refinery-grade glycol products. Glycols are an indispensable production component in the materials we use every day, such as antifreeze in automotive, HVAC, textiles manufacturing, plastics manufacturing, medical/cosmetics use, etc. In the USA alone, approximately 700 million gallons of waste glycol are produced each year. The vast majority of glycol recyclers can only take used antifreeze glycols and restore them to ASTM Type 2 standards. GlyEco so far has the largest production capacity in the world to recycle various types of glycol feedstock into ASTM E1177 Type 1 standard (T1TM), a purity-level equivalent to refinery-grade glycols.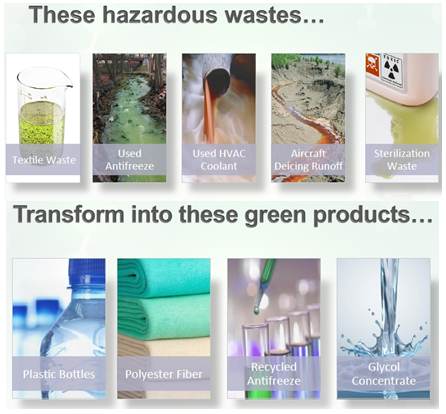 source: GlyEco
---
Investment Thesis
1. Input is plentiful, unmet and fast-growing market demand for recycled glycol
More than 7 billion gallons produced & consumed in 2013.
The global market for ethylene glycol is growing at ~200 million gallons a year (a CAGR of over 7% from 2013 to 2018), and is expected to cross $38 billion by 2018 (source).
Explosive growth in polyester fiber and PET resins manufacturing (used to make clothing, plastic containers and plastic beverage bottles.), coupled with growing demand of antifreeze.
China consumes almost half (50%) of the glycol in the world.
In the USA alone, approximately 700 million gallons of waste glycol are produced each year, while 1.1 billion gallons of new glycols are used.
EPA estimate: only 12 % of used antifreeze waste is recycled.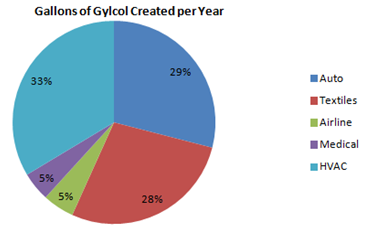 source: GlyEco, Created by VIF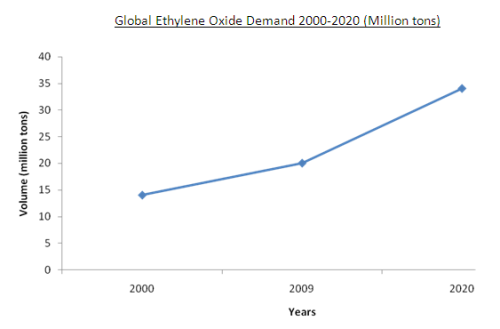 source: Transparency Market Research - 2012-2018 Forecast for Ethylene Oxide (active ingredient for Ethylene Glycol)
2. Favorable Glycol Pricing
The target price range for T1TM recycled glycol is similar to refinery-grade ethylene glycol pricing.
According to ICIS Chemical, the benchmark average price for ethylene glycol in 2011 was approximately $5.69 per gallon, $5.4 per gallon in 2014 Q1, with a 7-year average sales price at about $5 per gallon.
source: ICIS.com
Certain types of glycol (Diethanolamine, Triethanolamine) can be sold for 2 times higher than T1 Monoethylene Glycol (NYSE:MEG).
T2 glycol sells for 15-20% less than T1 glycol. But depends on the demand shifts, the T2 sometimes can be sold higher than T1.
Average cost to recycle a gallon of waste antifreeze glycol is$2.8 to $3.0 (according to a CEO interview - video link)
This has projected 40% gross margin, a breathtaking profit margin opportunity.
3. Patent pending technology creates barrier to entry, cost reduction, and ability to produce Type 1 virgin glycol
Existing glycol processing centers are fragmented and small. Majority of recycling centers focus on producing Type 2 recycled glycol product (under 100% purity).
Large clients often will supply waste glycol and buy recycled glycol at the same time.
In addition to conventional separation and filtration methods, GLYE's proprietary technology primes on its chemical treatments to reuse waste glycol from all 5 major glycol waste streams in addition to antifreeze.
The technology can transform used glycol into valuable refinery-grade glycol (T1TM).
Streamlining the collection and transportation process also help reduce the production cost by 20-50% over conventional process.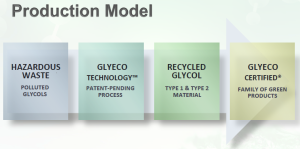 source: GlyEco Company Presentation
3. Completed upgrades and expansions set to grow GLYE revenue and profits
GLYE successfully acquired (roll-up) 7 existing Type 2 glycol processing centers in USA over the last 2 years.
Capacities of these facilities have been expanded by 200% to 500%.
Especially company's NJ facility is fully operated in Aug 2013 to produce Type 1 compliant recycled glycol for commercial use. (see NJ Site Visit Report below)
4. Licensing and partnership in the huge untapped international market
On Aug 5 2013, GLYE announced partnership with Waste Management which GLYE will pick up waste glycol at WM landfills throughout the nation. (source). (Great brand name effect but I suspect this is a low-margin business due to transportation and processing costs.)
GLYE is also exploring technology licensing opportunity in Europe where most EU countries have more environmental friendly regulations; provide subsidies and free feedstock to recycling companies.
GLYE recently got the approval and certification by Canadian government in several provinces to recycle glycol. Expect the first shipment of feedstock will happen in Q3.
According to CEO interview, they are in discussion with a Chinese textile company to license GlyEco Technology.
The global glycol market is almost 6 times larger than that of USA, like Europe and Asia-Pac.
Ethylene Glycol Market Share, By Geography, 2011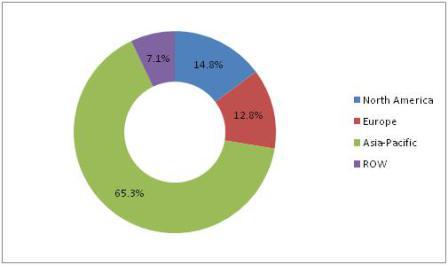 source: Transparency Market Research 2012
5. Management team has over many years of success and is very influential in the recycling industry
GLYE hired lab manager and independent 3rd party lab to establish a comprehensive Quality Control-Assurance Program (QCAP).
CTO Richard Geib, with 30 years background in glycol industry, owns the patent pending technology and served as Chairman of the ASTM Coolants Committee.
GLYE Founder, John Lorenz sold his company - Environmental Waste of America, Inc. to a public company which later rolled up to be Waste Management, Inc. (NYSE:WM)
John is in his early 70s. In waste and recycling business, that's not considered uncommon. He is a runner and still participate in triathlon.
6. True Cost of Good Sold (COGS) Will be Lower -> Better Gross Margin
In theory, GLYE can make 50% on gross margin but since it is in its expansion phase, the cost of goods sold (COGS) is skyrocketed. Its recent gross margin went down from 19.3% in 2012 to 6.3% in 2013. Because of GAAP accounting, all direct cost related to manufacturing plants, which include purchase of upgrade equipment, depreciation of equipment used, repair and maintenance, training, and process standardization. We believe the one-time expansion expenses obscure the true COGS, including purchase, transport, store, and process raw materials.
NJ Phase 2 upgrade was completed in Q2 2014 - revamped distillation tower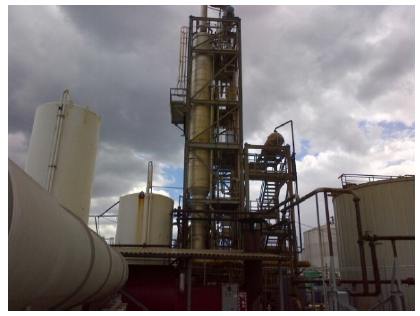 source: NBT Equities Research
You can see from its Net Income and Operating Income quarterly trend chart below. GLYE seems to be bottom-out in Q1 2014. Q2 and Q4 usually have higher sales due to seasonal factor. After finishing its major upgrade in NJ plant and other plants, its margin will increase going forward. On Q1 2014 earning press release, GLYE said that gross margin will convert to the historical norm. One may guess it should be around 20-25%.

source: Google Finance
---
NJ Site Visit Report (July 1st 2014)
In the Google Earth Picture below - Yellow circle part is the main GlyEco NJ Processing Center, located at on 534 S. Front Street, Elizabeth, NJ 07202, inside the Full Cycle Manufacturing Group facility (which is owned by a GLYE board member). NJ plant sits on 174,000 square feet property, the largest among 7 processing centers, 15 times bigger than the second largest plant in Maryland. Also, NJ plant has most of their equipment on an outdoor setting while other centers are enclosed indoor.
We couldn't take pictures inside the plant but you can see from the Google Earth picture how the site looks like. This Google picture is a year old, the current Phase II area already has concrete foundation finished and ready to have few more tanks for chemical treatment and storage purposes.
GLYE NJ Plant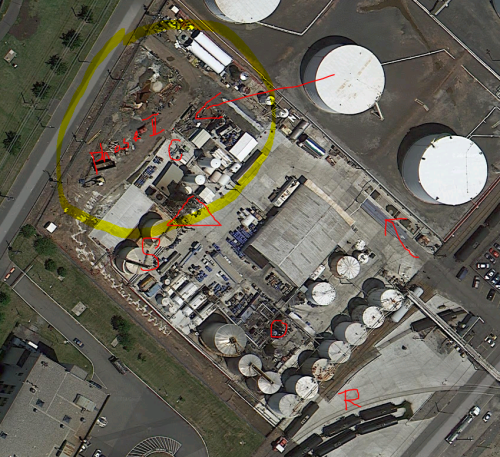 source: Google Earth (S - Storage tanks, O - Finished Type 1 / 2 Glycol products, R - Rail roads, C - Chemical treatment tanks, Triangle - distillation tower.)
Several key takeaways:
Greeted by SVP Bus Development
Currently has 9 full-time employees
Top priority now is training, integration, quality / process standardization. Quality Control is very important
The new lab test engineer just started in his job for 2 weeks. Constantly testing samples every day. Plan to expand the Lab facility but will be relocated out side of this plant.
Approximate 25% T1 and 75% T2 production at this moment, will shift to more T1 in 2nd half
Current feedstock storage capacity is about 7 million gallons
Most input is a form of water mix, maybe 50 water / 50 used glycol (sometimes 60/40) from waste antifreeze. So, if there's 1 gallon of feedstock, there can produce 50-65% recycled glycol conversion rate
Textile / polyster producers are their major customers. This market is quite concentrated by few big guys. They also sell to glycol distributors and blenders for antifreeze.
Spot price for Glycol can be found on ICIS website or benchmarks from MEGlobal or SABIC.
Transportation: 75% from rail 25% from trucks. Rail can haul 20,000 gallon loads or by truck in 5,000 gallon loads
11 rail carts leased. Usually 4 rails carts are out collecting, rest are parked or used to transport output and wastes to disposal (furnace).
Farthest cities of feedstock suppliers: Chicago and Canada
Future plan:

Double the number of storage tanks
Double the pre-treatment/post-treatment chemical tanks
Maybe another distillation tower

They will shut down the plant for maintenance purpose for 2-3 days a month. They shut down for 3 weeks due to Sandy storm. The water level was higher than the top of the car shown below.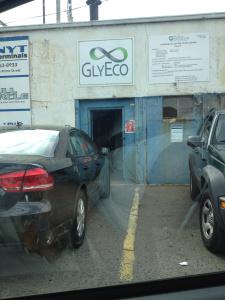 ---
GLYE Capitalization Structure
Outstanding 51.92MM (as reported)
Lockup 32.2MM
Float 28.8MM
Average Volume (3 Mon) 58.7K
Previous Capital Fund Raising:

April 2012 - $10MM equity raise (10MM shares at $1 per share with warrant at $1.50)
March and Sept 2013 - $8.5MM equity raised, $7.1MM alone in Sept
March 2014 - $1.3MM equity rise through 2.6MM shares at $0.5 per share to 2 investors
July 2014 - $3MM equity raised through 6.1 MM shares converted from warrants with short-term exercise price at $0.5

Insider Ownership: >40%
Institutional Ownership: <7%

Investors: Ventana Capital Partner (unknown %), Wynnefield Capital Management (6.47%), Geneva Investment Management (0.07%)
---
Major Risks:
1. Going Concern - Equity Dilution
Their cash burn is about $2 million per quarter. For major expansion projects at NJ and MN, it burnt almost $4 million cash in Q1 2014. Through July 2014, GLYE has raised $4M through private placement and warrant redemption. It is very likely GLYE will continue to raise capital in 2015 via selling more shares and dilute existing shareholders' equity.

2. Anchor Price at $0.5 per Share
In July 2014, GLYE lowered the exercise price from $1.0 per share to $0.5 per share to existing warrant holders. Unless there is big positive surprise on earning, investors may consider $0.5 as an anchor and reluctant to buy more shares above $0.7 which is 25% premium to warrant's exercise price.
3. Insider Selling
Majority 10% equity owner - Mr. Ralph Amato has sold 2.7MM shares (= 5.2% of total outstanding) with an average price of $0.48/share since Jan 2nd 2014. (source: Yahoo! Finance - link). He owned the public company which GLYE reverse merged into. This implies there will be more shareholders willing to dump their shares around $0.7 to $0.8/share, creating a ceiling on GLYE share price.
4. Unforeseen Mother Nature
During the Sandy thunder storm in 2013 as well as the pro-longed cold winter in 2014, the NJ facility construction and many other sites' upgrade progress were significantly delayed for a month or two. Their cost of purchase was higher because they were forced to use trucks instead of rail cars on long-distance transportation. Any unforeseen natural disasters in future may affect the whole operations and earnings.
---
Competition
GLYE says there are 31-32 independent large glycol recyclers in USA but most only focus on antifreeze, lower quality glycol.
Key participants in the global ethylene oxide and ethylene glycol virgin market include The Dow Chemical (U.S.), SABIC (Saudi Arabia), Shell Group (The Netherlands), Formosa Plastics Group (Taiwan), Huntsman Corporation (U.S.), BASF (Germany), Sinopec (China), and Reliance Industries Ltd. (India)
Waste Management and Republic Services control the residential waste collection but not so much in industrial setting
GLYE aims at selling to industrial waste glycol producers and users. Per their press release, customer base increased 350% in 2013
Emerging new company - Recyctec based in Sweden.http://recyctec.se/en/.

It is public company but the English financial info is limited on line (we will show the comparison in valuation)
They also claim to have revolutionary patentable technology to recover 99% of waste glycol into sellable green products.
They formed a joint venture with a Chinese company Richy Ocean International Ltd. focus on glycol recycling in polyester market
Yet no profit
Maybe 2 quarters behind GLYE's progress to build out infrastructure

Another existing player : EET - http://www.eetcorp.com/

Their website has very good description and looks like they have mature technology for antifreeze "upcycling" services
Don't seem to me that they have many locations nor aims at processing glycol from other sources
---
Valuation
The key valuation inputs are (a) Price of Glycol, (b) Volume of Production of Type I and II Glycol, (c) Revenue Projection, (d) DCF Ratios, and (e) Industry Comparable.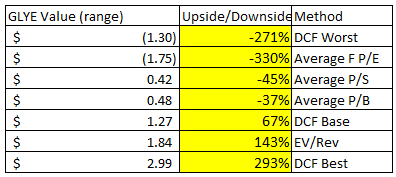 In the base case scenario using DCF model, we project its glycol production to be around 3.52 gallon in 2014 which amounts to $9.8 MM revenue. In that case, the GLYE price per share would be approximately $1.27 per share, that is 67% premium above $0.76 as of Aug 4th 2014.
(a) Price of Ethylene Glycol per gallon
Assumptions on the total production volume of Type 1 and Type 2 glycol will be in a mix of 25% and 75% respectively. Type 2 sells for 20% lower of Type 1 and GLYE offers a volume discount of 20%. The blended average price in this case is about $4.05 per gallon (see below).
Sensitivity table using Type 1 production % vs. Type 2 price discount to Type 1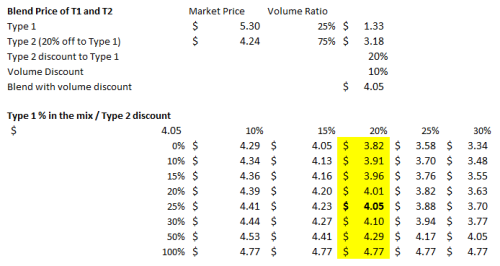 source: VIF Capital Partners
(b) Total production level
According to GLYE 2013 annual report, we estimate that GLYE approximately produced 1.45 gallons of glycol based on a $3.82/gallon market price.

- In 2014 Q1 earning press release, even though the management says they hope to increase their NJ annual processing capacity to 10-12MM gallons by end of 2014, we take a more conservative approach.
- For a base case scenario, we assume
2014 total production capacity: 5MM gallons of Type 1 and Type 2 ethylene glycol
Sales as % of Capacity: 33%

- When the news says NJ has a processing capacity of 5-10MM gallons a year , it does NOT mean they will produce and sell 5-10MM a year. Processing capacity is how many gallon of feedstock (waste glycol) can the plant take, not Production Capacity. For example, if the input is 50/50 or 65/45 water/glycol mixed antifreeze plus other toxic wastes, then the output of glycol probably will be less than 50% of the input.
- Being said, we assume the Sales/Capacity is 33%, which means 1 gallon of feedstock will product 0.33 gallon of sell-able recycled glycol

2014 total ethylene glycol production: 3.29 gallons
2014 blended (Type 1 and Type 2) price per gallon: $3.91/gallon
Production grows 100% annual in DCF model, reaching 40 gallons in 2018
Gross margin at 12% in 2014, slowly improving to 25% in 2018
(c) Revenue projection
Using the above price and volume assumptions, below is our 2014-2018 revenue projection in 3 scenarios:
(d) DCF Valuation
Best Case: $2.99 (293% premium)
Base Case: $1.27 (67% premium)
Following is a snapshot of DCF in the base case scenario.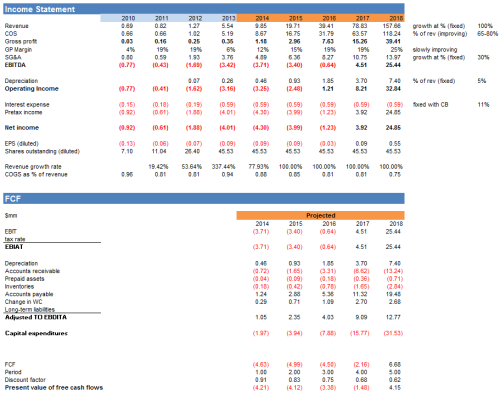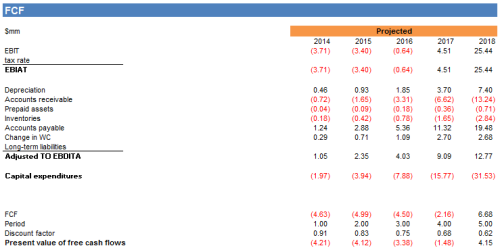 (e) Industry Comparable
We compare GLYE to 5 other waste management and recycling firms - market cap varies from 22 MM (NASDAQ:ARCI) to 21 Billion (WM). Then, we use the average P/E, P/S, & P/B to estimate GLYE's fair value. (assumption: GLYE's sales per share value is based on a 5 million gallon production volume in 2014.)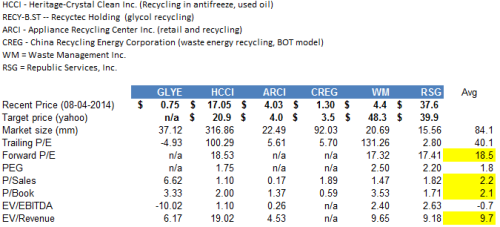 Disclosure: The author is long ARCI, GLYE, CREG.