Legendary Investment Research Report:
APII
Please Tune Into Stock Legends Radio Monday @ 10 AM For
Action Products International CEO Interview!
This Is Our Long Term Swing Play, Let Us Tell You Why
First and Foremost we want to say Congratulations on last weeks gains in regards to this Long Term/Swing play opportunity. At Stock Legends we feel that in order to be successful in this market we are going to need to focus on Hot Stocks with more than a one day outlook. We are re-working our strategy and looking for stocks with rapid advancements that we feel the community can benefit from over an extended period of time. Action Products International brought investors some great profits last week, and we are happy to tell you that this is just the beginning. Stock Legends is going to be highlighting Action Products International and keeping you updated with its progress through email and on our website weekly. Why? In our minds you can not get too much of a good thing!
This stock has everything from International attention for the Prime Minister of Bangladesh, to Google Relationships, and Letters of Intent with a printing company valued at over $28,000,000! From a technical aspect this chart could not be in a better position to perform, fundamentally the company has a new direction, new leadership, and a mission for success! This is not the first walk in the park for Action Products International, they have been in business for over 25 years!
Action Products International, Inc. (Pinksheets: APII.PK - News) is seeking to acquire or merge with companies with growth opportunity within the cloud services computing vertical. The company's business model is to bring together companies that deliver technology and services in applications, software, social media and infrastructure as a service.
Let's Take A Look The Bangladesh Opportunity:
Bangladesh ~
APII is looking to expand their operations internationally and are targeting Bangladesh..
Why expand to Bangladesh?  What do they have to offer? Bangladesh ranks as the 7th largest population in the world, Which is roughly half of the size of the United States! Not only that, they are far behind us as far as internet sophistication... The Boston Consulting Group is one of the world's leading business strategy and consulting firms that recently analyzed the opportunity here and projects the internet usage to EXPLODE from less than 995,000 in 2010 to 18.3 Million Users by 2020! Now that is explosive growth! This translates into 32 cent per household penetration to 66 cent business adoption.... Wow... This is an intense cloud computing business reach and the chance to capitalize on a huge developing market!
Here is a chart to display the increase in cloud opportunity on an annual basis: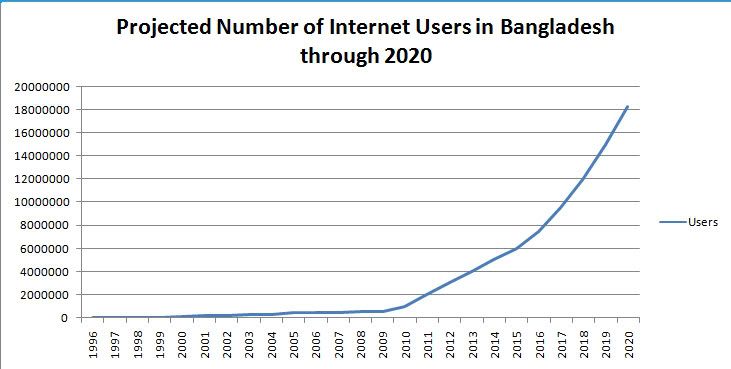 *Source International Monetary Fund and Boston Consulting Group
Would the Senior Delegates of Bangladesh visit a company directly that was not on the verge of serious advancement?
On September 23rd The Prime Minister Came To New York And Personally Met With The Ceo Of Action Products International
Letter Of Intent To Merge With Google Apps Reseller Vizzeco:
When most people scan across this industry chances are without doing a detailed search on the possibilities, most are missing the boat. "The cloud computing services market is expected to balloon to $222.5 Billion dollars over the next five years" according to a new report released by Global Industry Analysts making it one of the most profitable and rapidly growing business sectors in the world!
So what is this exactly?
Cloud Computing is broken into 3 basic sections as follows: Infrastructure as a service (IaaS) Platform as a service (Paas) and Software as a service (Saas). Basically this gives small/medium size business the capabilities to be able to operate as a full functioning major corporation would. Only paying for these particular aspects of the business AS NEEDED, and housed in a remote location. The costs of a full time IT professional now a days can be expensive, timely to train, and underutilized in the average business. These services would be handled remotely and professionally. Even though this is just one particular situation and use of a cloud service. SaaS specifically is a service provided by VizzEco meaning they can provide software services such as Accounting, CRM, Human Resources, and Content Management to business on an "as needed" basis! The profits are large and on the consumer side the savings and technilogical advancements are huge!
The CEO and Co Founder of VizzEco had this to say on their website about their feelings towards the Action Relationship:
"We also expect to work towards finalizing a merger between Vizzeco and Action Products International (OTC:APII)"
Not To Mention......... VizzEco is the ONLY Google Reseller of Google Cloud Apps in the world without Geographical limits!
Would Google allow less than the best offer their Cloud Services as a direct reseller? Could these huge strategic relationships benefit a company such as Action and their future returns for investors?
Letter Of Intent To Merge With Local Printing Associates and Co LLC, Valued At $28,000,000:
Local Printing Associates and Co have an extensive 8,000 domain portfolio that can be found on localprintdomains.com and have plans to team up and monetize these domain assets through leasing, advertising, and direct sales. "The domain assets alone, based on Google AdWords research, would appear within the first page on 60 million local search results per month at a cost per click value of 28 million dollars at ZERO cost to the company when properly built out".
How Will This Benefit APII?
Think of the Opportunity to "Cross Sell" here... When a company is starting the first thing they need is business cards right? Take the domain name miamibusinesscards.com for example. If searching "Miami Business Cards" this domain will be the top result, and the first clicked for business cards.. The possibility of reaching out to this company at their entry level stage and offering the full cloud computing service to cut even initial infrastructure costs in half is almost a given sale for services. Keep in mind, this search is a single example but only representing 1/8000th of the opportunity of the portfolio!!! Can you think of more strategical exposure than this!?  We Sure Can't !!
Would this relationship create an open door for revenues for a company offering cloud computing to small/medium sized business? Would this relationship not only benefit from the extreme value of the domain portfolio but the avenues and gateways opened for potential revenues?
Lets Take A Look At The Leadership: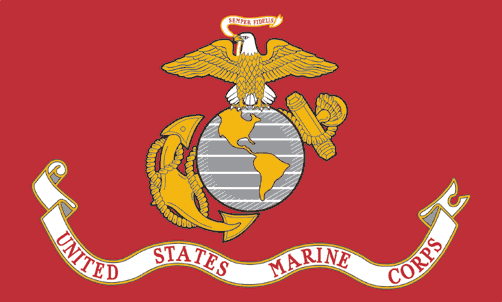 Gary Polistena
Ceo Of Action Products International
"Polistena began his career with the United States Marine Corps where he was trained as a specialist in microwave equipment and technology. In less than four years, Polistena advanced to the rank of Sergeant (E5) and engaged with the Marine Readiness Acceptance Check (RAC) team as a Communications Subject Matter Expert. During his tenure with RAC, Polistena was responsible for ensuring the quality control and logistics of the 2nd Marine Division Prepositioning Force ~ A fleet of 4 cargo ships each filled with gear to fully support 19,000 marines in combat for 30 days. After an honorable discharge, Polistena remained within the telecommunications industry where he served alternately as Project Design Engineer and Project Manager for various telecom carriers and suppliers. During this period, he oversaw several large scale projects and installations (budgeted at $20,000,000 - $40,000,000) one of which remains on the books as the largest single market build-out in wireless history"
Can you think of anyone better to follow into battle than a polished United States Marine Corps Veteran?
Being a Marine myself I sure can't... This is the most trained, elite, and tactical machine of a man this world can create......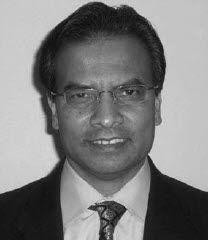 Aziz Ahmad
Newest Member To The Board Of Directors
President and Ceo of UTC Associates inc, A company he co founded in New York City. UTC is a leading systems and network integration company and developer of software for information technology and telecommunications applications. An accomplished businessman and network architect, Mr Ahmad was the lead architect of AT&T's VOIP Networks.
Summary Of Legendary Opinion:
We at Stock Legends feel that there is an opportunity for maximum profits both short term and long term when investing in Action Products International.  This is why we enjoy investing in penny stocks, there is a unique chance to get in on the ground level in breakout plays with rapid advancements.  There are very few investments that can yield you multple times your initial invesment in such short periods of time.  Action Products International seems to have a solid direction, business plan, and leadership to make the investors return on investment favorable.  As always we will continue to search out plays on the verge of a major move, so in return you can benefit from Legendary Stock Gains!
Lets Take A Look At The Stock Chart Technicals:

The first technical indicator that we want to bring your attention to is the MACD buy and sell signals. This is one of the more generic indicators although very easy to follow. If you notice the vertical red line that was created at the point where the Green MACD line crossed under the Red line, this generated a Sell Signal which is followed by a huge drop in share price. Yesterday the MACD Green line crossed above the red line indicated a Buy signal, hugely favoring an imminant run! On September 28th the signicificant drop in price and red trendline on the candlesticks was broken with a large green candle therefore reversing the trend and indicating that an upward move and reversed trend would be occurring. The lowest indicator on this chart setup is the accumulation line which has reversed it's selloff position and has started to change trend and show that investors are quickly accumulating more and more shares before this run occurs...
In our opinion when reviewing this chart, there is only one way to go.... Next resistance line is marked by the red line reaching from the left side of the chart to the right and that is at .26 cents! Once this resistance has been broken, this level will become our new support for gains in PPS in excess of .25 cents - .34 cents....
This Stock Chart Is Screaming Buy Me...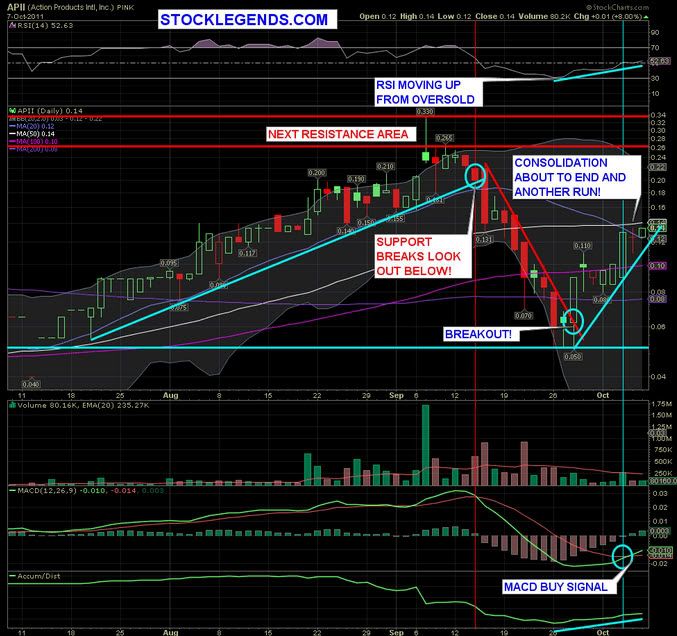 Disclosure:
I have no positions in any stocks mentioned, and no plans to initiate any positions within the next 72 hours.
Additional disclosure:
APII ~ Stock Legends was compensated $5000 dollars for a one week promotion.(By A Third Party)