Readers, as always I continue my hunt for the next small cap that could be ready to sky-rocket... Drinks Americas Holdings, Inc (OTCPK:DKAM) has just recently begun to pique my interest. This company has begun to make a wave of announcements that to me suggest the company is ready to take on a growth strategy. When I first looked at the company, it was at the end of October/beginning of November when the PPS was around the .004 level. There were a few decent days of liquidity with minimal price movement and my thought was that there may have been some long-time, stodgy holders that lost sight of the long-term goals (sorry but I think you may have been wrong) keeping this churning for a minute.
It looks like November 8th kicked things up a notch and on the Holiday Monday session to follow, volume continued to sustain price movement. As with many day-traders, price pulled back slightly from short-term profit takers but immediately and almost without a hitch, the company released press after market open on the 13th that seemed to really take hold going into the remainder of the week. Message boards and chat rooms have been lighting up with this symbol and in my opinion, it may be for good reason. Let's look at some of the developments since October:
That's 7 (Seven) distribution announcements in 1 month and the addition of an industry professional to attack this head on, so "Yes" I'm intrigued with the way this stock has been trading lately and very interested to see where the company goes from here.
The chart set-up looks almost ideal for a continuation trend in my own personal opinion. It's had a nice "ebb and flow" with healthy gains and subtle pull-backs offering holders a chance to watch a consistent uptrend through November while giving day traders opportunity to catch a single or multi-day rebound from lows: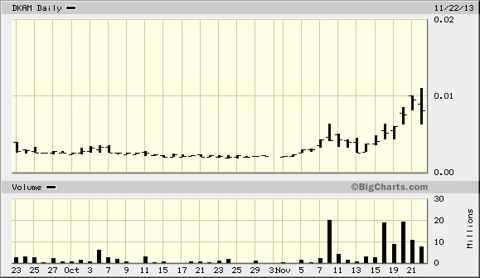 After seeing the HUGE, and I mean HUUUGE drop it saw in price prior to the seemingly new direction the company has identified in this craft beer market, I think the public has found some value in DKAM at these current levels. For all of my technical buddies out there, I think many would agree that after the big price spike DKAM saw from Nov 20-21st, this needed to come back a bit. Too much of an inflated jump could make for a bad market for bag holders to completely drop out and take quick profit.
In any event, I found that there may be a nice support level setting up in the .0075-.0082 range and of course this was actually where a good amount of trading happened with this one on Friday. Now Here's where I get more excited about this one and it goes well beyond the trading...Drinks Americas Holdings has identified Craft Beer as a revenue stream and so far all announcements have been about increased national and international distribution...A key to any successful beer, wine, and/or spirits company.
I found a few articles on someone in particular (Warren, I think was his first name) and his endeavors within the beer, wine, and spirits industry through one of his company's subsidiaries. Analysts explain that his interest in wine and liquor wholesale distribution is due to the fact that millions of people consume liquor daily and it is truly considered a recession proof industry. People actually drink more during tough economic times.
Particularly in this case is craft beer and the industry numbers are impressive to say the least. According to a report published by Research and Markets, the US beer, wine, and spirits distribution industry had a combined annual revenue of about $123 billion and according to Brewers Association, craft brewer retail dollar value in 2012 was an estimated $10.2 billion making this niche nearly 1/10th of the entire annual revenue from the beer, wine, and spirits as a whole if my math serves me correct. Drinks Americas may already be off to a great start with a strategic line-up of distribution partners that include the biggest liquor retailer in Las Vegas, 200 Cost Plus world market stores, channels through a major restaurant group, a partner with over 125 years experience.... and just for good measure, brand recognition with a famous Mouse.
I'm going to keep a very close eye on this company well into 2014. If this latest bull-trend is any indication of the way the "new regime" intends to direct the company's growth, Drinks Americas may be on pace to generate big attention in a growing marketplace with its Day of the Dead brand leading the charge.