Over the last several weeks, this has been a stock to watch. A good amount of attention has been placed on the financial state of the company and its positive outlook on the year ahead. By diversifying the company's holdings and utilizing the success of additional revenue generating opportunities as a self funding tool for the company's "long idea" for the company's Blue Water Bar and Grill™ brand of restaurants situated in the heavily tourist-based Caribbean island of St. Maarten. This has grabbed my attention and given me an opportunity to make it this week's Small Cap in Focus.
Blue Water Global Group, Inc. (OTCPK:BLUU) is a publicly traded holding company that is currently developing a chain of restaurants throughout the Caribbean region under the Blue Water Bar & Grill™ brand. In addition to its restaurant development activities, Blue Water is also engaged in making strategic equity investments in promising businesses that are in the early stages of obtaining their own listing on the OTC Bulletin Board.
Strategic Investments:
Through its Strategic Alliance Agreement with Taurus Financial Partners, LLC, Blue Water Global Group, Inc. has been granted the exclusive right to participate in early stage equity investments and future Registered Spin-Off transactions. In a typical transaction, Blue Water will acquire a significant block of stock in an operating business that is in the process of "going public" on the OTC Bulletin Board (OTCBB).
Once these shares have been registered with the Securities and Exchange Commission, Blue Water will "spin-off" a percentage of them to its stockholders in the form of a special stock dividend. Blue Water will retain the remaining shares for its own investment account.
Blue Water Announces Significant Equity Investment: Acquires 20% Interest in Stream Flow Media, Inc.
On December 4 2013, BLUU announced that it had entered into an agreement to acquire "significant ownership in Stream Flow Media, Inc., a growth-stage start-up that focuses on the development of online gaming solutions that cater specifically to corporate training and customer loyalty and retention mobile applications. The Company is retained by third-parties to develop applications that are branded for their exclusive use.
Through this transaction, Blue Water received 20 million shares of Stream Flow's common stock, $0.001 par value, valued at $200,000, or $0.01 per share. Blue Water's position aggregates approximately 20% of the total ownership of Stream Flow. In addition to this, the company stated that it expects Stream Flow to enter the public market during the 2014 fiscal year, which falls right in line with Blue Water's strategic investment approach for registered "spin-off" transactions. In a recent shareholder update in January, the company listed one of its main goals for 2014 is to acquire a significant equity position in at least one other Strategic Alliance candidate (much like with Stream Flow Media). This positions the company to bring in yet another stream of income potential that should hopefully translate to shareholders through the previously announced "special stock dividends".
Keeping all of this in mind, these strategic investments are the life-blood for Blue Water's main objective to effectively grow the Blue Water Bar & Grill™ brand.
Blue Water Bar and Grill
The Blue Water Bar & Grill™ restaurant concept features a casual, open-air Caribbean themed restaurant designed to offer customers a distinctive and relaxing island dining experience. Central to each restaurant will be a large covered outside patio area where customers can enjoy their drinks and food while overlooking a beautiful water view. The patio area will feature an inviting island styled walk up (and in some cases, swim up) bar and a small stage area for live musical performances by local musicians and dancing.
Each restaurant will have an open aired kitchen so customers can see their food being prepared. The initial Blue Water Bar & Grill™ is presently under development on the Caribbean island of St. Maarten, Dutch West Indies. Over the 2013 year, BLUU has made some incredible strategic moves in order to both streamline the development process as well as avoid many hurtles that a typical Caribbean restaurant owner would encounter. Not only did the company save up to 18-months in permit application red tape by acquiring existing St. Maarten Business Licenses (now owned by its new Blue Water Bar & Grill, N.V. subsidiary), but BLUU also developed a network of St. Maarten tourism contacts within the cruise ship and hotel/resort industries. The major importance of the latter is that St. Maarten experienced record tourism in 2013, receiving 1,785,670 cruise ship passengers via 631 different cruise ships. This network of contacts opens the doors to capitalize on this tourism boom.
Currently, Blue Water is continuing its negotiations for two restaurant locations on St. Maarten, both of which are beachfront. One of the locations is in an existing building and the other is going to be a brand new structure. Both locations will be able to seat 100 and 150 customers respectively with the existing building location being ready to open by Q2 of 2014. The new build has a planned open date sometime in Q4. The benefits of both locations include minimal renovations for the existing location, which lowers the overall opening costs, allowing for a sooner open date and for the new location, the landowner at their expense, has retained an architectural firm to draft the Blue Water Bar & Grill™ blueprints tailored to the site.
Regarding these locations, Blue Water's President and CEO, J. Scott Sitra, stated, "We are working diligently to secure both complementary premium restaurant locations in St. Maarten for our Blue Water Bar & Grill™ concept. In both instances we are negotiating with large, multi-national public entities, which have vision and potential of our mutual relationships."
Ranked #9 by U.S. News and World Report's "Best Islands in the World", St. Maarten is the premier Caribbean destination complemented by the Caribbean's largest cruise ship terminal and busiest regional airport capable of accommodating planes as large as the Boeing 747. In addition, many of the world's largest mega-yachts call St. Maarten "home" during the seasonal months from November to April (making the timing of BLUU's restaurant openings perfect to take advantage of St. Maarten's "high season"). Additionally, the company has stated that over the next five years it intend to open a Blue Water Bar & Grill™ restaurant on each of the following islands:
Barbados;
Aruba, Dutch West Indies;
Cozumel, Mexico;
Grand Cayman; and
Nassau, Bahamas.
New Endeavors…
On January 15, 2014 BLUU announced some news that could expand the Blue Water Brand further into the food and entertainment industry. Blue Water Global Group announced that it has finalized a Letter of Intent with a family owned distillery located on the Caribbean island of Dominica, W.I. to exclusively distill and bottle three sugarcane based rums on behalf of Blue Water. Through this agreement, Blue Water owns all aspects of these rums, including their recipes and distillation processes, as well as exclusive worldwide distribution rights to them.
According to the company, this move will not only help the company control liquor cost for the Blue Water Bar and Grill but it will also allow the company to further penetrate the retail market throughout the islands through sales in souvenir shops, retail stores, and grocery stores. Once again, a strategic move to initially benefit the plan to enhance operations for the bar and restaurant brand then further capitalize through spinning that into another line of revenue through wholesale distribution.
Operationally, BLUU has identified its direction, found additional ways to capitalize the company, and has mitigated additional market risk to build shareholder value. Specific to the last piece, on February 11, Blue Water announced that it had retired a piece of debt formerly owed to Asher Enterprises. Typically, debt instruments are used to fund a company's operations with the potential downside of having heavily discounted shares enter the market once the debt note comes due. By purchasing back this debt, the company not only tightens up the balance sheet but also builds shareholder value. Company CEO, J. Scott Sitra, stated, "Blue Water is always looking at ways to maximize shareholder value. With that in mind our shareholders should be happy to learn that we continue to manage our finances effectively and have chosen to repay our modest debts with cash rather than allow for the conversion of outstanding Asher debt into deeply discounted shares of our common stock, which would result in unnecessary shareholder dilution and a potentially significant market decline from the subsequent sale of those shares. For the record, we fully intend to repay our remaining Asher obligations in the same manner: early and in cash."
Chart Technical Analysis
"Over-sold, support bounce"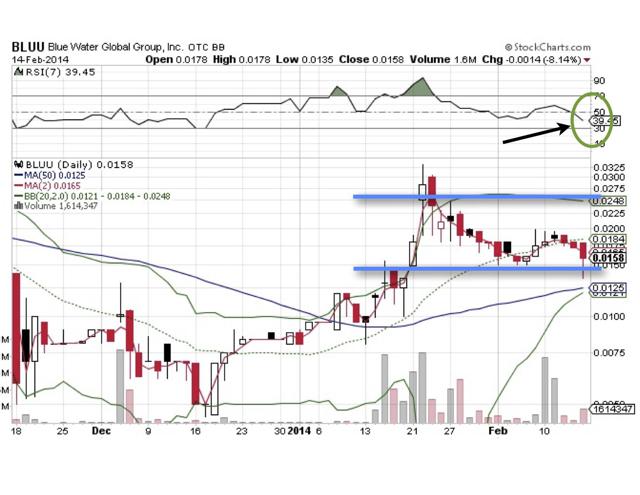 RSI indicator is sitting under 40 suggesting that the recent pullback from January highs puts the BLUU value well under what the market may see it should be. Typical Relative Strength for a bullish move can historically settle between 20-40 as new market momentum begins to reignite positive movement. Moreover the current price channel shows support around 0.015-0.0158 range, with resistance at the upper Bollinger band closer to .025 (roughly 66% north of support). This looks like it could be a perfect storm for a support bounce especially after the recent profit taking period seems to have leveled out and the previous resistance seen from November and December of last year now looks to be the new support levels BLUU is at right now.
Conclusion
Overall, BLUU has started off the year with big momentum built from the last quarter of 2013. The company has a solid vision that it has already started to work toward for 2014 and the latest developments with the 2 restaurant build outs could be huge for the company. With these flagship locations, the company has also taken initiative to identify potential loss leaders and to mitigate this risk to maintain its goals… BLUU has become involved in strategic investments to capitalize on other emerging companies. Blue Water Media Group is still in the early stages but after seeing the attention of the investment community following the investment in Stream Flow while at the same time, breaking some major barriers to entry for its Blue Water Bar and Grill brand, I would say that management has a strong handle on what it takes to become successful both as a business and as a public company.
There's not many times you hear of a company retiring debt early and in cash, but instead simply letting that come to maturity and suffer the consequences of discounted shares flooding the market. Blue Water plans to continue to retire more debt, maintain effective financial management all while avoiding unnecessary market dilution by using cash to do so. Having followed many small cap companies, I feel that Blue Water may be one of the few who's goals are in line with its growth strategy to become a self sustaining, self funding, growth company with several avenues of revenue generation that marry together for the future success of the Blue Water Bar and Grill brand.
Disclosure: I have no positions in any stocks mentioned, but may initiate a long position in BLUU over the next 72 hours.
Additional disclosure: small and micro cap stocks are incredibly risky.