Since late August, OriginOil, Inc (OTCPK:OOIL) has been a force to be reckoned with in the OTC market and more specifically within the fracking industry. So what has been the catalyst to so much attention building up over the last few weeks? Well for starters, Origin has strategically aligned itself with Gulf Energy, which will expand its multi-million dollar oil service business in the Middle East into frac flowback water treatment via OriginOil's CLEAN-FRAC product.
"We at Gulf Energy believe that the Middle East is ready to address its water scarcity and environmental concerns. For months, we have researched and finally found the technology we believe to be the best available to anchor our water treatment systems. We are ready to start building and selling systems across the MENA region. To enable this, our first step will be to purchase a CLEAN-FRAC™ P1500 demonstration system from OriginOil"

-Yasser Al Barami,

Chief Commercial Officer of Gulf Energy SAOC
Gulf Energy reports it has grown its sales of products and services in excess of $320 million last year across the Middle East & North Africa (MENA) through its different subsidiaries. Gulf Energy reports that it currently works with almost all of the major operators in Oman including Petroleum Development of Oman (NYSEMKT:PDO), Occidental Petroleum Company (NYSE:OXY), PTT Exploration and Production Plc (PTTEP), MEDCO, Petrogas E&P and Daleel Petroleum.
Quickly follow this announcement was the Company's report on STW Resources Holding Corp. (STWS) choosing Origin's CLEAN-FRAC system to demonstrate its process to STW customers in the Permian and Eagle Ford regions. If you're familiar with oil and gas plays, the Permian and Eagle Ford are some of the richest natural gas deposits in the world. Crude oil production from Permian Basin counties has exceeded production from the federal offshore Gulf of Mexico region since March 2013, making the Permian the largest crude oil producing region in the United States. In 2013, the Permian Basin accounted for 18% of total U.S. crude oil production.
More importantly the water intensive process for fracking equates to an average of 3 barrels of water per barrel of oil making the potential opportunity in the Permian alone a huge milestone for Origin Oil and that's not to mention the addition of the previously announced business agreement with Middle East based Gulf Energy. These two announcements could have been major catalysts to this latest surge in trading for Origin.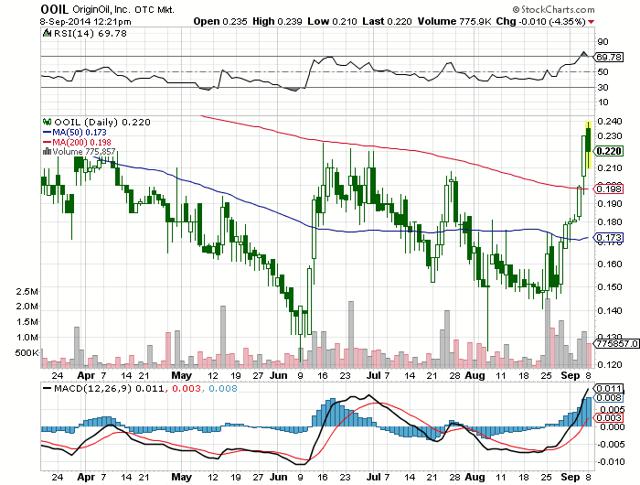 Since the beginning of September, the average daily liquidity has surpassed 1 million shares per day or roughly $220k in dollar volume. This has been a consistent trend as well. There are many OTC companies that can only dream of achieving a third of that kind of activity per day and to the benefit of Origin, the company has the business operations and continued development to give the investment community a reason to keep watching.
OriginOil's focus has been on an aggressive licensing and private label strategy as opposed to a simple equipment sales program. According to management, they see this as much more fruitful long-term revenue generation strategy and for early investors, this could mean much larger upside potential once the company moves forward with new contracts for future licensees.