This morning OriginOil (OTCPK:OOIL) released press announcing that the company has finally completed its GEN 2 frack water cleanup system and is ready to ship it off to Delta Colorado for field testing. More importantly is the fact that this GEN 2 system could be a gamechanger for the fracking industry based on the modular capabilities and overall scalability of the system.
Each Gen 2 module can process up to 3,000 barrels per day (bpd) of contaminated frac flowback and produced water. Up to four of these can fit into a 40-foot container, treating up to half a million gallons each day. If there needs to be more treated...just add more units. The GEN 2 also employs the same energy saving benefits of its previous GEN 1 system and most importantly, the Company looks to deliver the same results as it pertains to the removal of suspended solids.
"Our GEN 1 industrial demo system was up and running! That's how we are proving the tech to prospective clients, with real contaminated water in the field. Meanwhile, we ramp up GEN 2 to deal with 10,000 bpd and well beyond."

Riggs Eckelberry, CEO, OriginOil, Inc.
Now that this second generation has been completed Origin is now ready to send it out to be put through its paces at ISI's facility in Delta, Colorado. In addition to these giant steps forward for Origin's next generation of frack water cleaning, all last week, truckload after truckload of frack and produced water rolled into a Salt Water Disposal (SWD) site near Midland, Texas where Origin's partners watched as the company's VP of Engineering, Lee Portillo, adjusted for variations in the fluids from different wells throughout the region.
In conjunction with these successes in Oil and Gas, the company has also continued to pursue a market leading roll in algae harvesting mainly for the purposes of offering a source for animal feed. Heard at the ABO Summit: "this is the hottest thing on this show!" (Hugh Morris, AlgEternal)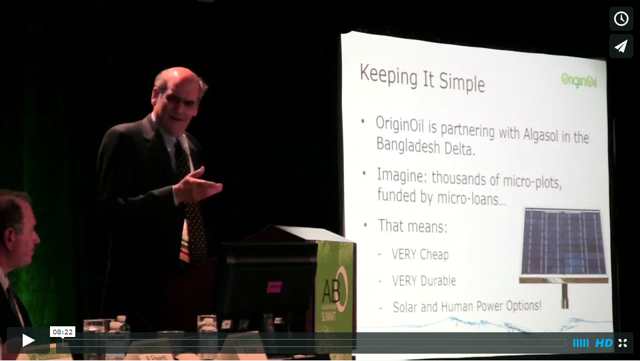 Based on these latest developments with OOIL it looks like Origin is firing on all cylinders and could have a multi-pronged revenue model in place to capitalize on through bringing game-changing technology to several industries. Furthermore, it appears that OriginOil has pull back to a previous support seen last month just prior to its most recent bull run. For potential investors and current shareholders, this price channel could offer opportunity to take advantage of these lower levels especially as it seems that the Company has begun to move forward with several major milestone projects heading into the final quarter of 2014.