U.S. stocks were crushed on Friday afternoon as the major indices entered correction territory for the first time since 2011. For example, think about this: in the last five years the Dow has only seen four occurrences when closing losses hit 400 points or more in a single session. The Nasdaq lost over 3% and joined the other major averages in negative territory for 2015. Many blue chip stocks like Apple, Inc. (NASDAQ:AAPL), IBM (NYSE:IBM), Disney (NYSE:DIS) and even Microsoft Corp (NASDAQ:MSFT) pared back gains from earlier in the year after the market consolidated significantly as a result of rate hike discussions and activity in Chinese markets.
"The Fed has created such a mixed message that people don't know what to do with their money," JJ Kinahan, chief strategist at TD Ameritrade told CNBC. "That makes (NYSE:IT) very difficult to figure out who are the winners and losers for the fourth quarter. People are taking money out of the market."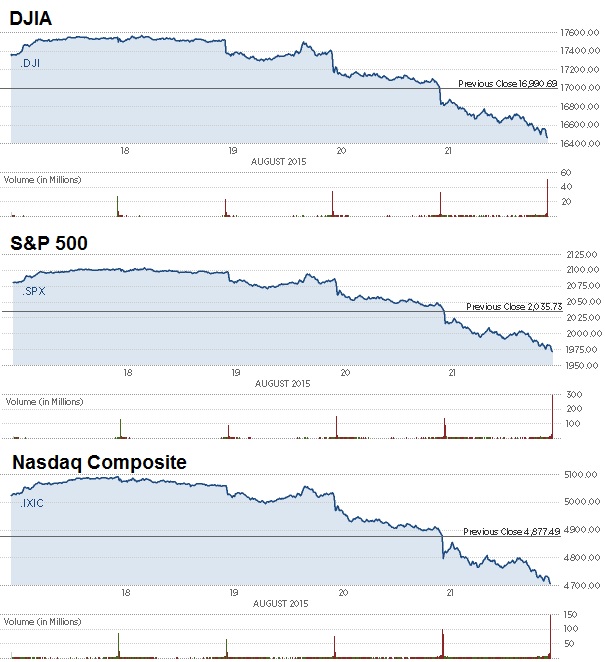 We all remember the "Great Recession" back in '08. Where do investors look to hedge against these volatile swings not only to preserve capital but to also capture gains even if they are minor? Many call these recession proof stocks, others say they're a safe haven. However, when people once trusted commodities during times like these, the uncertainty of precious metals like gold has left a bitter taste in the mouths of many investors. Nowadays the safe havens have come in the form of necessity industries. We need access to medicine, food, and even spirits; these are all industries that thrive in economies and markets like we're seeing after Friday's sell-off.
Since "the transaction" back in July, KraftHeinz (NASDAQ:KHC) has seen generally a static market, trading between $71 and $81.20. The deal has resulted in the company becoming the third-largest food and beverage company in North America and the fifth largest internationally valued at $28 billion. Though the company has struggled in recent years to appeal to consumers' shifting tastes, the new organization has an arsenal of brands that shoppers are eating up. Last year, Kraft, which includes brands such as Oscar Mayer, Planters and Maxwell House, spent $513.9 million on U.S. measured media, according to Kantar Media. Currently Starcom USA handles the US spending for Kraft. KHC also has a current yield of 2.9%, paying a quarterly dividend of 55 cents a share. Even if the market takes a short-term turn, the dividend is always an added benefit. KHC closed Friday at $72.27.
Though it isn't a large conglomerate like KHC, Barfresh Food Group, Inc. (OTCQB:BRFH) is in the food and beverage market and has weathered this latest market storm. The company through it's wholly owned subsidiary Smoothie Inc, is a manufacturer and distributor of ready-to-blend beverages that were launched in response to the market need for an innovative method to produce blended beverages quickly and more profitably because prior to Barfresh entering the market, smoothies were time and labor intensive to produce and generated a large amount of waste. BRFH has acquired the North America intellectual property for its unique "ready to blend" ingredient packs (including the patent pending rights) that combines all the ingredients of a great smoothie into an individually pre-portioned pack containing real fruit pieces, low fat frozen yogurt or sorbet, fruit juice and even the ice.
During the better part of the last two years the stock has risen by as much as 313% from lows of $0.22 in September 2013 to highs of $0.909 this past May. Though the stock has consolidated in recent weeks, losses have been pared by dramatic increases in sales. In fact this month the company reported on its fiscal first quarter operating results. Riccardo Delle Coste, the Company's CEO stated, "Our first quarter fiscal year 2016 sales increased 173% from the year ago quarter. In addition, sales in the first quarter exceeded the last three quarters of last year combined. Additionally, ordering trends for July and August have continued at a strong pace. Our business model is gaining momentum as we continue to hire sales representatives and achieve wins for our distribution business, and our large national accounts."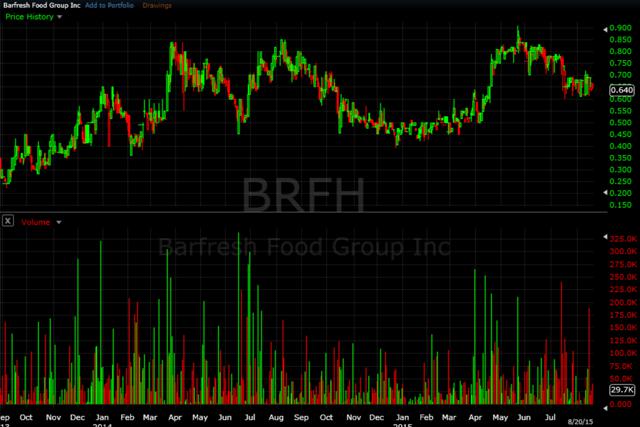 The company has added over 500 customers and they've also begun in store testing to come 300 locations of a national snack-food chain. The pullback that many stocks saw Friday had little impact on the share price of BRFH.
CVS Health Corporation (NYSE:CVS) has seen a minimal impact as well after Friday's dramatic market sell-off. Though the stock closed down a little more than $2 a share, the stock price maintained a level above the 200-day moving average. This is a key point of support for stocks in maintaining a current uptrend or reversal pattern. The valuation of CVS has risen nearly 14% since the beginning of 2015. The June announcement of the company purchasing Target's (NYSE:TGT) pharmacies and clinics gave investors more confidence where CVS will now have access to new selling channels. But according to Wall Street Analysts' Estimates, CVS Health is still grossly undervalued despite the recent increase.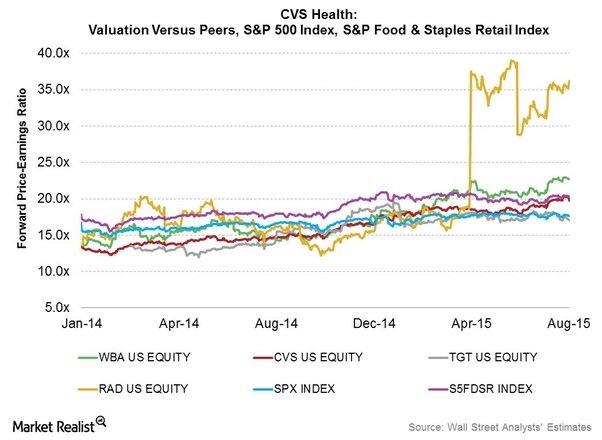 The focus for the company has obviously been on growth and building a foothold in specialty businesses like Minute Clinics and Target pharmacies. Sales increased by 21% year-over-year in 2Q15 and CVS added 11 net new clinics in the quarter bringing the total to 997. It also helps that Berkshire Hathaway (NYSE:BRK.B) and Jorge Lemann's 3G own more than 50% of the company with a combined 51.1% stake in the company (Berkshire holds 26.9%, 3G owns 24.2%)
Likewise in the small cap space, Progressive Care Inc. (OTCQB:RXMD) through its subsidiary Pharmco LLC has realized incredible growth over the last 18 months through largely increasing the reach within the South Florida market and achieving quarter over quarter increases in prescription volume. The company ended 2014 with revenues of $11 million and after the first two quarters of operation is on pace to top that by the end of 2015. In a recent independent analyst report, not only has the stock received a buy rating and short term price target of $0.03 (233% above Friday's closing pps) but the analyst also cited several key reasons for growth. These included healthcare consolidation as well as the region itself, Florida being one of the top five med-tech job producers in the country.
During the three months ended June 30, 2015, prescriptions counts reached a record high of approximately 43,000 fills, which represents a year-over-year increase of 11%. In addition to this, Progressive reported a net revenue increase of 18% year-over-year for the six months ended June 30, 2015 from approximately $5.40 million to approximately $6.40 million. From a loss of $270,000 for the first two quarters of 2014, the company reached profitability in 2015 of approximately $85,000 and improved cash on hand realizing an increase to $282,486 from the beginning of the year. These numbers are traditionally not something you see with pink sheet companies or stocks trading at these levels.
Over the last 8 months the stock has seen prices spike as high as $0.08 and $0.049 in more recent weeks. The $0.03 target short-term appears to be attainable with the major risk being the company's current debt reduction mechanism in place. Though this has been a source of dilution, Progressive has not let it go unnoticed and has kept the public updated as much as possible. As of the last PR that included information on such instances, the company had extinguished over $600,000 through its 3(a)(10) transaction. Being that this was stated in early July, it would stand to reason that this number would be greatly different taking into account the total amount of volume the stock has seen especially during recent trading sessions.
Other safety stocks include Time Warner Cable (TWC), which also offers a quarterly dividend of $0.75 per share from a current yield of 1.6%, has found itself in the midst of a much larger bull run. Despite the last two days of negative selling, TWC has enjoyed a significant increase in share price as compared to that of the first 5 months of the year. In fact compared to this time last year, shares have increased by more than 30% following highs at the beginning of the month at $194.22.
As one of the stocks in Soros' portfolio (2.7%), the hedge fund manager has a 1.5millino share stake as reported in the most recent quarter. The rally has been driven by revenue growth, increased performance over the first half of 2015, as well as the overall return on equity. Furthermore, as with many "safe stocks" cash flows and growth have been constant with net operating cash remaining above $1.6million and ROE exceeding both its industry's average and the S&P 500.
Constellation Brands (NYSE:STZ) has also found ways to weather the storm. Though the stock did tumble 3.7% Friday, the price has been on an upswing since hitting lows last October. Since that time, shares of STZ have moved up from $80.70 to highs this week of $130.42. Whether people are happy or sad, more than likely an adult beverage can be found close by. The creation of their new investment arm has been of interest and the latest investment into Chicago's Crafthouse Cocktails has sparked interest. Though details of the transaction weren't disclosed, it is confirmed that Crafthouse will continue to operate independently in the production and marketing of its products. This first venture by Constellations investment arm, Constellation Ventures, gives the company additional focus on identifying smaller scale opportunities related to innovative categories within several alcohol market segments.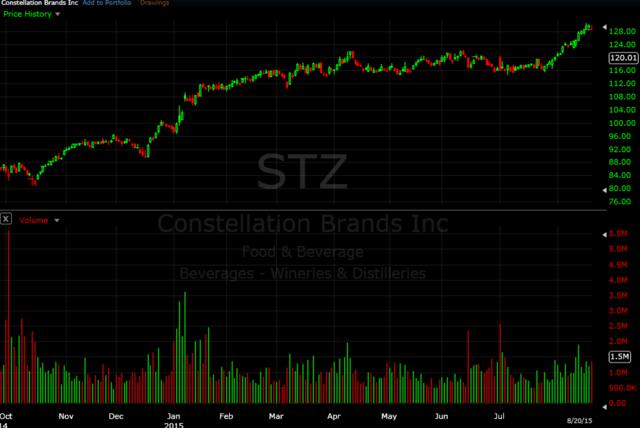 There's no telling what will happen in the week ahead, however during times of market confusion, real opportunity has presented itself in stocks that generate revenues from industries mentioned above. In previous times of market crisis the consolidation period has been generally short, if any, so an anticipation heading into the week would be to see slightly more consolidation and possible opportunities for a cash grab from lower share price with stocks in safe haven markets.
Editor's Notes: This article discusses stocks that are under $1 and have under a $100 million market cap. These are highly speculative investments and should be treated as such.
Disclosure: I/we have no positions in any stocks mentioned, and no plans to initiate any positions within the next 72 hours.