So let's first review the Accumulator history for BBRY since mid-May 2013. The first chart below shows the motion of the Market Pressure Accumulator, the "MP". The MP measures the visible supply of bids/offers and is a direct measure of demand/supply. The MP does not measure trade volumes nor does it use the price of a security in its computation. We see in late May, a huge increase in supply indicated by the MP falling sharply and remaining down for several weeks. News sends the MP higher in mid June but then it begins to fall several days prior to BBRY's earning release.
Such sharp declines, or rises, in the MP are characteristic of a fundamental shift in the character of the market for any stock. In mid July, demand bottoms and has remained higher since.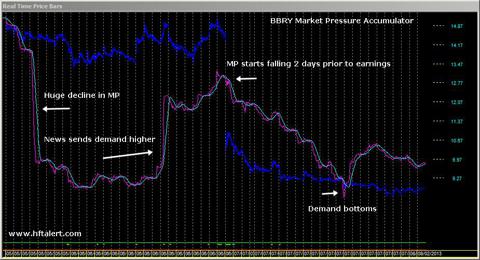 This next chart below is the Dark Pool Liquidity Accumulator. The Liquidity Accumulator measures trades and trade volumes, it does not use the price of a security in its computation. The Liquidity Accumulator can separate out Dark Pool and Algo generated trades from the overall tape. Following the activity of Dark Pools can be beneficial to investors and swing traders since Dark Pool trades are primarily from large institutional portfolios with long term goals. It takes weeks for most big portfolios (such as mutual funds) to acquire or dispose of a position and this activity will be picked up by the Accumulator.
We see that along with the big plunge in the MP, we see heavy Dark Pool selling from mid-May through most of June. As price collapsed after a negative earnings report, we can see a huge rise in the Liquidity Accumulator which represents short covering which lasted four days before the Accumulator turned back down again.
In late July, as the MP bottomed, we can see a flattening of the Dark Pool Liquidity Accumulator which has been rising over the past week as BBRY fell below $9 a share. The strongest buy signal that the Accumulators can give is to see both the MP and the Liquidity Accumulator rise as price falls. This is called positive divergence.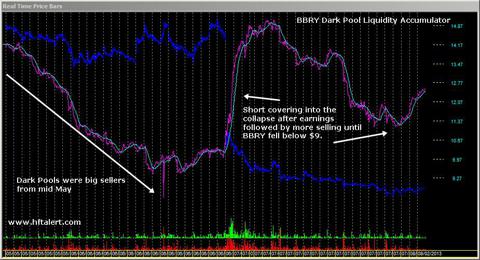 The Chart below shows a close-up view of both the DP Liquidity and MP Accumulators. The overall rise in the MP tells us that there are new longs wanting to come into the market and the rise in the Liquidity Accumulator is more than simply short covering.
The Accumulators are designed to provide insight into HOW a stock is trading and as such they are not designed to 'give signals'. They are designed to provide information which describes how a stock trades on multiple levels: demand, supply, trade volume, type of trade volume and whose trade volumes are being measured (algos, dp's and others). With this information, investors can look much deeper into how a stock trades to provide an additional basis upon which to make an investment decision.
So, in this case, we can conclude that 1) demand is rising again over supply, 2) there is Dark Pool buying into weakness that is more than short covering. It is my opinion, based upon the Accumulators, that portfolio buying has been ongoing since mid-July.
However, I do not see the level of positive divergence that is typically the sign of a major low. For us to see that, we would need to see another test of the lows below $9 with both Accumulators rising as price falls. If I saw that, I would be a larger buyer of the stock into that price decline. But there is enough positive information here to support holding a position in BBRY at the current time with the expectation of adding to that position if we see a test of the lows with rising Accumulators.
Upside target would be a $10.35-$10.66, just below the bottom of the earnings gap. A move back up into the gap from $11 to 14.33 would only be possible if the fundamenals significantly changed on BBRY. One would need to consider those issue at that time.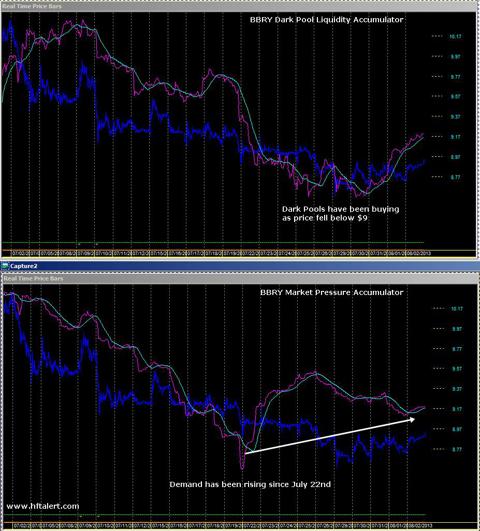 More information about the Accumulators can be found on my HFTAlert.com website. I also follow BBRY and many other Accumulator charts during the day on the Delineator Journal.
Disclosure: I am long BBRY. I wrote this article myself, and it expresses my own opinions. I am not receiving compensation for it (other than from Seeking Alpha). I have no business relationship with any company whose stock is mentioned in this article.