The entire world is watching as Hurricane Sandy bears down on the Eastern Coast of the United States. Financial Institutions are scrambling to reschedule almost everything. Originally the U.S stock market was scheduled to be closed Monday with the exception of electronic trading. However that was changed late Sunday night due to the extreme danger the storm poses to millions of people. Now all major U.S. stock and option exchanges will be closed Monday and Tuesday due to the storm. They will re-open Wednesday weather permitting. Many companies have now rescheduled their earnings announcements for later in the week. This includes Sirius XM (NASDAQ:SIRI) which was originally slated to report on Tuesday:
NEW YORK, Oct. 29, 2012 /PRNewswire/ -- Sirius XM Radio today announced that it plans to release third quarter 2012 financial and operating results on Thursday, November 1, 2012. SiriusXM will hold a conference call at 8:00 am ET on Thursday, November 1, 2012 to discuss these results.
This was a very prudent decision due to the fact that millions of investors will be without electricity for quite some time. And because of this, trading stocks will be put on the back burner as East Coast residents concentrate on survival. Just trying to stay warm, and find food and water without power will be first and foremost on everyone's minds. CNN is reporting that many major cities will be without power for weeks, and an estimated 60 million people may be affected:
Forecasters said Sandy was likely to collide with a cold front and spawn a "superstorm" that could generate flash floods, snowstorms and massive power outages from North Carolina to Maine.

The National Grid, which provides power to millions of customers, said 60 million people could be affected.

"It could be bad," said U.S. Coast Guard Rear Adm. Steven Rattior, "or it could be devastation."
Ironically, for those who have a subscription to Sirius XM radio, they will be able to get information about the storm that their neighbors don't have with regular radio. When phone, power and internet are wiped out, satellite radios reign supreme. Because the satellites cover the entire country, residents in the middle of the storm can listen to where the storm is, along with the latest news on major road and tunnel closures, storm surge, etc. And friends and relatives around the country can also listen in. Right now Sirius XM is providing continuous coverage of the storm in all of the affected states:
The Weather Channel will air nonstop on Sirius channel 184 and XM channel 1 throughout the course of the storm, offering millions of listeners across the country in-depth, expert coverage including evacuation and safety tips, an explanation of the winds and pressure of the storm, its projected path and landfall expectations, tips on how to deal with severe storms and flooding and more.

Advisories with extended coverage and local updates from The Weather Channel are airing hourly on SiriusXM's First Traffic and Weather, channels 132 to 140.

In addition, SiriusXM's Road Dog Trucking Radio (channel 106) will keep the nation's truckers updated with information on highway closures and weather.
Due to the massive size and severity of this storm which is projected to dramatically affect at least eight states it has been dubbed Frankenstorm. It may be the biggest storm to ever hit the United States. Because residents could be without any way to communicate with the outside world for days or weeks, I expect Sirius Subs to jump dramatically. These new subs will make Q4 hit new record highs. Even though it may be too late for some people to get the service during this storm, the effect of being homebound for days without any information about what is going on will be a motivation to get the satellite service in the future.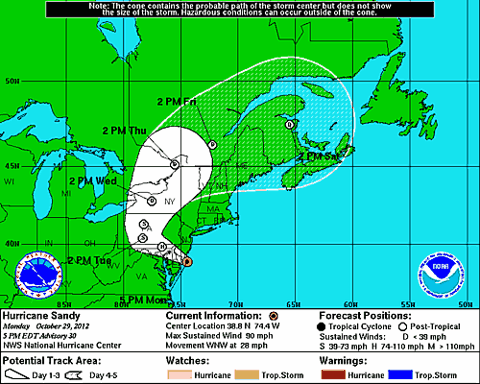 Subscriptions make up 87% of the revenue at Sirius, and most of the listeners that want the service for this type of emergency will also buy a battery operated portable satellite radio. So each new sub that is added because of this type of emergency will equate to $400 in additional unexpected revenue for the year.
Sirius will make money, while many companies suffer dramatically from this storm. Estimates range from $2 to $100 billion. One analyst thinks it will cost around $10 billion per day:
Ryan Sweet, a senior economist at Moody's Analytics, says Sandy would be a costly storm but one that would have little impact on fourth quarter gross domestic product.

"It's much more a regional story…[Sandy] will not have significant U.S. macro economic implications," he says in a phone interview. Sweet estimates the lost economic output between Washington, D.C. and New York City would equal at least $10 billion a day.
The fourth quarter is already projected to be huge for Sirius, with projected earnings to hit 3 cents per share. And revenue is projected to be a mind boggling $893 million for Q4 with a high target of $908 million. This storm should push that revenue even higher with the new subs added:
Earnings Est
Current Qtr.
Sep 12
Next Qtr.
Dec 12
Current Year
Dec 12
Next Year
Dec 13
Avg. Estimate
0.02
0.03
0.55
0.10
No. of Analysts
13.00
13.00
10.00
13.00
Low Estimate
0.01
0.02
0.53
0.06
High Estimate
0.03
0.04
0.57
0.13
Year Ago EPS
0.02
0.01
0.07
0.55
Revenue Est
Current Qtr.
Sep 12
Next Qtr.
Dec 12
Current Year
Dec 12
Next Year
Dec 13
Avg. Estimate
865.62M
893.05M
3.41B
3.81B
No. of Analysts
12
12
15
15
Low Estimate
858.05M
884.87M
3.39B
3.70B
High Estimate
875.00M
908.00M
3.43B
3.96B
Year Ago Sales
762.55M
783.74M
3.01B
3.41B
Sales Growth (year/est)
13.50%
13.90%
13.00%
11.90%
Chatter on the financial sites had already been predicting very low trading this week in anticipation of the Presidential election next week. Due to the diverse opinions of the two candidates regarding the economy and tax laws, the market will take a different turn depending who the winner is. And there is a lot riding on who the Congressional winners are.
Whenever there is a major disaster, a lot of investors will sell. So now we have the low volume from people who will be unable to communicate with the outside world, combined with the uncertainty of the election, and a huge national disaster. As most seasoned investors know, this is a good time to take advantage of lower prices caused by this type of uncertainty. Because the market will recover. This is a good time to take advantage of these upcoming dips and buy Sirius before the golden quarter sends the price way up.
Disclosure: I am long SIRI. I wrote this article myself, and it expresses my own opinions. I am not receiving compensation for it. I have no business relationship with any company whose stock is mentioned in this article.
Additional disclosure: I may buy Sirius XM stock in the next 72 hours.