Apple (NASDAQ:AAPL) shocked everyone on Monday. Not only did the company make the new "plastic" iPhone 5C an expensive high margin magnet (against analysts' advice), they unexpectedly sold millions of them. And the more expensive 5S blew out of stores with the most popular gold model back-ordered until November according to ATT (NYSE:T). As one analyst noted this may be because the pale gold color looks completely different than last year's iPhone 5. You know right away that it is a new 5S because of the color. And gold is considered a symbol of wealth in many countries including China. The company sold a record breaking 9 million new phones this week-end, which far exceeds any new iPhone launch in history by more than 80%. This sent shares to a high of $496 on Monday:

CUPERTINO, Calif.--(BUSINESS WIRE)-- Apple® today announced it has sold a record-breaking nine million new iPhone® 5s and iPhone 5c models, just three days after the launch of the new iPhones on September 20. In addition, more than 200 million iOS devices are now running the completely redesigned iOS 7, making it the fastest software upgrade in history. Both iPhone 5s and iPhone 5c are available in the US, Australia, Canada, China, France, Germany, Hong Kong, Japan, Puerto Rico, Singapore and the UK. Demand for iPhone 5s has exceeded the initial supply, and many online orders are scheduled to be shipped in the coming weeks.
This Apple run on Monday is only the beginning, as analysts scurry to adjust revenue and gross margin numbers significantly higher. The sales results appear to be just as big of a surprise to Apple because it filed a statement with the SEC on Monday changing its guidance:
On September 23, 2013, Apple Inc. (the "Company") announced that it has sold over nine million new iPhone 5s and iPhone 5c models, just three days after the launch of the new iPhones on September 20. Apple expects total company revenue for the fourth fiscal quarter to be near the high end of the previously provided range of $34 billion to $37 billion, and expects gross margin to be near the high end of the previously provided range of 36% to 37%.
This filing leads me to believe that the numbers for the quarter will be even higher than those listed above. Consider that the first 3 days of sales were almost double any other iPhone release in the past. And those sales would have been much higher if the inventory had been available. The high estimate for revenue was $38 billion before the iPhone sales were released. These first sales alone will generate an unexpected $2 billion in revenue for the company. If this selling rate continues, the next quarter which includes the holidays will be dramatically higher.
Revenue Est
Current Qtr.
Sep 13
Next Qtr.
Dec 13
Current Year
Sep 13
Next Year
Sep 14
Avg. Estimate
36.10B
54.88B
169.58B
180.67B
No. of Analysts
44
37
51
50
Low Estimate
34.50B
49.37B
168.00B
166.94B
High Estimate
38.13B
58.80B
171.56B
198.00B
Year Ago Sales
35.97B
54.51B
156.51B
169.58B
Sales Growth (year/est)
0.40%
0.70%
8.40%
6.50%
iTunes Radio
Buried among all of the iPhone news is the fact that 200 million current users downloaded iOS7 on older iDevices which will catapult the free iTunes Radio to the top of the streaming radio "heap". This sent Pandora Radio (NYSE:P) stock into a downward spin on Monday. Shares dipped 10% as the stock went below $24. This is because the Apple radio service appeals to the trendy "gotta have it first" crowd with access to millions of old, new and exclusively pre-released hit songs:
As the world's most popular music store, iTunes has access to thousands of new songs every week. And you'll hear some of that music on iTunes Radio before you hear it anywhere else. Whether it's an exclusive track from an up-and-coming band or a pre-release of the next big hit....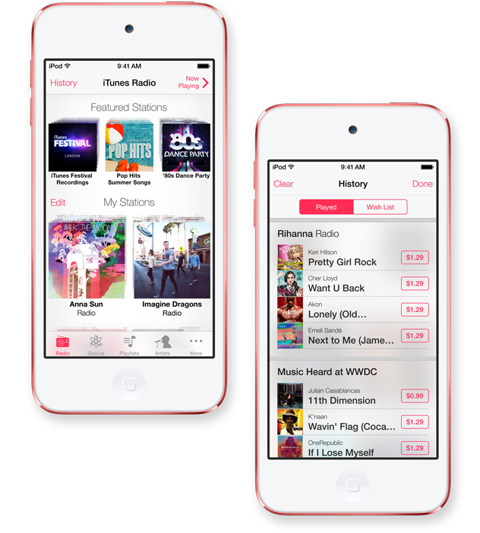 There is no doubt that a free radio service of this caliber will be very popular, and take a huge bite out of Pandora's listening base. Not only is it more convenient, but iTunes Radio has access to over 27 million songs, versus Pandora which has a library of only one million tunes. The Apple service is already starting out with 200 million potential listeners. And according to the company (link above), over 11 million people have already tuned in to iTunes Radio since launch. Eleven million listeners in just 4 days. If only half of the 200 million new iOS7 users tune into the free radio, it will have 100 million listeners. And 200 million is not a finite number. That is only the amount of users that downloaded iOS7 in the last four days. That number will continue to grow. Consider that there are currently over 575 million active iTunes accounts.
After the Apple iPhone event a few weeks ago, many analysts thought that the new phones were too pricey for the minimal changes on the devices. And the shares collapsed. However, what they missed was the fact that the biggest change was to the hardware. Consumers loved the new colors. A sexy looking new product can change everything for a company, and this is a perfect example of that. As I remarked in an article earlier this month:
The new phones that came out today are going to sell like little hot cakes. And due to the changes in design, I do not see any production problems ahead. Barring any unforeseen macro problems, these iPhones should lift Apple back up to great new heights again. If you are anxious to buy the stock, do it. Buy this little dip. But if you are still not sure, wait a couple of weeks for the kinks to fall out. The only problem is that if there aren't any kinks, the price may have gone sky high when the first sales are announced.
Problems
The 5S does have a few kinks. There are claims that the fingerprint scanner has already been fooled by the picture of a fingerprint on someone else's finger. But what about your own print? What if you go to a bar and get so drunk that you pass out, and a crook uses your own finger to access the phone settings and add their prints for certification. My advice is that these things are going to happen, so just be careful who you drink and sleep with. But this finger scanner is still a big deterrent to the typical grab and run theft. The bigger problem, in my opinion will be if the scanner doesn't work for the owner of the phone. So far this does not appear to be a problem.
The other major problem reported is that millions of people did not get the glamorous gold 5S that they wanted and stood in line for. This made it quadruple in value on eBay. I found several selling for over $2,000 each online.
There will probably be more dips in the stock market due to the "gloom and doom" in Washington as the government threatens to "shut down" next week. But long term investors interested in Apple should consider any dips as buying opportunities. Because Apple has now moved out of speculation mode in my opinion.
Disclosure: I have no positions in any stocks mentioned, but may initiate a long position in AAPL over the next 72 hours. I wrote this article myself, and it expresses my own opinions. I am not receiving compensation for it (other than from Seeking Alpha). I have no business relationship with any company whose stock is mentioned in this article.