2013 Recap And Update Of Investment Objectives
Please Note: Blog posts are not selected, edited or screened by Seeking Alpha editors.
Growth, Long-Term Horizon, Dividend Investing
Seeking Alpha Analyst Since 2011
I am an individual investor with over eight years trading experience in equities and options. I hold an MBA from the Kellstadt Graduate School of Business at DePaul University in Chicago and a BA in Supply Chain Management from Michigan State University. My work has brought me to different parts of the world, most recently spending two years in London creating a global supply management strategy for a multinational financial services firm. During my time overseas I gained insight into global financial markets through my relationships with traders, investment bankers, asset managers and exchange operators. I became more intrigued with the inner-workings of the global financial system and decided to steer my graduate education toward the subject matter of international business and finance. Taking advantage of the five hour time difference between London and New York I found time to trade more frequently and gain experience with different investing strategies. My investing focus is on current income. I hold a portfolio composed primarily of dividend growth stocks and augment my income strategy through the use of short options. My focus as a writer is to identify value opportunities on income producing securities for the intermediate and long term. I also like to look at different entry and exit strategies using options as a way to enhance current income and manage risk.
Hello everyone and happy new year!
I was on a short hiatus from financial journalism for the last few months while I devoted my writing energy to my graduate assignments. The final month of school was one of the busiest in my academic career as I buried myself in research and wrote nearly 15,000 words across a few different assignments. I'm proud to say that I've now completed my program and have my diploma in hand. It's taken a few years to complete, with some professional breaks required here and there as I worked my day job, but I persevered and accomplished my goal.
In between working full time, handling school a few nights a week and attending to my social life, I was still able to stay active in my portfolio management, albeit in a somewhat passive way. I keep my finger on the pulse of the market but it can be hard when life events start to pile up. It makes it equally hard to research investment opportunities and write decent articles about them when there are other, more ominous, deadlines to attend to. That's why I've chosen to instablog this time: it's a nice soft return back to the Seeking Alpha community after focusing my energies on school.
I also took some time off work to visit my friends in London. I don't often take time off from work, at least not for that long. I've had about three weeks off and I feel more refreshed than ever. Being back on my old stomping ground gave me a chance to reflect on 2013 and map out a plan for 2014. It allowed me to forget about work for a little bit and focus on friendships and personal fulfillment. I tend to work too much and focus too much energy on my career. This is not necessarily a bad thing but it can lead to burnout, I was getting dangerously close between balancing school and work.
Some reflections on 2013:
School is a lot of work, but I learned a lot and proved to myself that I can take on the challenge.
A corporate day job is a lot of work, especially after being up late after class working on assignments. Returning to work after my lengthy holiday was refreshing. I have a renewed sense of focus and I'm ready to take on the challenges that 2014 will bring.
The bull market is kind of blowing my mind, I love the gains but I'm starting to get a bit nervous about some of the action in my portfolio. I've been writing calls against some of the upside with mixed success.
I've made some good stock picks, and I'm excited about making some more, but I'm approaching with caution and looking for a pullback in some cases.
On my HCP call…
I'm a man that admits when I'm wrong, and boy was I wrong on this one. Not in that it was a bad investment, but that I used the phrase "the selling is overdone" when talking about it. Apparently it wasn't overdone enough! The stock experienced a nice rally in the few weeks after I published the article, but it was later dragged down by the overall REIT sector. I'm still long the stock, but my intermediate-term projections were pretty optimistic. I'm down on this one, by a lot, but I'm not out. It's paying a good dividend and operating more efficiently. The recent green initiatives and other cost-saving activities are encouraging as well. Lower operating expenses provide more breathing room for dividend increases. Speaking of which, the company normally announces a dividend increase in late January and I'm hopeful for a 5% increase, same as last year. There is also a lot of interest rate uncertainty right now. The news of a slight taper from $85B/month to $75B/month pushed the overall market upward, which was the opposite of what I would have expected, but the benchmark rate remains the same so I don't expect anymore downward momentum on REITs as a result of this action.
I still maintain a "hold" on this stock and I'm looking to just collect dividends while I focus on other areas of my portfolio. It's a solid income play, and when it raises above my cost basis I'll look to initiate some covered call positions to pull more cash from it while I feel out the market sentiment. It's all about income at this point for me, even though the options aren't that liquid, any opportunity to generate cash from this position should be taken. I am not selling unless I am forced to via option assignment, in which case I'm back in via short puts.
On my VFC call…
I really do want to toot my horn on this one. I know I wrote about VFC after earnings were released and it was all good news, but since I published the article the stock appreciated in value pretty significantly. It has a bit of a pullback since the stock split, but I think it's just taking a rest until the next earnings announcement on February 14th before the market open.
There are a few catalysts here, specifically for The North Face, but also for much of the VFC brand portfolio. First of all, the winter Olympics is coming up and you can bet The North Face will be on prominent display. In fact, they've already announce their new line of "Sochi Villagewear," which they will be providing to the US freeskiing team. It is somewhat questionable how much additional exposure this will give them, but it's a small promotional expense relative to the size of the event and potential marketing reach.
There is also the holiday season, which I think will result in higher than usual seasonal sales. Going back to my Google Trends analysis, it would appear that The North Face saw a year-over-year uptick in December search volumes. Furthermore, with the recent "polar vortex" in effect I think we'll see some impulse purchases of North Face products. I can attest that I noticed a few of my work colleagues sporting new North Face winter wear shortly after the first cold snap, and now we're due for more cold weather.

The above trend graph is specific to the United States only, where search activity peaked in December 2013. This sets the new high water mark against which all other trend data will be measured. My hope is that this increase in search trends translates into an increase in sales.
More interesting are the locations of current search activity, with Chicago taking the top spot. Chicago has been hit hard with cold weather recently, so much so that we've been given the green light to work from home to avoid commuting in the unforgiving deep freeze.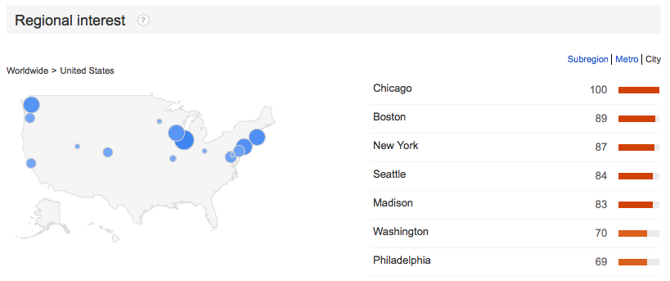 On the rest of my portfolio…
2013 was simply a fantastic year, so there's not much to say about success or failure, because the majority of my holdings are quite successful. I'm still a sad holder of Cliff's Natural Resources (CLF) and I'm down quite a bit, but I'm not totally discouraged. With respect to Cliff's, I believe the iron market will make a slow recovery and the company's efficiency initiatives will result in better operational results. Cheap iron ore and weak demand is going to hurt their top line, but it's not going to put them out of business. There are plenty of quality articles on Seeking Alpha that explore this concept in more depth, with varying viewpoints, but I remain long this stock despite the short-term challenges. It's probably going to drop a bit further, at which point I might consider averaging down, provided the fundamentals have not changed significantly.
I'm also looking to expand from my Dividend Aristocrats into companies that have a shorter track record of dividend growth. I'm trying to identify companies that have been raising dividends annually for at least five years, but no more than 15. My theory is that companies with shorter track records of dividend growth typically have lower payout ratios and an ability to raise dividends by a larger percentage than the established Aristocrats. I'm going to start testing this theory and then take a stab at picking a few good companies from this criteria and investigating them further.
That's all I have for right now, but I'm actively looking for new opportunities to write articles. I think my biggest challenge right now is time, of which I have very little, but my after-work schedule is starting to loosen up so I'm going to use that time to scan the market some more.
Happy investing everyone!
Disclosure: I am long VFC, HCP, CLF.
Seeking Alpha's Disclosure: Past performance is no guarantee of future results. No recommendation or advice is being given as to whether any investment is suitable for a particular investor. Any views or opinions expressed above may not reflect those of Seeking Alpha as a whole. Seeking Alpha is not a licensed securities dealer, broker or US investment adviser or investment bank. Our analysts are third party authors that include both professional investors and individual investors who may not be licensed or certified by any institute or regulatory body.