Candlestick signals provide powerful technical analysis benefits. The information depicted by the formation of the candles illustrates the accumulative investor outlook. This information is much more decisive in nature than many other trading methods, as it tells you exactly what the majority of investors are thinking.

The Evening Star Candlestick Signal is a clear-cut symmetrical reversal pattern created by exuberant buying at the top. The pattern psychology is that after an apparent uptrend the Bears step in and open the price lower than the previous day's open. The price finishes lower for the day and the Bulls are concerned and begin selling to take their profits. 
Evening Star Recognition: A three candle pattern at the top of an uptrend. The body of the first candle is white, confirming the current uptrend. The second candle is an indecisive formation. The third candle is black and should close at least halfway down the white candle.

The Evening Star Signal, produced in the chart below, clearly illustrated the probability of a reversal. It is easy to see, very symmetrical and identified the last of the bullish move, one day of indecision, followed by a bearish candle that closed more than halfway down the previous large bull candle. Obviously, this illustrates a change in investor opinion. When this signal occurs in over-bought conditions, a downtrend is likely to occur.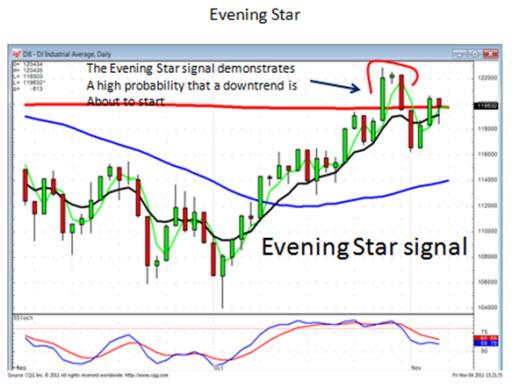 A candlestick signal formation has a major aspect that makes it more powerful than all other technical analysis. The signal is the result of a change in investor sentiment. This statement will be repeated for effect. The signal is the result of a change in investor sentiment. Not the anticipation of a possible change! The actual result is the change of trend direction. Having this tool in an investor's arsenal can dramatically change the ability to maximize profits while reducing risk exposure. It allows the average person on the street to invest with the same temperament as the professional trader.