Candlestick charting provides a clear graphic depiction of investor sentiment. It illustrates panic selling at the bottom with extended candles to the downside.(Illustration diagram below)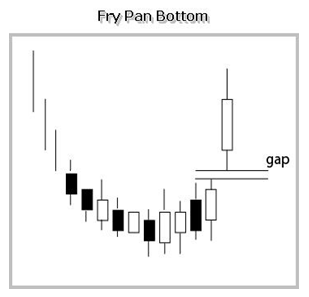 Notice the downtrend begins to wane; illustrated by the appearance of small trading bodies. Next, as the trend starts to slowly curl upward, a gap up in price indicates that strong buying sentiment has now returned.

Having the  capability to spot this pattern allows investors to be on the look-out for a 'buy' signal, and get into a position early. There are expectations that can be easily utilized for making big profits upon the completion of a Fry pan bottom pattern. It is a slow and consistent buildup of investor confidence.

This is a very simple visual process. At the point that a Fry pan bottom pattern should be breaking out to the upside, if a candlestick sell signal such as a bearish engulfing signal appears, then it becomes immediately evident the pattern has failed. The position can be closed out with a small gain, or a minimal loss.

Using candlestick analysis as your primary investment platform, or overlaying candlestick signals on your current investment charts, will dramatically improve an investor's capability of being in the correct trades at the correct time. Not only do the probabilities dramatically improve, but the profits becomes equally improved.