The stars are aligning for Monsanto (NYSE:MON) as the company should do very well this year due to last year's drought, as farmers try to make up for the lost year. Secondly, the company has agreed to a licensing deal with its rival DuPont (DD) in which the companies agreed to dismiss the various lawsuits between the two companies. And thirdly, the "Monsanto Protection Act" was recently snuck into the federal government's funding bill which enables the USDA to override judges who try to stop Monsanto from selling its genetically modified seeds.
The company is expecting double-digit profit growth in its corn business and as a result increased its guidance in its 2013 Q1 earnings call held on January 8, 2013. The company's most significant quarters, Q2 and Q3, are in full-swing and approaching and we'll find out more about Q2 when the company reports results on April 3, 2013.
Monsanto is well positioned for growth over the next year and the next decade, as the company invests in technology for seed, plant and field. Also, Monsanto's stock price has been on a nice upward trajectory over the last year as shown below: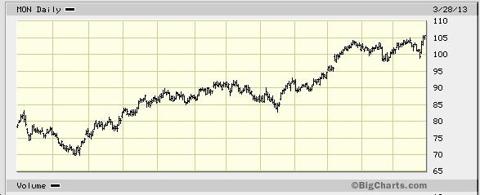 With this setting, the company could report robust earnings next week and a corresponding increase in stock price, and as a result a long straddle stock option position is considered. The long straddle stock option position provides a profit if the underlying stock price moves significantly up or down in price. The drawback for the position, is the position results in a loss, and potentially a large loss, if the stock price does not move significantly, so this position should only be considered with "Vegas capital." The long straddle can be entered by purchasing a long put and call option with the same strike price and the same month of expiration.
Using PowerOptions, a long straddle was found for the company with April expiration as shown below: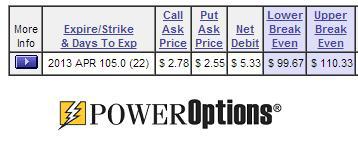 The position results in a profit if the price of the stock increases to above $110.33 or if the price drops below $99.67. The details for entering the Monsanto long straddle position are shown below:
Monsanto Long Straddle Position:
Buy 2013 April 105 Put at $2.55
Buy 2013 April 105 Call at $2.78
A profit/loss graph for one contract of the Monsanto long straddle is shown below: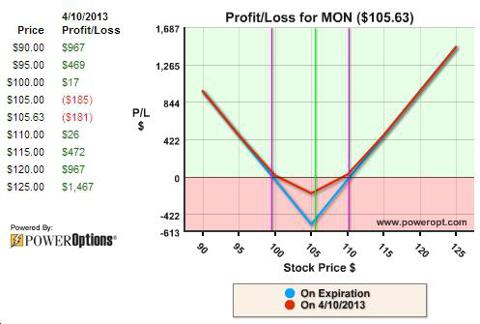 As shown, for a significantly increasing or decreasing stock price, the position results in an ever increasing profit.
Look forward to your comments below!
Disclosure: I have no positions in any stocks mentioned, and no plans to initiate any positions within the next 72 hours.