At the end of January 2014, I made the prediction that this year, the worst 6 months of the year could be particularly brutal for stocks this year. My reasoning was that the January Barometer signaled that the S&P 500 would close down in 2014 and that this made perfect sense considering Federal Reserve tapering.
In 2013, we had no "Sell in May and go away" and the worst 6 months of the year for the stock market. It was an unusual year last year. Looking at the last 50+ years worth of stock market performance, my bet is that we will not get two years in a row where there is no major retracement during the worst 6 months of the year (May - October).
The Stock Traders Almanac 2014 makes the following observation:
A $10,000 investment compounded to $765,055 for November - April in 63 years compared to a $1,105 loss for May - October.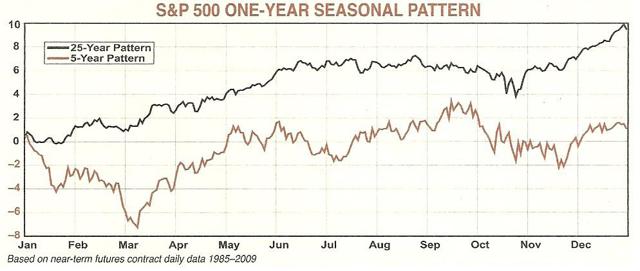 This year, I think we could have a severe market correction sometime during the worst 6 months of the year for the following reasons:
Margin debt is now falling
Ukraine
The margin debt is the amount traders are borrowing on margin to buy stocks. Margin debt usually turns down before the S&P 500.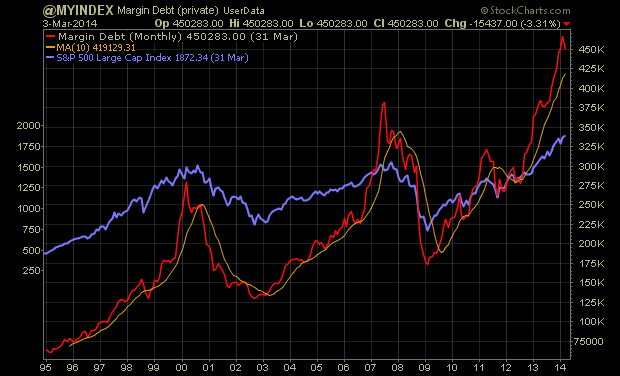 In the chart above, the red line is the level of margin debt as reported monthly by the NYSE. The blue line is the S&P 500 and the gold line is the 10 month moving average signal line. Notice how the margin debt is at insanely high levels and it has just taken the first turn down. It's too early to know if margin debt reduction was the result of the abnormally cold winter. We should know within the next couple of months. Nevertheless, should margin debt continue to fall and break below the 10 month MA, we could be looking at a major stock market correction this year sometime during the worst 6 months of the year.
The situation in Ukraine continues to escalate with the U.S. and EU providing weapons and support to one side, while Russia is providing support to the other side. Things could easily escalate over the coming weeks and months to where investors make a mad rush to safety.
This week's Stock Market Prediction show goes more into these issues: https://www.youtube.com/watch?v=wh9Z3uYmWvQ
Disclosure: I have no positions in any stocks mentioned, and no plans to initiate any positions within the next 72 hours.