The profit thesis for MiMedx is that the company is only just beginning its early growth phase and so it has several more years of awesome growth ahead. That's a risky gambit at best so be careful! Always use a stop-loss and never risk more than you can afford to lose. With that said, with greater risk comes greater reward.
On April 27, 2015, MiMedx announced first quarter results that were awesome from a growth perspective.
Highlights from the first quarter 2015 report:
Q1 2015 revenue of $40.8 million increases 108% over Q1 2014
Q1 2015 is 14th consecutive quarter of meeting or exceeding revenue guidance
Q1 2015 Wound Care sales grows 103% over Q1 2014
Q1 2015 Surgical, Sports Medicine/Orthopedic revenue increases 125% over Q1 2014
Adjusted EBITDA of $8.8 million represents a 343% improvement over Q1 2014
Quarterly net income of $4.1 million or $0.04 per diluted share vs a net loss of $900,000 or $0.01 per diluted share in Q1 2014
Q1 2015 Cash Flow from Operating Activities of $4.2 million as compared to a negative $1.6 million in Q1 2014
Company increases full year guidance range from $175-$190 million to $180-$190 million
Significant progress made during quarter in gaining coverage from commercial as well as Medicaid payers
Company signs new building lease adding approximately 25,000 sq. ft. of space in support of planned growth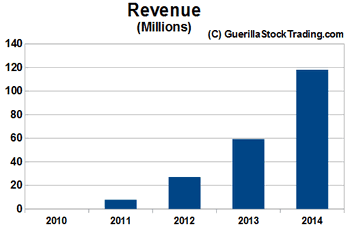 Revenue growth over the last 4 years has been incredible. In 2011, revenue was $7.8 million. In 2014, revenue had grown to $118.2 million. That's more than a +1,500% increase in revenue over the last 4 years.
The company has $52.3 million in cash with no debt.
MiMedx stock is working through a Symmetrical Triangle pattern: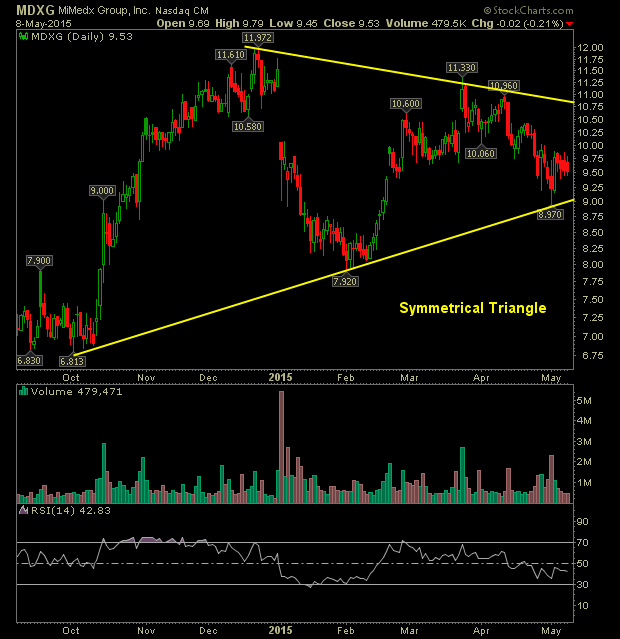 Source: MiMedx Stock High Risk High Reward Play Could Soar +200%
Disclosure: The author has no positions in any stocks mentioned, and no plans to initiate any positions within the next 72 hours.